Heading West Again
Ralph's Blog
The Kerrville Folk Festival
We've been told about the Kerrville Folk Festival for many years, but this year we finally were able to get there. Since we were mostly listening to music we didn't take many pictures, but we do have a rather blurry photo of Brother Sun on the main stage.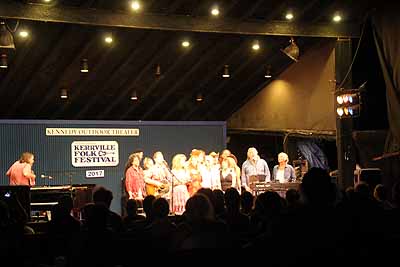 Actually, the photogenic stuff happened offstage. There was one guy who had a box full of shiny tunics that he handed out to anyone who wanted to dance with him. He had lots of takers throughout the evening.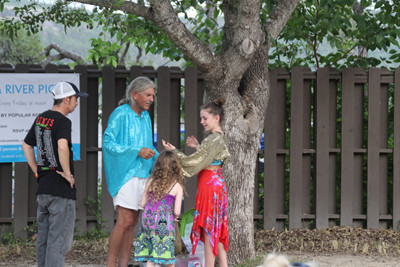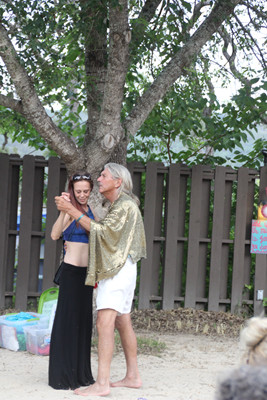 The music was exceptional, both on the stage and around the many campfires. We especially liked the Jews Don't Camp campsite, where they had several bread machines going and happily handed out some great, homemade bread while we listened to some fine music.
A Small Cat-astrophy
After a winter being able to roam about, our little cat Sophia was not at all happy to be caged up when we traveled. We had been sequestering the cats in the shower when we traveled, but Sophie figured out how to perform a standing high jump and crawl out of the small space at the top of the shower. I went to the hardware store and put some expanded metal over the gap, figuring the problem was solved, but Sophie outsmarted me. As you can see from the picture, she clawed her way out and bent the metal until she could escape. This earned her a place in the toilet room with a solid wooden door while we traveled, much to her loud complaints.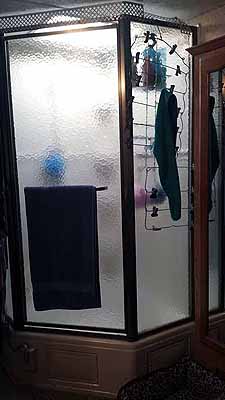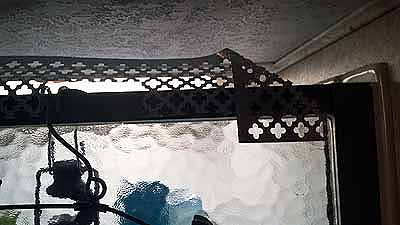 More Caves
We reprised our visits to the Sonora Caverns and the Carlsbad caverns. You can see the pictures from our previous visit to these caves in 2016 if you want to follow the link.
We again visited Sitting Bull Falls, a waterfall in the middle of the desert. Shira loves to swim and fetch sticks, even if her eyesight was failing and often couldn't find them if we threw it too far. She had plenty of company in enjoying the water.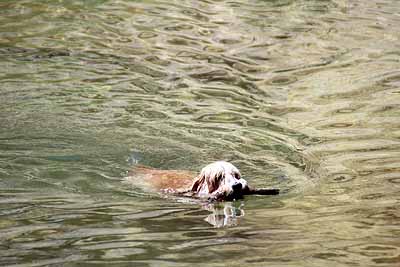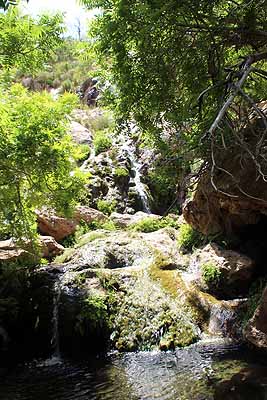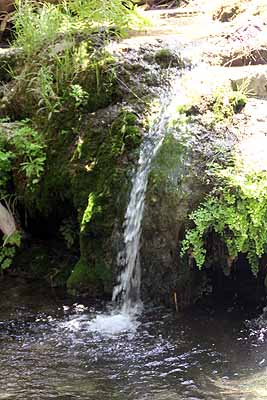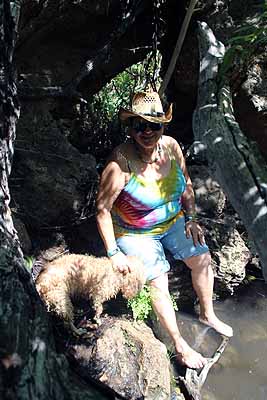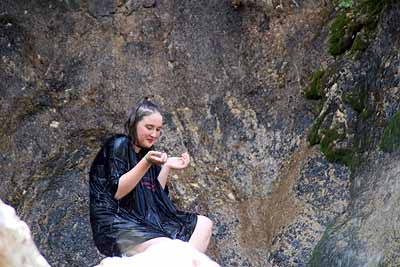 This trip we took a cruise on the Pecos River at sunset. We got to see the back side of the houses of the rich and famous, nice place to live if you have the money. The guide had many interesting anecdotes about what we were seeing. There was even a Frank Lloyd Wright house on the trip.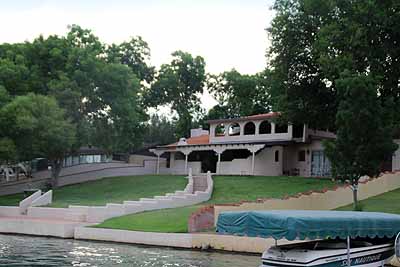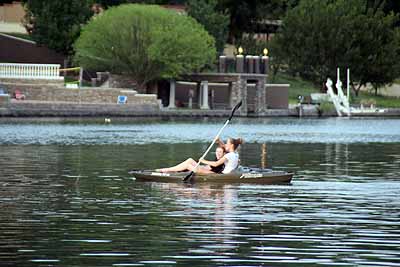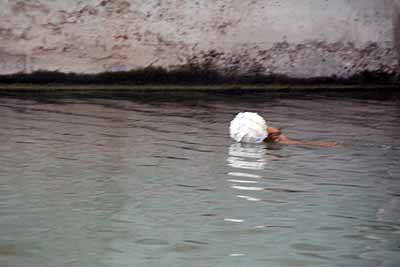 Here is a sign we found along the way - you really have to read the small print no matter where you find it.
Flagstaff, Arizona
As we travel, we meet many people who enthusiastically tell us "You have to see ...", and I have to admit we have been guilty of that ourselves. I have taken to keeping a list of recommended places on my phone, and the Sycamore Canyon in Flagstaff was one of them. We settled in at the Greer's Pine Shadows RV Park among the vanilla scented Ponderosa pines. That's right, they really do smell like vanilla, not pine. The terrain and climate around Flagstaff are ideal for the Ponderosas, there are wonderful forested areas all around the place.
Once we got there we found you can only visit Sycamore Canyon if you are an avid hiker willing to descend a thousand feet or more, then climb back up. These days we find a three mile hike about our limit, and we decided to find other things to do.
That wasn't much of a problem, there is a very nice botanical garden, The Arboretum at Flagstaff, even if it is at the end of several miles of washborded dirt roads. There was also lots of spectacular scenery to be found.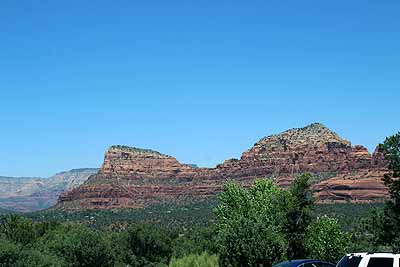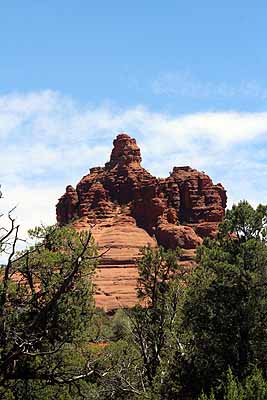 Traveling back in time, we visited Montezuma Castle, which is neither a castle nor associated with Montezuma, who was quite a bit farther south. Sometimes the people who hang names on a place have fertile imaginations. I find it hard to imagine climbing a few hundred feet of ladders to go home every night, but it seems the protection was worth it to these people.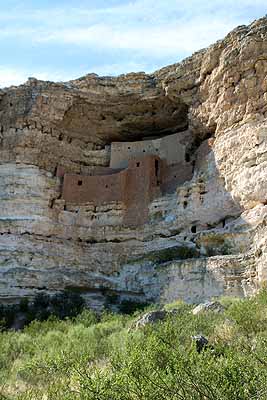 Nearby was Montezuma Well, which is really a well - a large pool of water that made life possible in the desert terrain.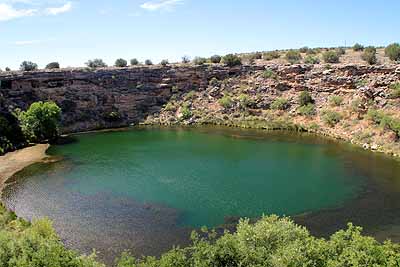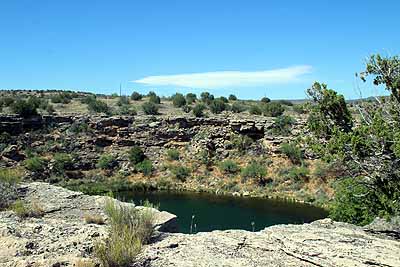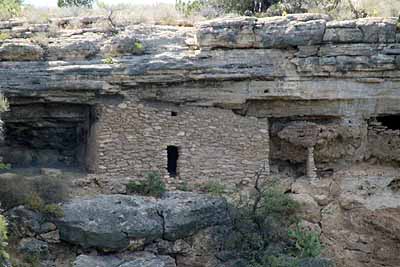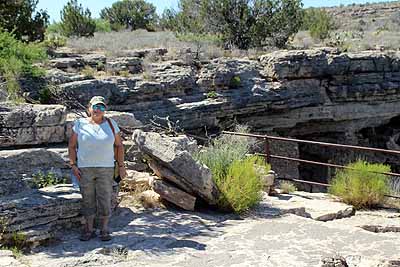 You can see by the giant tree that there has been plenty of water for quite some time. The bottom of the cliff beside the well is a cool, forested oasis that invites you to sit down and rest and enjoy. Unfortunately, the water is tainted with arsenic, so who knows how much damage that might have done through the years.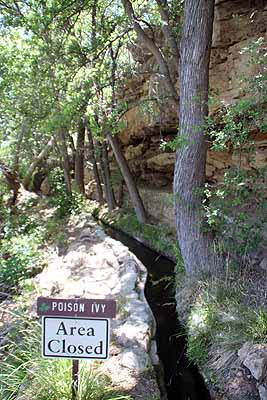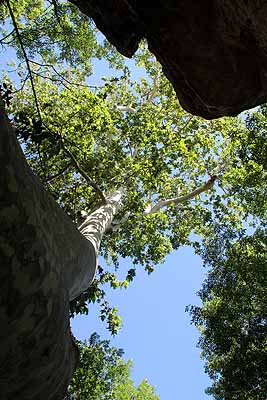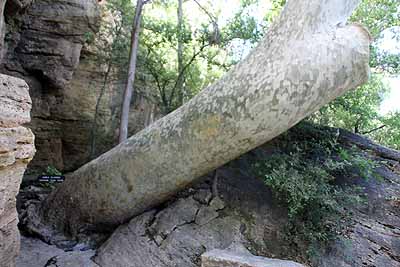 There is also the excavated floor of a structure used by the ancient peoples, the holes were for logs that held the structure up. The whole thing is preserved and covered by a roof now so that everyone can see.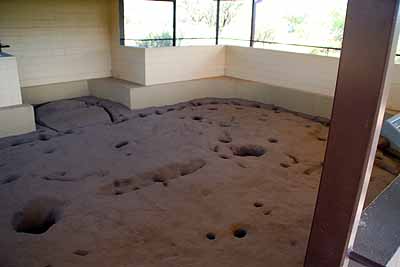 The Grand Canyon
No words needed here - just a few new pictures.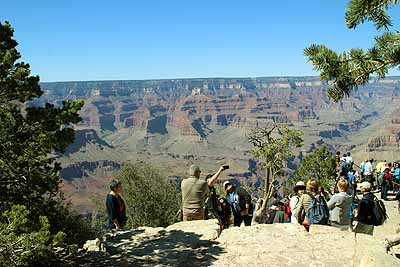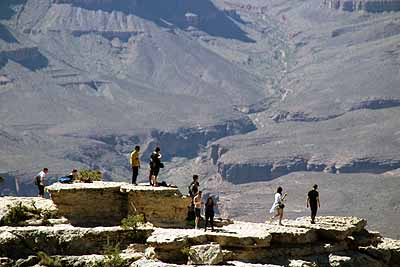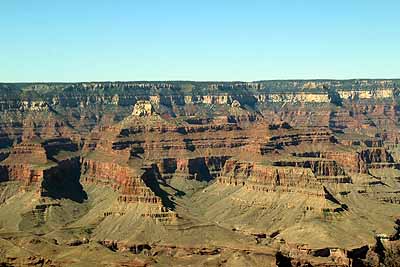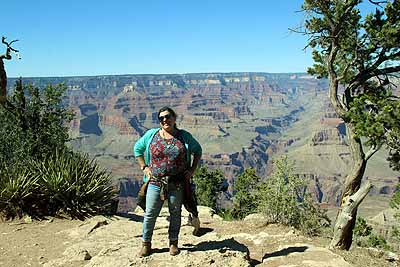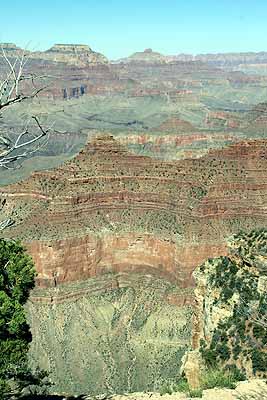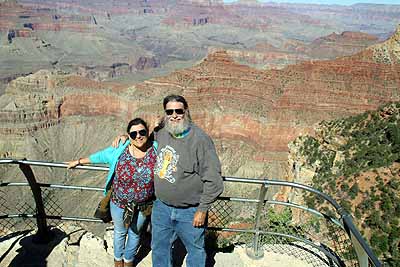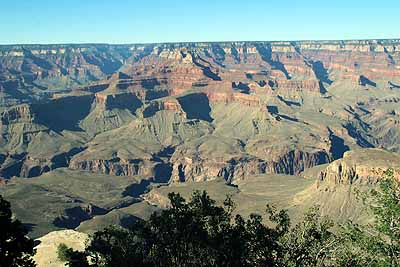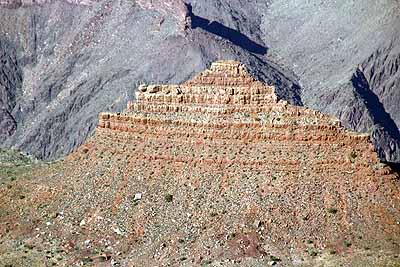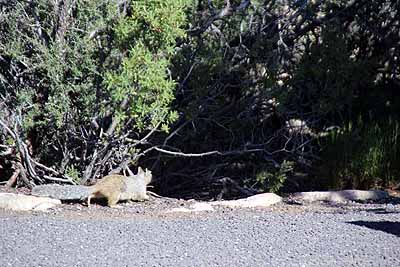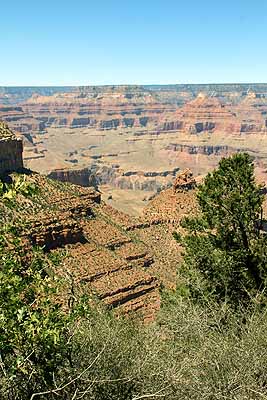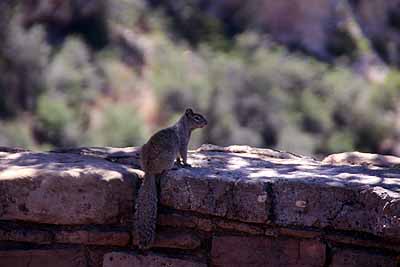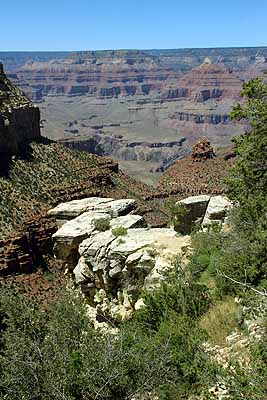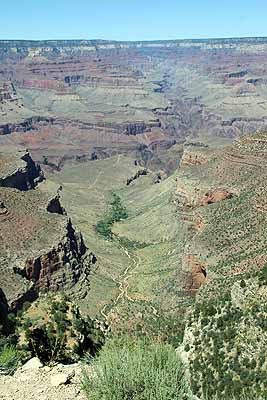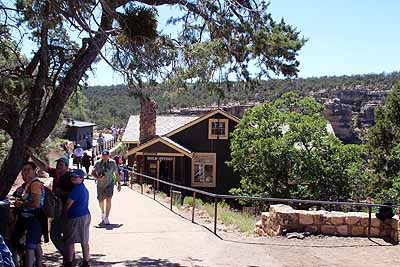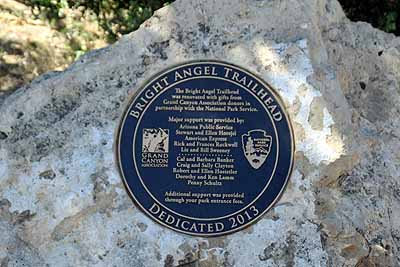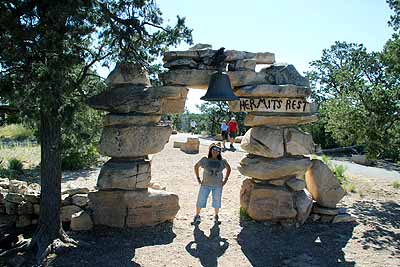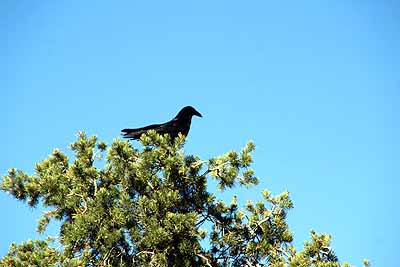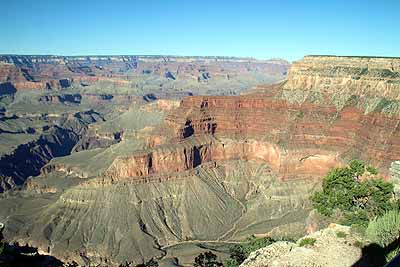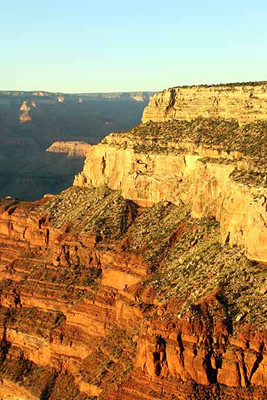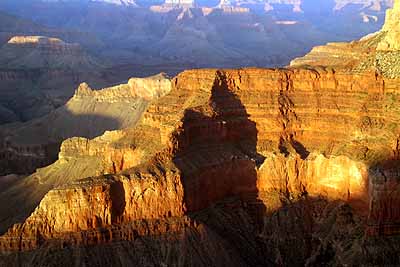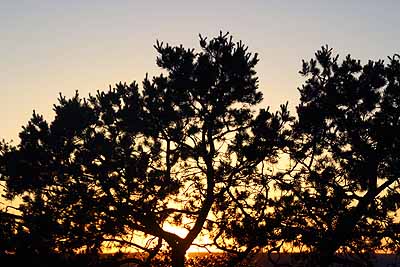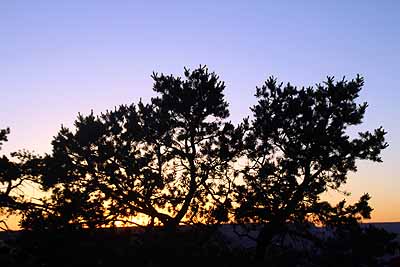 This trip we decided to ride the Grand Canyon Railway from Williams to the park. The ride was fun, but I'd advise staying away from the breakfast buffet, it wasn't very good.
Our guide on the train was a very funny lady, mixing some atrocious jokes with lots of interesting information on the park and its history.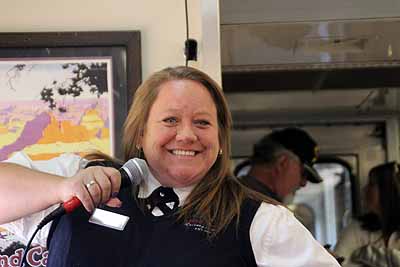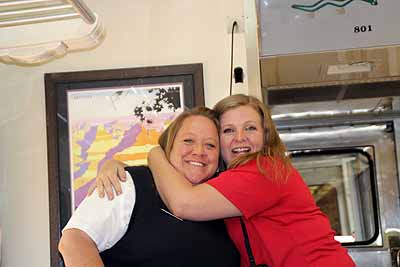 Particularly interesting was the Harvey House, the first chain restaurant in the country. It serviced passengers on the railroad who previously were notoriously ripped off by vendors who knew they had to leave very soon to be on their train so couldn't come back to complain. Harvey set high standards for his food and the Harvey Girls,who provided the hospitality. The story is an interesting one. Women in the wild west were, as the saying goes, considered "loose." Old Fred was determined to bring civilization to the West and his Harvey Girls operated under some pretty strict rules. The El Tovar Hotel and Bright Angel Lodge in the park were started as Harvey Houses; they are certainly worth a visit when you're in the Grand Canyon.
When we reached the park we took a stroll along the Trail of Time.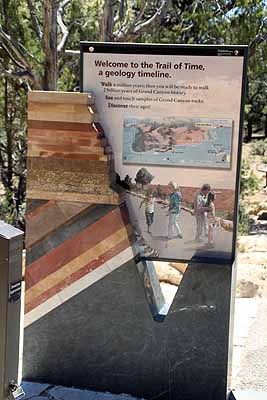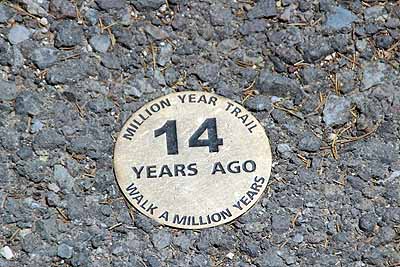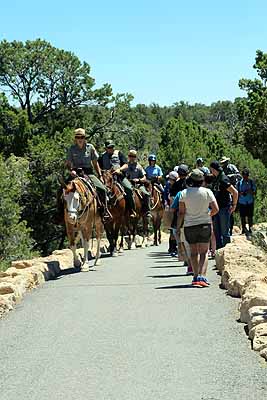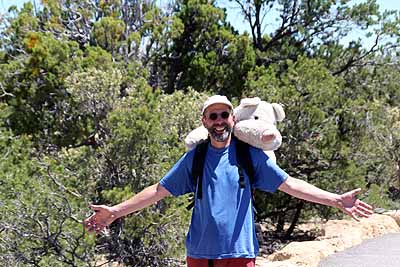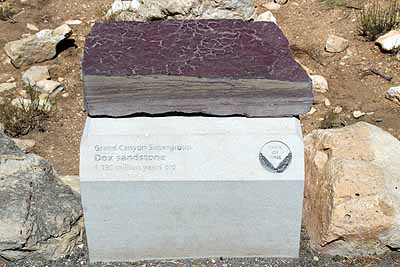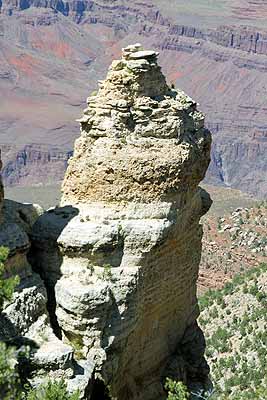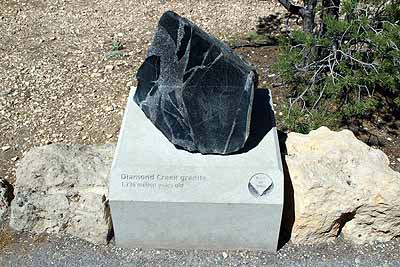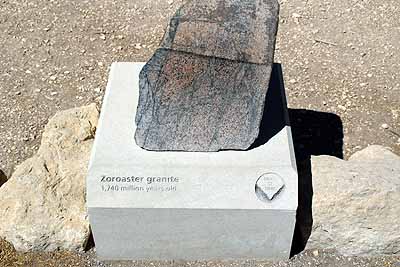 As you progress along the trail, watching the year markers on the asphault, you see samples of the various types of rock that form the canyon along with history and descriptions of the geology. We also saw a guy with a stuffed pig on his back, he was entertaining but I won't vouch for his educational merit.
On the way back the train was "robbed" despite the presence of the sherriff, who seemed to be about as effective as Jeff Sessions in enforcing the law. They were very polite robbers, waiting for you to pony up the cash if you wanted to.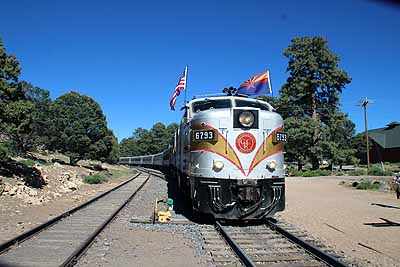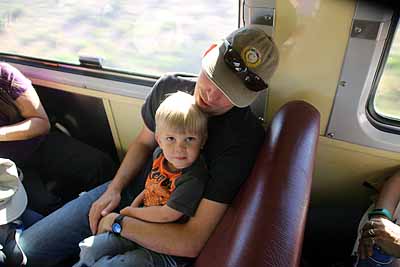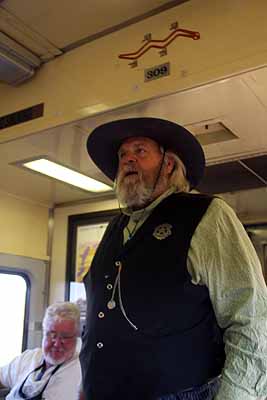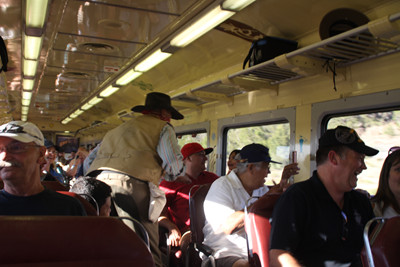 We stayed at the Flintstone RV Park as the campground in the park itself was full by the time we made reservations. Once we found it (our GPS led us astray) the park was a bit run down, but as a child of the sixties it was nice to visit with Fred and Wilma and the Gang. Fred's diner served a mean breakfast for a very reasonable price.
From our campsite we could plainly see our first wildfire, a harbringer of things to come in the Pacific Northwest. As I write this in October 2017 there are too many wildfires to count in our western states. Of course climate change has nothing to do with it. Yeah, right!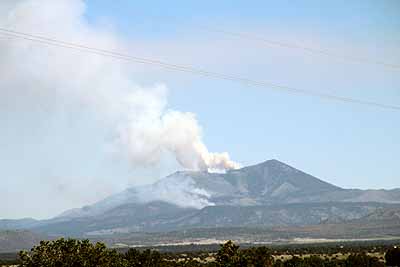 Stupid Hot
Complacency is a real drag. We went through the desert once before on our first swing through the country, although we simply drove through it to visit our friend Kristi in California. No problem, right? We've done this before and know what to expect.
I made a slight miscalculation, however. Our first visit was in March, not June. We ran into two solid weeks of 115° weather with the sun beating down on the RV like a blowtorcdh. We had to put the cats into their travel containers and keep them in the air conditioned pickup or we would have had baked kitty when we ended the day. Turns out they liked it better that way than riding in the shower, so now we have them in the back seat whenever we travel.
We surrendered to the heat even faster than our air conditioner did. The first thing we did in Las Vegas was to run to Best Buy and buy one of those portable air conditioners with a big tube that goes out the window. Now, the thing takes up a significant amount of room in the living room, but it certainly helped. Well, if you consider 88° to be better than 115°, that is. Note to future RV travelers: stay out of the desert during the summer. Las Vegas may be a fun place, but only with some pretty potent air conditioning!
Despite the heat, hanging out with Kristi and the kids was great. Unfortunately the visit was cut a bit short when the kids got sick. Somehow we never got a picture of Makenzie but we clicked on Nasir with the phone one evening at dinner.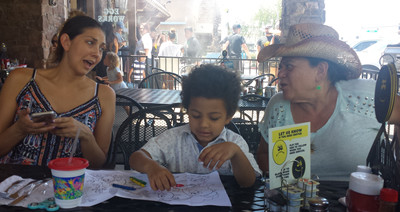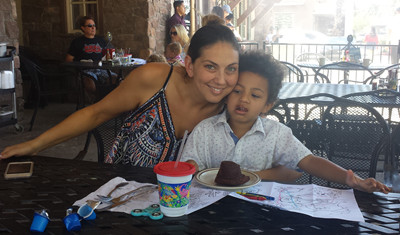 We were glad of the extra air conditioning power until we were well into California.
Yosemite Park
Yosemite National Park is one we missed on our previous travels, but this time we planned ahead to spend some time there. The campgrounds in the park can't accommodate a big rig like ours, but there are plenty of RV parks nearby.
Yosemite was crowded! Even getting to the park very early (for us, at least) the parking lots were jammed and it was hard to find a place to park. The concessions were worse, waiting forever to get a hot dog. I wouldn't be surprised to see some sort of visitor control in the future, or at least a bus system like they have in the Grand Canyon.
Since the winter snows and the spring rains were above average, the waterfalls were spectacular. See for yourself: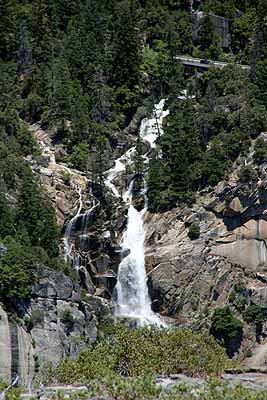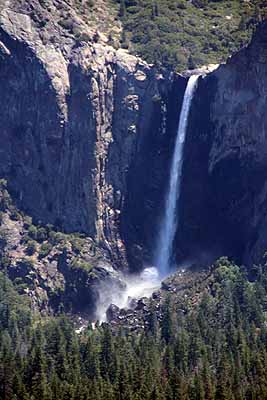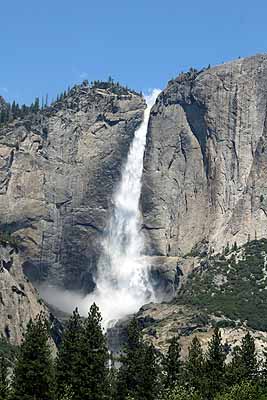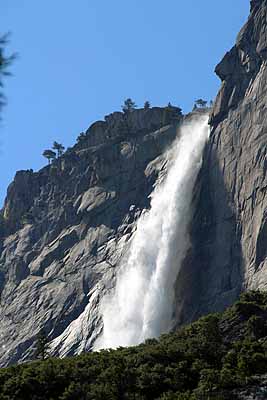 The rest of the scenery was pretty good, too.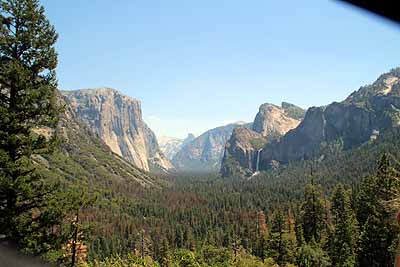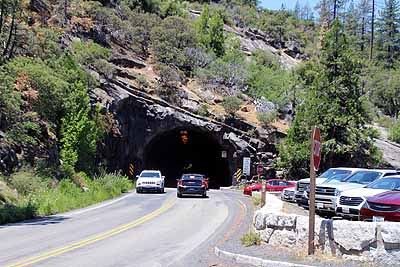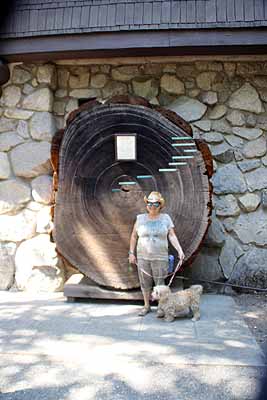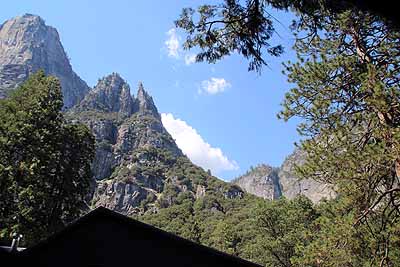 On our way to the park we passed the Yosemite Mountain Sugar Pine Railroad. It turns out we were just in time for their Moonlight Ride and BBQ special, complete with a concert in the woods by the Sugar Pine Singers. They were a pretty good bluegrass band and we enjoyed both the food and the music considerably. One of the cars was made of long logs carved into seats on either side of the car.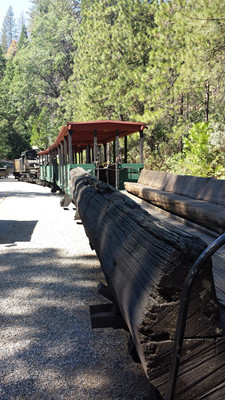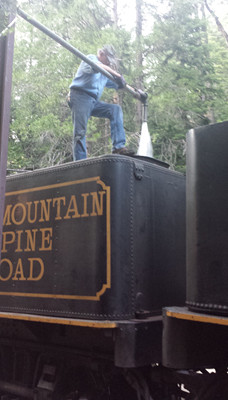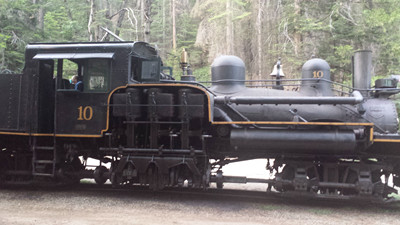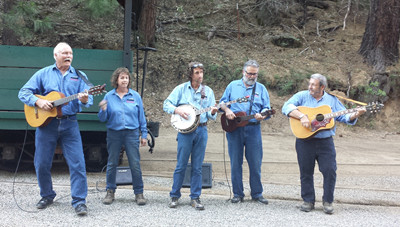 You can get a sample of the music on You Tube.
There are two sections to Yosemite, so we drove to the The Hetch Hetchy Valley. The drive itself was spectacular as we wound our way down to the steep road to cross a river (I've forgotten the name) and then wound our way back up. Our Psychic Music System treated us to Judy Collins singing Who Knows Where the Time Goes as we wound our way down. You can't ask for more beauty than that.
The O'Shaughnessy Dam holds back a 117-billion-gallon Hetch Hetchy reservoir that supplies drinking water to 2.4 million Bay Area residents. Once again we found some controversy, where some naturalists wanted to remove the dam and restore the valley. I suspect those 2.4 million people might have some objections to losing their drinking water.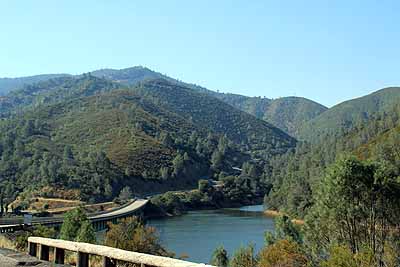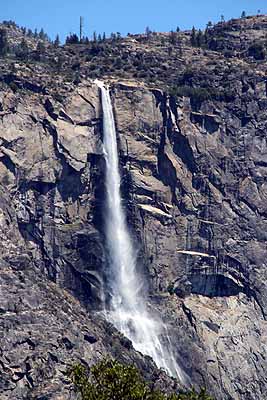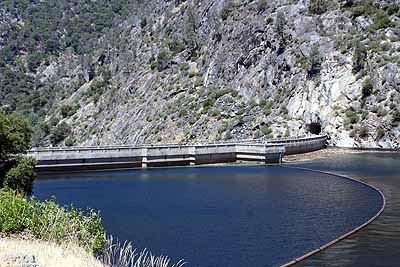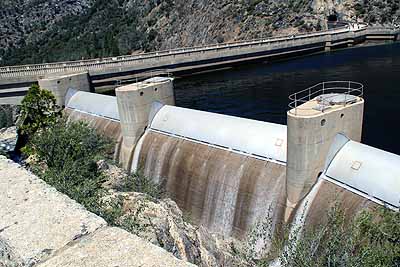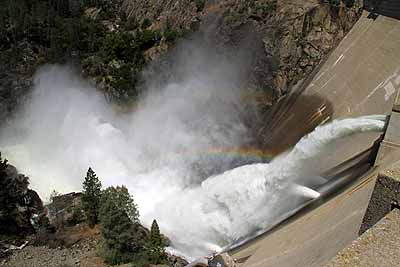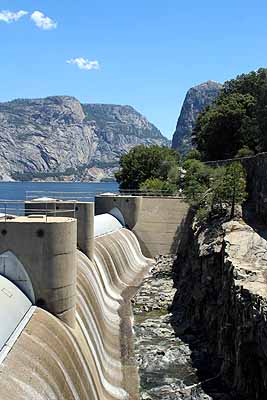 In our travels to these spectacular places in the country we have seen innumerable idiots who want to go the brink of the canyon or the falls or some other dangerous spot to get their picture taken. This time we were present when one of these people paid with their life. Someone had climbed to the brink of the falls and slipped; he was floating face down in the reservoir when we left. No matter how many warnings and signs there are, someone is going to be stupid. Most national parks lose several visitors each year to stupidity.
You begin to overload on nature in a place like Yosemite, but here are a few more shots of what we saw, including some people only pretending to be balancing on the brink of disaster. These people are only about 18 inches off the ground, but with the right angle it looks worse than it is. There was quite a strong wind blowing off the waterfall, so it felt like you could spread your arms and fly.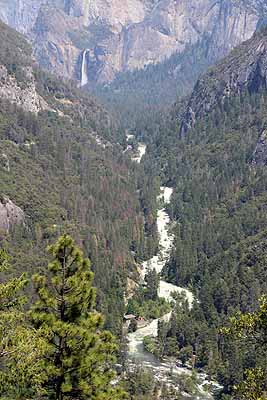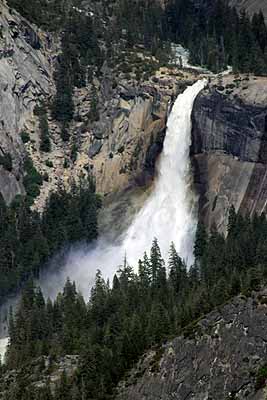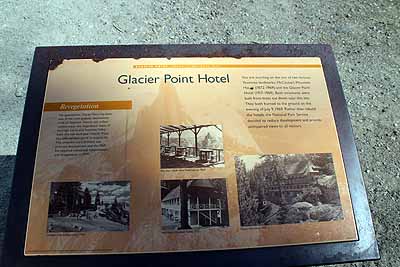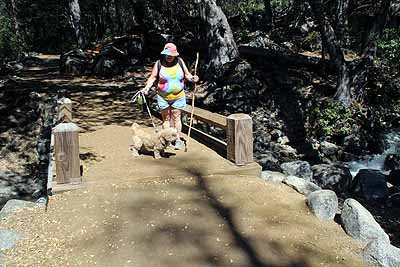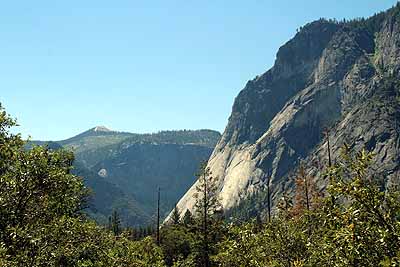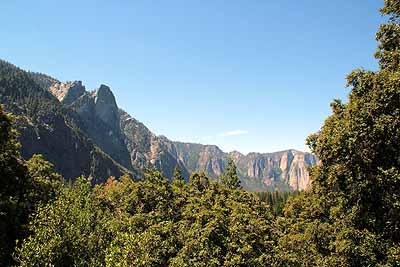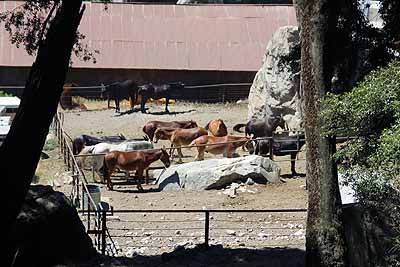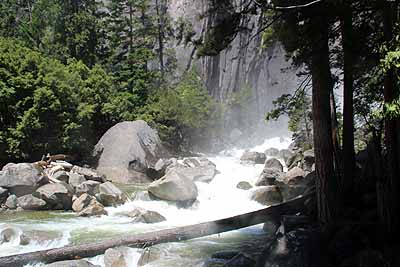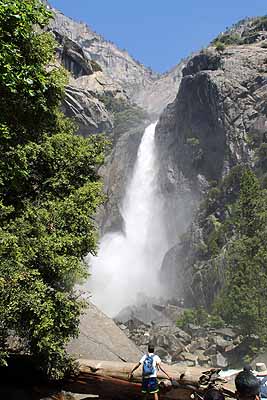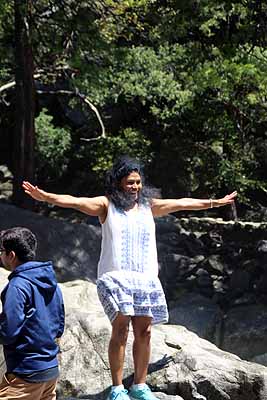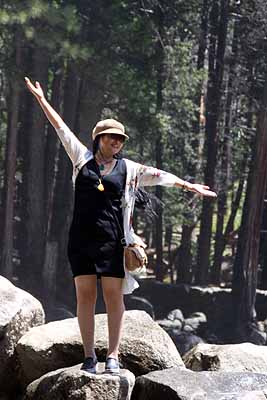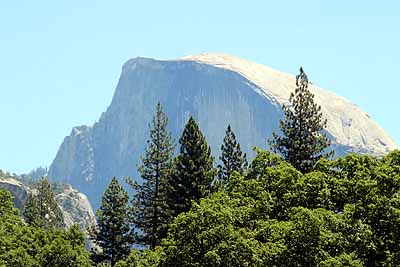 San Francisco
Our nephew Dan and his new wife Jenny live in the mission district of San Francisco. Actually, we found out they were married when we visited, they eloped and didn't tell anyone. Seems a little weird, but then I did the same thing with my first marriage, so I guess I can't complain very effectively.
We took in the Summer of Love Exhibit at the deYoung museum. Since Judy spent her youth in California she got a real kick out of it. Me, I was an engineering student and pretty much didn't notice the whole thing. It was fun to watch Dan and Jenny get aquainted with things that happened well before they were born.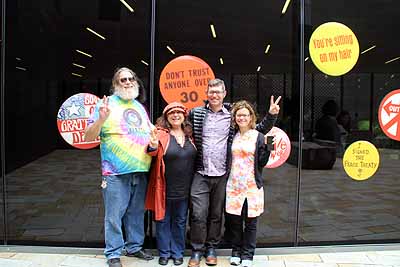 Dan took us to an alley somewhere in San Francisco (I was totally lost!) filled with artwork and messages. I found one sign I particularly liked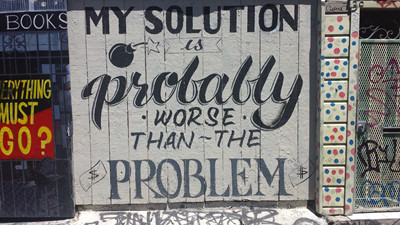 I got to walk down memory lane with Judy as she visited many of her favorite places from when she lived in San Francisco. We stopped in a the bar where her first husband proposed to her; that's where Dan introduced her to the Pimm's Cup, a favorite libation of Jenny's native England.
The One Log House Revisited
Back in 2015 we saw the One Log House,One Log House but it was too late to see inside. This trip it was open and we took the tour, albeit a very short one. Talk about your tiny houses! The thing was hand carved form a single redwood log and once toured the nation in the 1940s. A bit cramped, but livable, I suppose.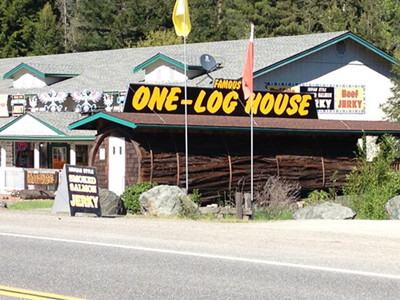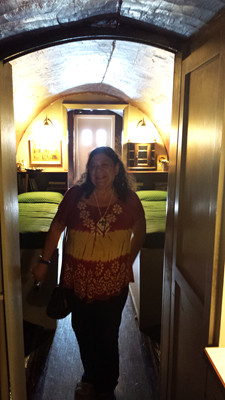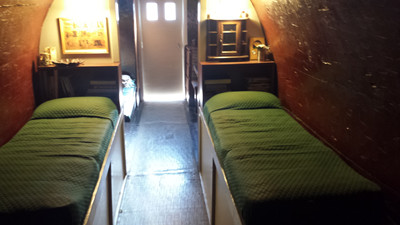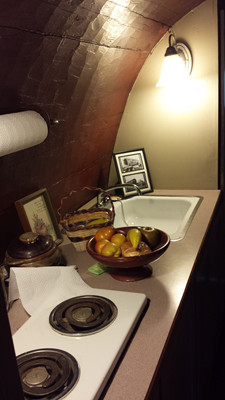 Speaking of redwoods, we drove The Avenue of the Giants, once again on our way to Oregon. Judy amazed us all by her feats of strength at one stop.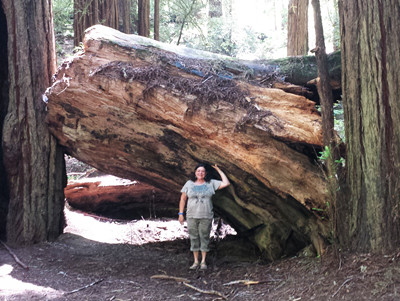 ThaiWay 101
If you're ever in Cloverdale CA and feeling a bit hungry, be sure to stop at 101 ThaiWay. We found it quite by accident, cleverly located on highway 101, when we were ready for lunch. The food was superb; as fast as McDonalds and infinitely better.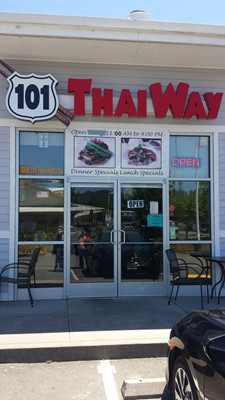 This is the kind of discovery that makes traveling worthwhile. We found one of the world's worst Chinese restaurants in Oakhurst CA outside Yosemite, so ouir karma remains balanced after a meal at the ThaiWay.
The Great Cats
We also revisited the Great Cats World Park on our way to Crater Lake. Did you know most of the lions and tigers featured in the movies came from Great Cats? If you've seen The Life of Pi don't get excited though - the tiger was computer generated, but the cats we saw were very real. The people there genuinely love their charges and do a superb job of taking care of them. Virtually all of the cats were born in captivity and hand raised. That's not to say they are house pets, but they are used to people. The tour is very interesting and informative, worth a second time through.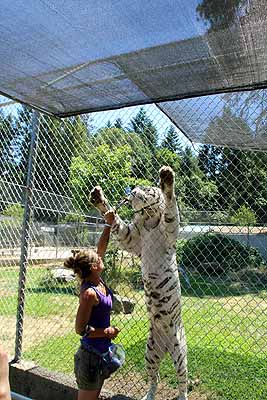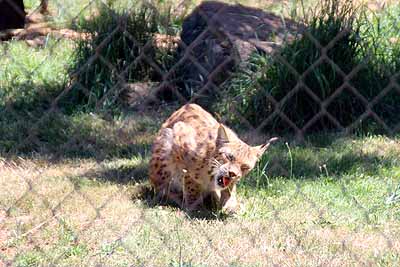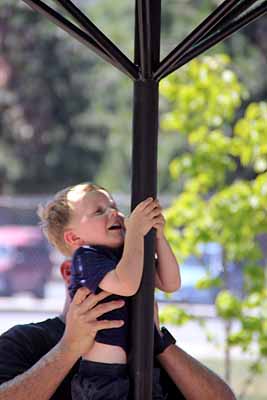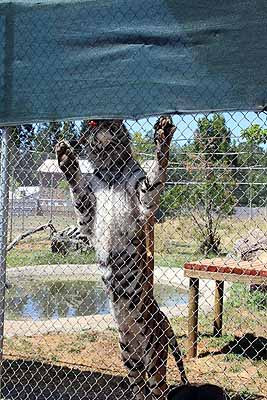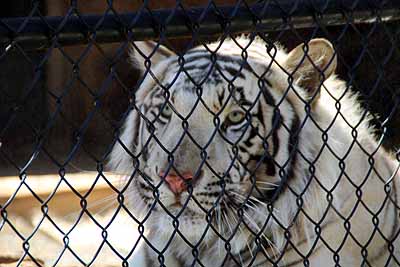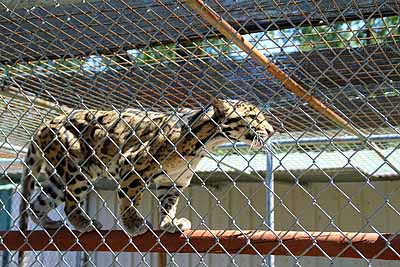 OK, I snuck in another picture of a cute little kid that was touring with us. The cats didn't get all the attention.
Crater Lake
Arriving at Crater Lake on the 1st of July we thought the snows would have melted and we would be able to see the entire lake. Not only was the road still blocked in places (note the snow flying) but there were several places where the road was washed out due to the severe weather. That meant long delays to see the sights.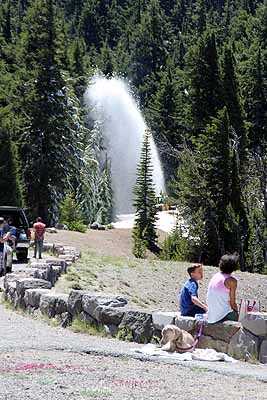 We did manage to drive around about 2/3 of the lake and got some wonderful pictures.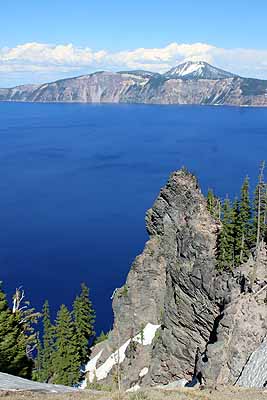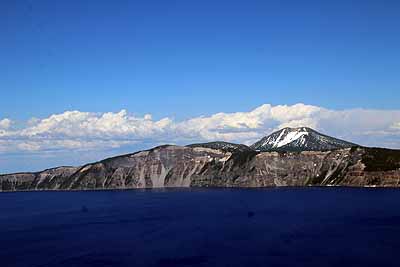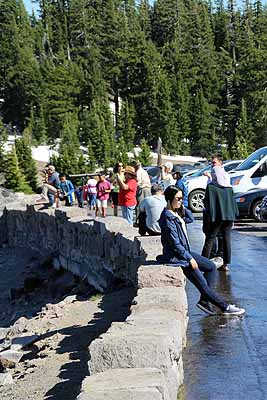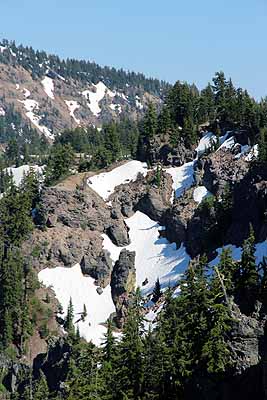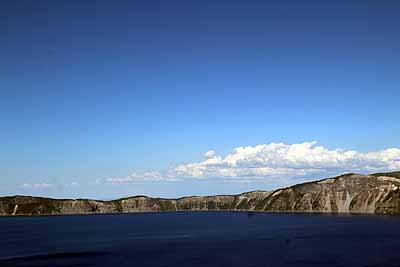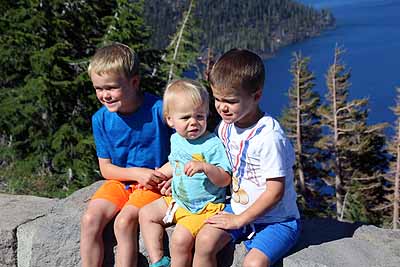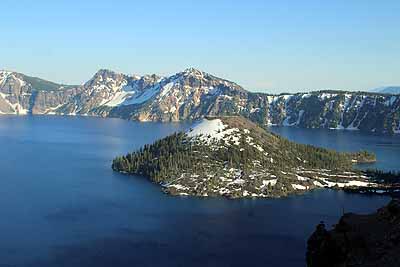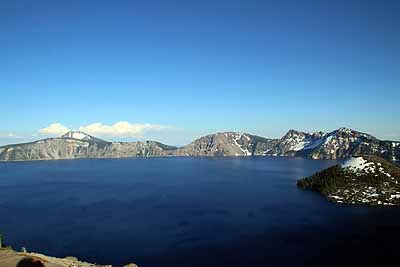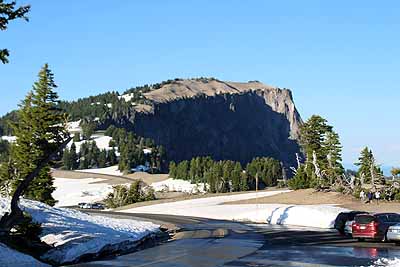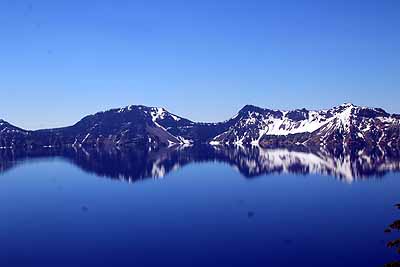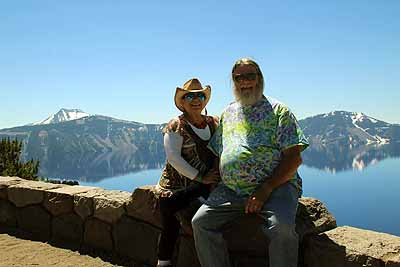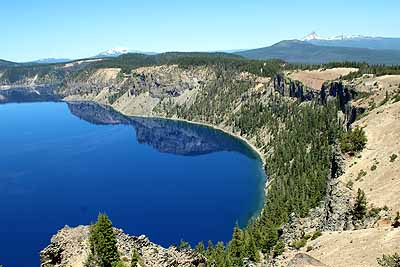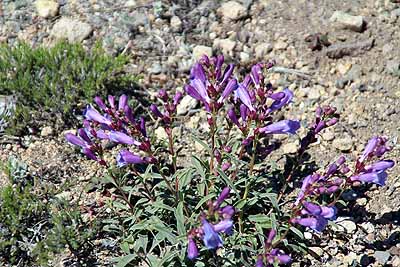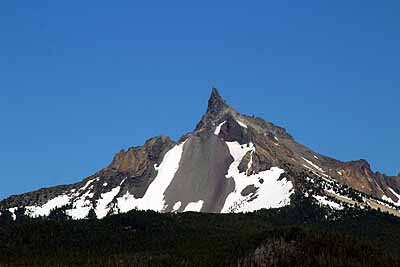 We met a lovely woman and her son at one of the stops. She was an Apache whose hobby was painting rocks and leaving them in various places for people to find and treasure. We now have one of her artworks and took a couple more to spread around on our travels. Just like our artistic find at Stone Mountain there are people in this world who create beauty just to make someone else happy.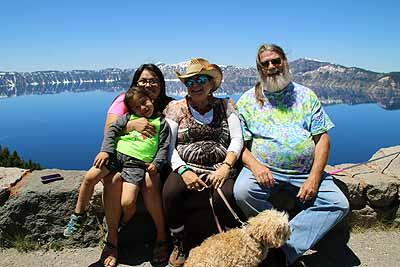 I'll finish up this installment with a picture taken inside the RV. Our cat, Curious George, was feeling photogenic, so I obliged her by having her and Judy pose.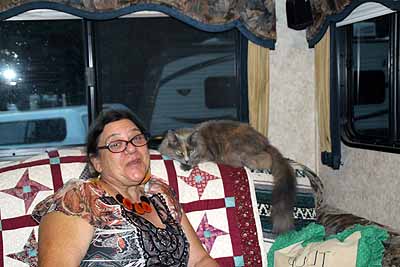 That's it for this installment, see you in Portland next.