Winter 2016-2017 in Austin
Ralph's Blog
Our last few winters in Austin have been enjoyable, but not a lot happened that would make good blog material. We certainly broke the mold this time. With the election of Donald Trump, politics once again became a much larger part of our life. Judy and I spent a lot of time at the Texas statehouse, letting the idiots in the Texas legislature know what we thought of their homophobia, transphobia and general mean spirited behavior.
I suppose their behavior is not too surprising when you wander the statehouse grounds - they are filled with monuments to confederate traitors, trying their hardest to make them heroes. There's even a plaque proclaiming that slavery was never one of the causes of the civil war. What can you expect from a state that has demanded textbook manufacturers remove references to the civil rights struggle of the sixties from textbooks because it is too controversial for students?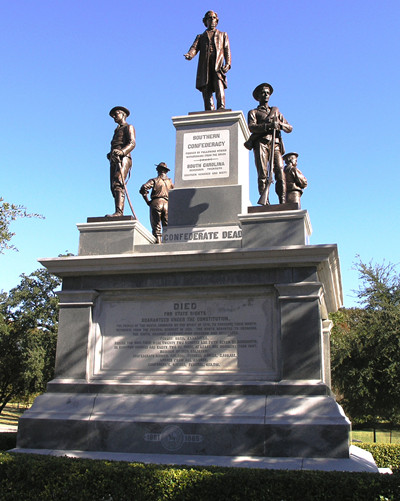 There is hope, Rep. Eric Johnson (D-Dallas) has called for the removal of that plaque and Texas House Speaker Joe Straus (R-San Antonio) has asked for a review of the accuracy of Confederate memorials at the State Capitol. Johnson replied "No study needed. Just a history book and a crowbar" Naturally, Ted Cruz dragged out the old chestnut of trying to erase the civil war by not calling Confederate traitors 'heroes.' Cruz comments "I donít think itís beneficial to go through and try to sanitize history and try to erase the Civil War," while completely ignoring the real issue.
The end of December found us at the statehouse once more, this time in an attempt to get the presidential electors to do their job and reject Trump. Of course it failed, but it was worth the effort. We loved the creative protest signs.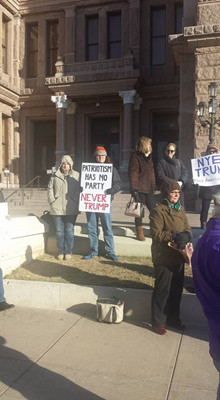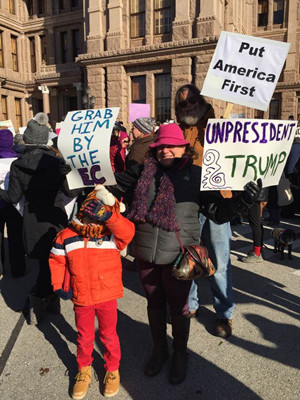 Are we crazy or what?
Having retired from winter as well as work, we stay in Austin to avoid the snow. So why, you may ask, do these crazy fools return to Rochester for one week in the dead of winter? Simple our friends Dave a Helga both have January birthdays and throw great party. I get to bake two cakes and there is always some great music and conversation going on. This year the party occurred near to the inauguration, so we all piled into the car and went to Seneca Falls to join 10,000 or so other people in telling Trump to go away. We meant to go away entirely, but it seems he misinterpreted the message - he just goes away on weekends to play golf and bilk the taxpayers to pay for umpteen rooms in his resorts for his entourage. Maybe he drained a swamp to build his resort and that's what he meant when he made his promise.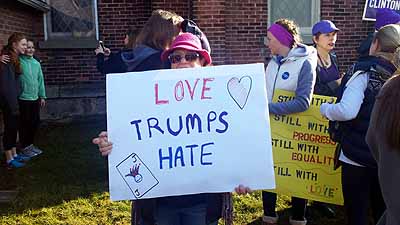 Caves, caves and more caves
If you've been reading our blogs, you know we love caves. Somehow we never found out that the Austin area has several great caves nearby. The Inner Space Cavern was discovered when they were drilling core samples for the I-35 bridge. The expensive drill bit fell off when it reached the cavern, so they drilled a bigger hole (one would assume with a drill bit that couldn't fall off) and lowered a man down to discover the cave. These days you walk through a nice, wide tunnel to get there, but it's a great way to spend a few hours. Grandsons Zander and Franti joined us for this one.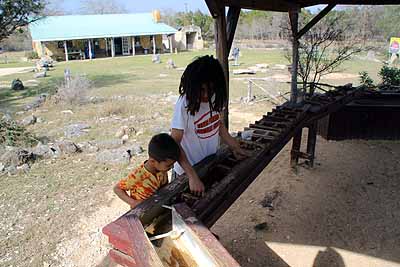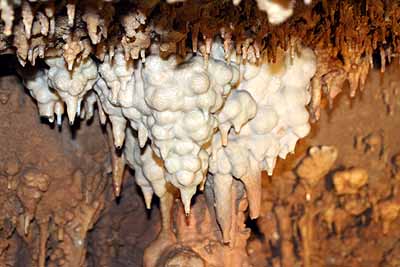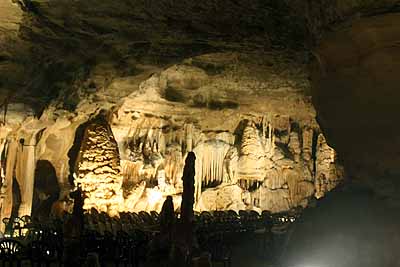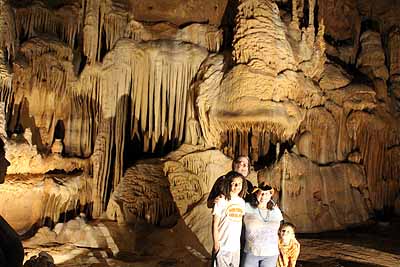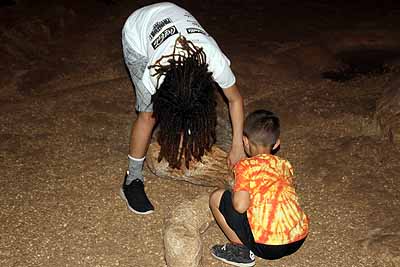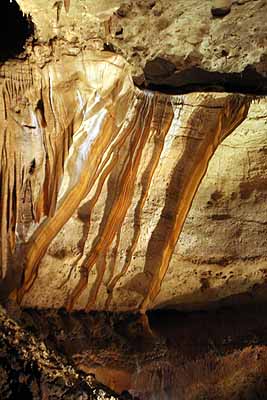 The Cave Without a Name is unique in that they actually host concerts in the cave. Unfortunately, the concerts seem to occur when we aren't in the area.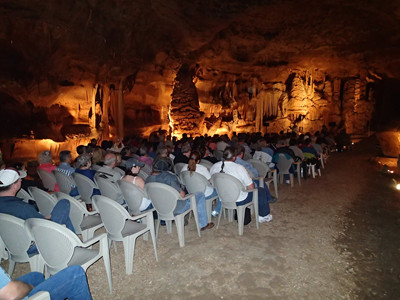 The Wonder World Cavern is unlike all the other caves we have been in. It was formed along a fault line by an earthquake, not eroded by millions of years of flowing water. The cave is part of a small theme park and zoo, lots of things to see and do, especially with kids.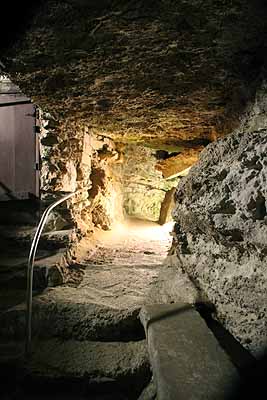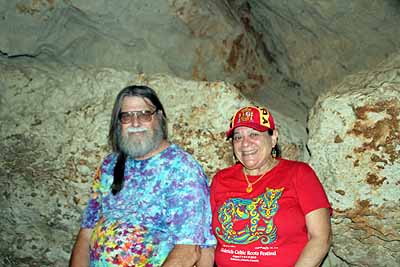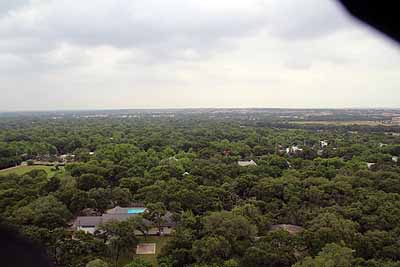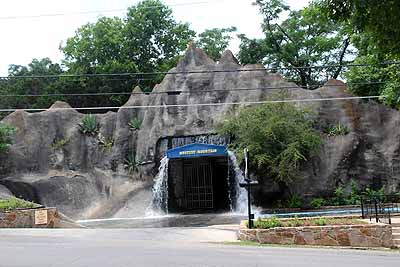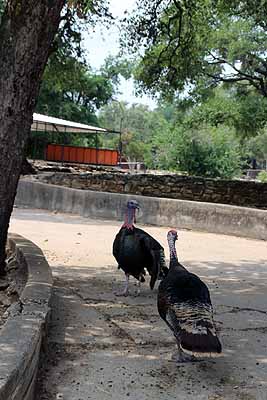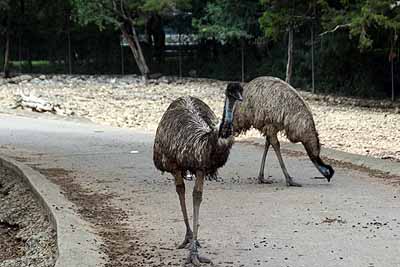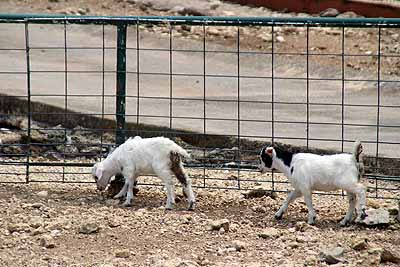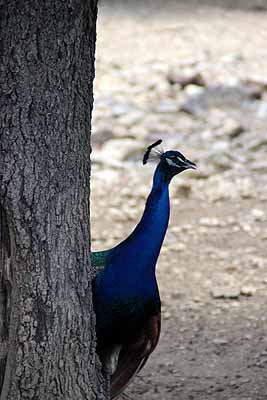 We get evicted!
We've stayed at the Royal Palms (no link for this one - you don't want to visit them!) for the past two years, a very nice place until recently. This year the management had changed and the Royal Palms became a Royal Pain. First, we had to buy a parking permit to park in our own driveway, and were warned we would be towed if we parked on the street. We found a notice in our mailbox that we would be fined without notice if our Christmas lights were still up two weeks after Christmas. Then they raised the rent with no notice, then they tacked on a new fee to use the garbage bins. The kicker came when we were notified that we were responsible for raking the leaves and watering the trees (using water we had to buy from the park!). We were further warned we would be fined without notice if they didn't like the way we took care of our lot.
I got fed up and told them we would not be doing their landscaping and any fines levied would be met with a court challenge, so they evicted us. That's illegal retaliation under Texas law but, as you can guess from my comments about the Texas legislature, the Attorney General completely ignored our formal complaint. Surprise, surprise!
RV spots in Austin are at a premium during the winter months, about a zillion constructions workers bring their trailers with them because Austin rents are too high for a construction worker to afford. We lucked into a couple of weeks in a small, private park and got to know our neighbors in a rather unusual fashion. Just as I was about to serve supper Judy suddenly felt very ill. Within a very short time she started to have trouble breathing and I called an ambulance. Believe me, when an ambulance and fire truck pulls up in front of your RV you get to meet all your neighbors!
I followed the ambulance to the hospital, where they seemingly performed every test know to modern medicine, but were unable to pinpoint a cause for the problem. By 2 AM Judy was feeling better, so we finally went home with instructions to call if anything got worse.
About noon the following day, the hospital called to inform us one of the cultures they took came back positive for gram negative bacteria. They are found just about everywhere, but when they get into the blood it's very bad news. These are the little buggers that cause septic shock; they can kill you quick. They wanted Judy back in the hospital right now for a course of intravenous antibiotics. Unfortunately, when the little buggers die, they can be toxic, so Judy felt like crap for the next few days. Not even HGTV by the bed made up for the misery.
The timing wasn't great, as we only had a week after she got home before we had to move on. She was feeling much better, but it would be a couple of months before she was back to normal.
The Rio Grande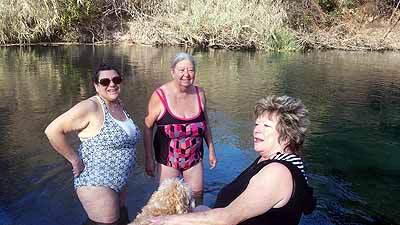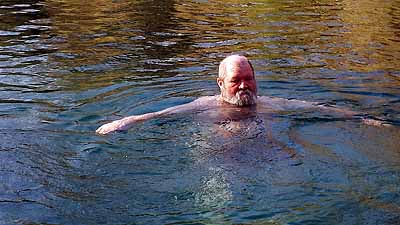 Our Canadian friends Diane and Warren were spending the winter down by the Rio Grande, so we joined them for a couple of weeks. The weather was much warmer down there and everyone went swimming - everyone but me, I don't really like swimming that much.
We shared our campsite with several javelinas those are small, wild pigs. Cute little buggers, if you leave them alone they return the favor.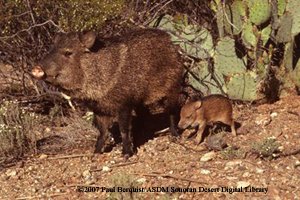 While we were down by the border we saw many examples of incredibly wasteful government spending. As we drove we spotted a Border Patrol vehicle about every mile or so. Every one of these vehicles had a Border Patrol officer inside waiting for an illegal alien to walk by. Nice work if you can get it, but I doubt they're going to stop a single person. Since well over half of the population is ethnically Mexican (their families have been there longer than any white man) all they are doing is annoying US citizens. We even passed through an illegal roadblock (no probable cause to stop anyone) and were asked our citizenship. With such blatant stupidity, is it any wonder Trump thinks a wall will do any good?
This picture is looking across the Rio Grande. Notice how different that side of the border is from our side?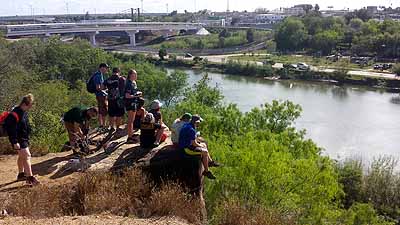 Yeah - I can't spot it either.
It was at the place above that Judy met a friend from Ithaca NY - no matter where we go Judy seems to know someone. She even joined us around the campfire that night - our friend Warren is a damn fine singer and guitarist.
For the Birds
Just down the road from our campsite there was a sign for a bird sanctuary. That's the sort of unexpected pleasure we find in our travels. We drove through a very small town and found a couple from Minnesota who bring their RV down for the winter, set up a bunch of lawn chairs and feed the birds so people can watch them. I've never had much interest in being a bird watcher, but we spent two very pleasant afternoons talking with them and learning about birds.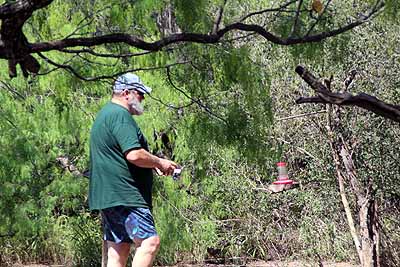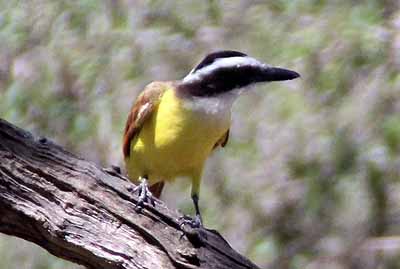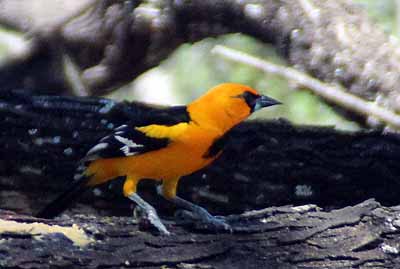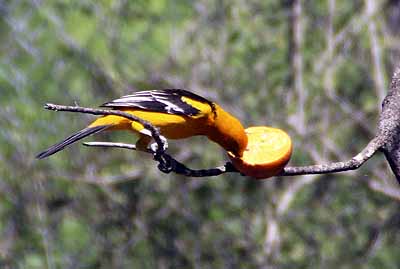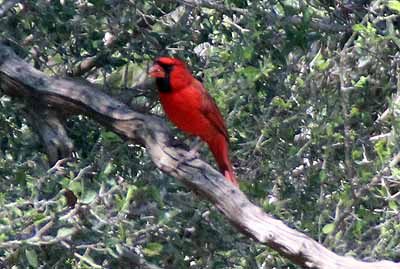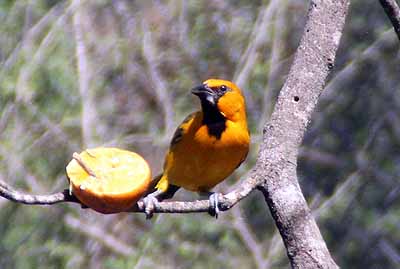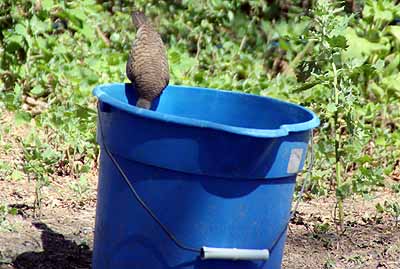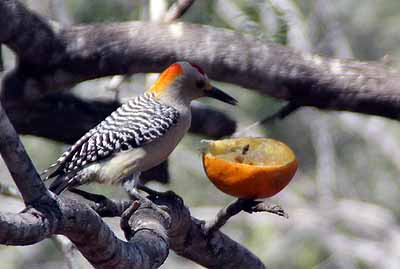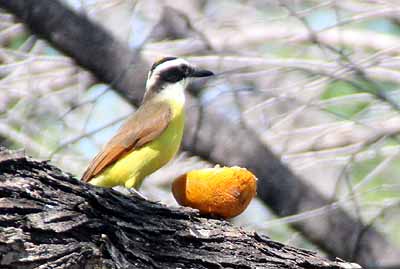 Off to Louisiana
School break time - a break more for the parents than the kids if you work it right. Zander and Franti usually spend it with son-in-law Scott's parents in Louisiana. Problem is, it's a good eight hour drive there, not counting the flooding that has closed I-10 several times recently. Usually, parents and grandparents meet somewhere in the middle and transfer the younger generation, but since we were wandering in search of a place to park the RV we decided a trip to Louisiana was in order. We tootled on out of the Rio Grande and briefly touched down in Bastrop (about an hour from Austin) to pick up the kids and headed off to New Iberia, LA.
We passed on the grandchildren and had several days to explore the area. One of the first things we saw outside the RV park was a big sign pointing the way to Avery Island, home of Tabasco Sauce. This sounded interesting, as long as I didn't have to consume any of the stuff myself. (I do not like hot sauces or hot anything. Lots of spice, yes, but I want to be able to taste my food.)
The first thing we found out is Avery Island is technically not an island; it's one of several slightly higher mounds (try 163 feet above sea level) in the area surrounded by swamps. The classic Tabasco sauce is made from peppers grown on the island and salt mined there as well. The museum and tour were quite interesting, as well as some of the whimsical art around the place.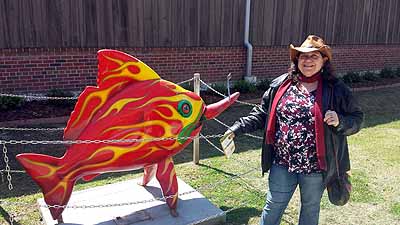 Much of the island is given over to a jungle garden, beautifully landscaped with many walking paths to follow. It seems the people who run the company are really given to sustainable agriculture and natural preservation. Nice to know that responsible corporations are still around.
We also visited Jefferson Island and the Rip Van Winkle Gardens. No, the place is not named after Thomas Jefferson but Joseph Jefferson, a well known actor in his time but little remembered today. He made the character of Rip Van Winkle a household name, playing internationally and in silent films. Looking at the mansion and grounds, it is obvious that he was a financial as well as theatrical success. Visiting his home was a mark of distinction for politicians and other luminaries of the time, including Grover Cleveland. Here's Judy communing with the tree that President Cleveland slept under one night (no one could tell us why he slept there and not in a bed) and that now bears his name.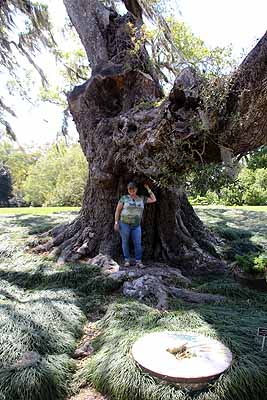 There is a great story attached to Lake Peigneur bordering the gardens. In 1980 a oil rig accidentally drilled into the salt mine below the island and havoc ensued. Mike Richard, the owner of Jefferson Island, watched his brand new house sink into the lake as the salt mine collapsed, leaving only the chimney above water. You can see some of the film of the disaster on You Tube.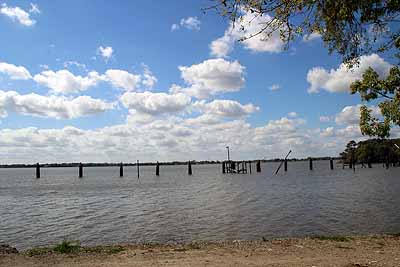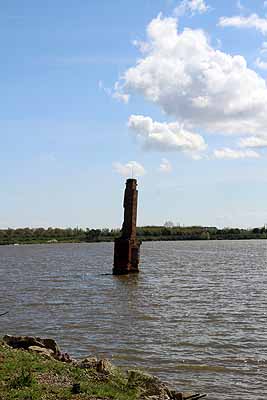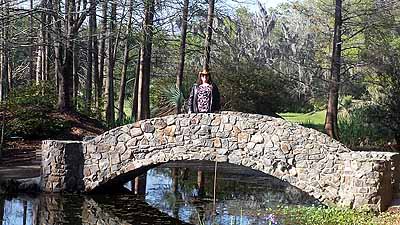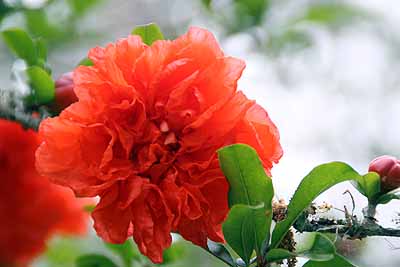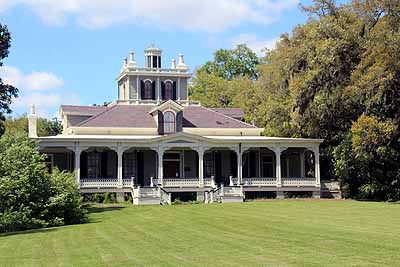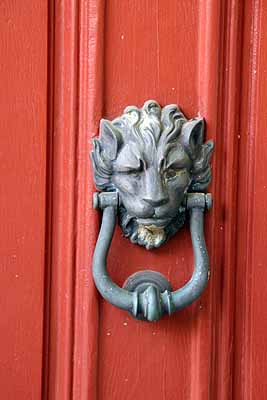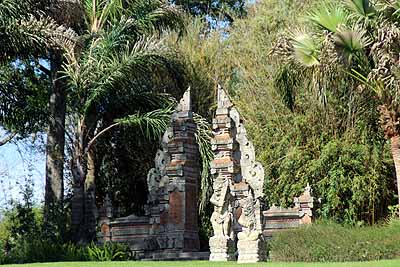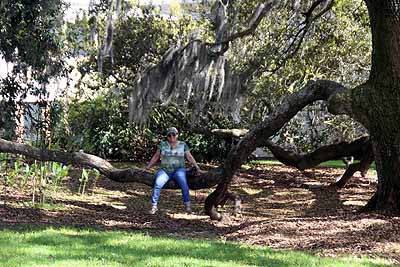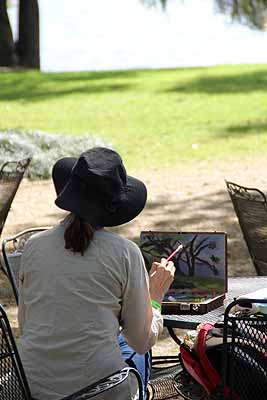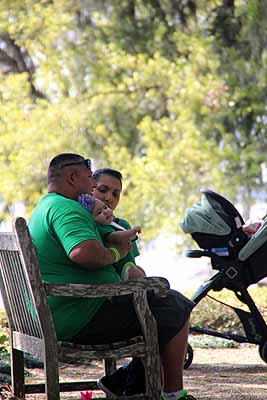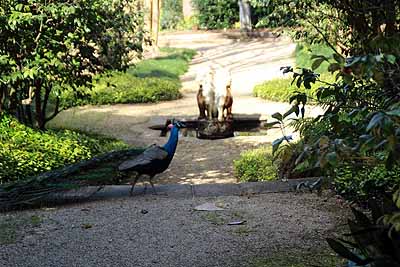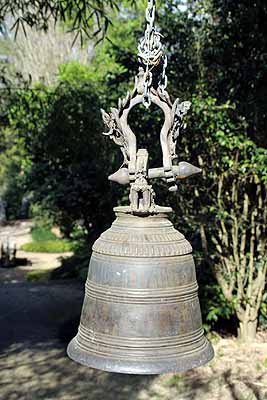 Vermillion Village
Vermillion Village is a living history museum and folklife park much like the Genessee Country Village near our home town of Rochester. Scott's mom, Rochelle, took us and the grandkids for a visit and we had a great time. On the way we passed several brightly painted gigantic gears, evidence to the area's past as a sugar mill town.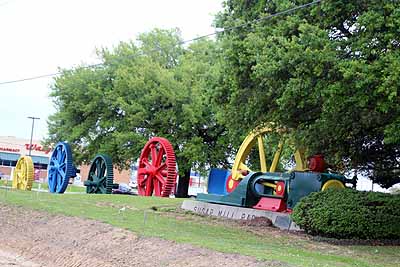 There are still vast fields of cane sugar in the area, and there is continuing controversy over burning the sugar cane fields. We've never been in the area while the burning was taking place, but even native Louisianan Rochelle says it can get pretty bad with the smoke from the fires. Wherever we go we find controversies where both sides have some valid points, but little common ground.
In any case, the kids had a ball at the village and we enjoyed learning about some of the local history and culture.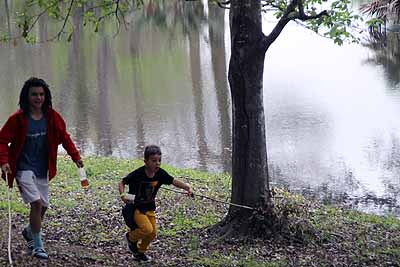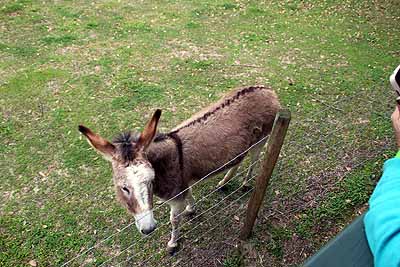 Having a sister who is a master quilter, I was particularly fascinated by some of the textiles. This quilt was one of my favorites, as you can see by the close-up, a great deal of work went into making it.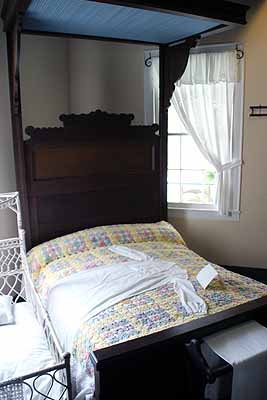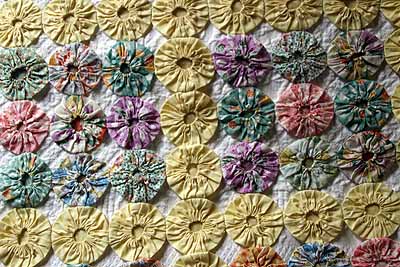 Louisiana is also crawfish country. As a Northerner, it seems to be a whole lot of work for very little reward to eat crawfish; a lobster is a whole lot more rewarding, but what do I know? Since crawfish are traditionally boiled in hot Cajun spices, there was no way I was going to be eating them - I'm a complete wimp when it comes to hot spices.
In any case, Larry and Rochelle took us to a genuine Cajun seafood buffet, where I threw caution to the winds and loaded my place with deep fried everything and dug in. Beside me the grandkids each had a cafeteria tray piled high with boiled crawfish, industriously sucking out the good parts and filling another tray with the discarded shells. Since there is so little meat on a crawfish, it was hard to tell which pile was ready to eat and which pile had been eaten. A good guideline for any crawfish boil is 3 pounds per person. If your guests are big eaters, you may want to order 5 pounds for those individuals.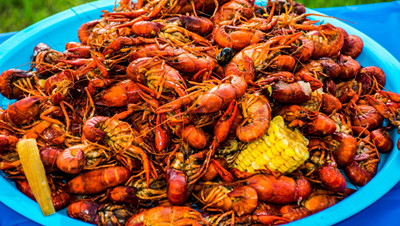 Somewhere around midnight I paid for my fried food feast, acid reflux is a bear when you ignore the doctor's advice!
We were in New Iberia for St Patrick's Day, and as odd as it seemed there was a small but dedicated contingent of Irish in Cajun Country. The parade took all of five minutes to pass us, but we got to meet this lovely fairy, who was waiting happily for the parade while the grandkids wrestled on the lawn.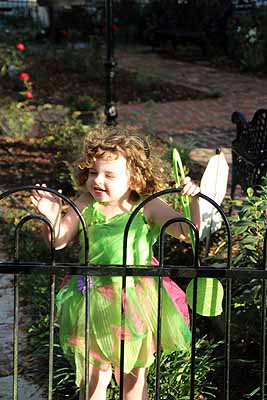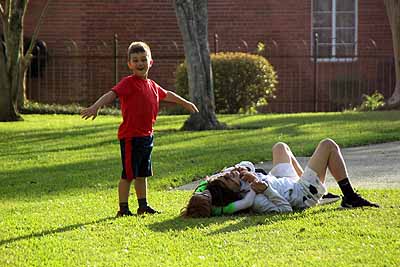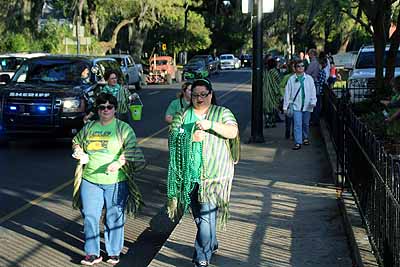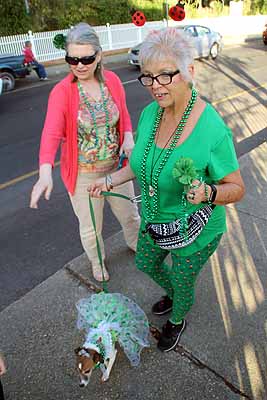 An end to wandering
Returning to Texas, we settled in at the Bastrop State Park. Despite my complaints about Texas politics, the state has a marvelous park system, every bit as good as we have in New York. The cost is very reasonable but you are limited to two weeks at a time in any location, then you have to leave for at least a day before returning. I suppose it makes sense as the parks are always filled on weekends and often on weekdays - they don't want anyone to hog the sites all the time.
We have visited Bastrop many times, watching as the area recovers from the disastrous fires of 2011. The park is home to the Lost Pine Forest, a stand of Pinus taeda far removed from the main Piney Woods region that covers parts of Texas, Arkansas, Louisiana, and Oklahoma. Each year the new growth thrives among the blackened trunks of trees killed in the fire. It has been fascinating to watch how the woods recovers from the fire.
We were getting to the end of our two weeks and wondering where we could go (all the nearby parks were full) when we got a call from the Austin Lone Star RV Resort, they finally had an open spot for us and we were once again settled in one place until the weather in the North warmed up and we could again go traveling in comfort.
Party Time
There were a couple of great parties while we were there, starting with son-in-law Scott's birthday. As you can see, the birthday cake did not last very long.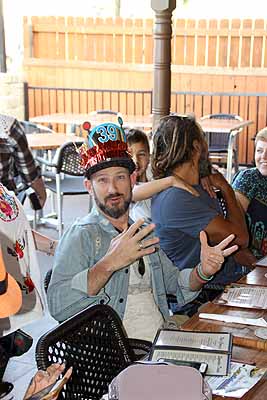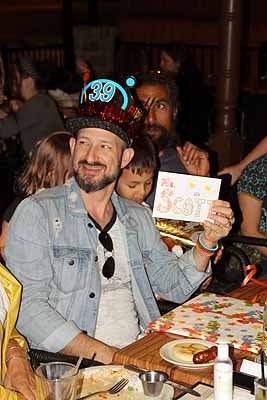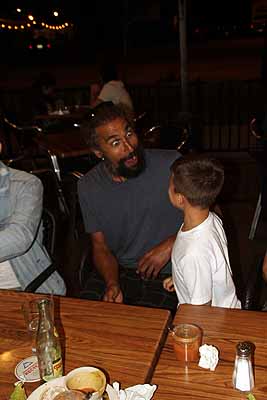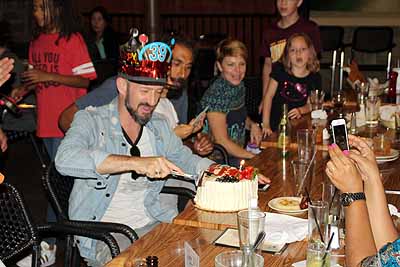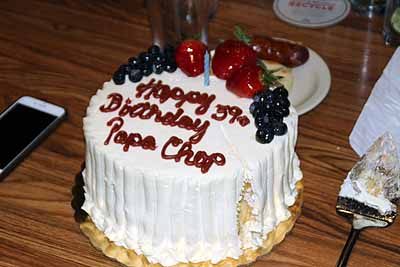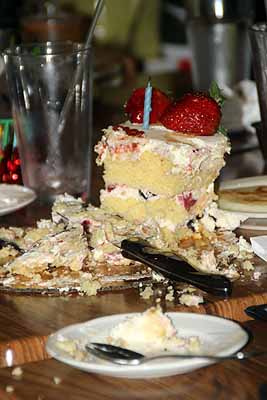 Scott has also been making a name for himself by orchestrating genuine Louisiana Crawfish Boils in Texas. Since you can't jump in your pirogue and cruise the bayous in Texas, you get your crawfish neatly packaged in twenty-five pound sacks. It's quite a production, the party lasted all day, complete with lots of cute kids to take pictures of.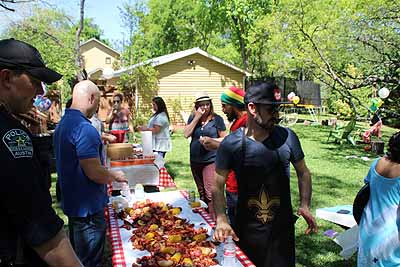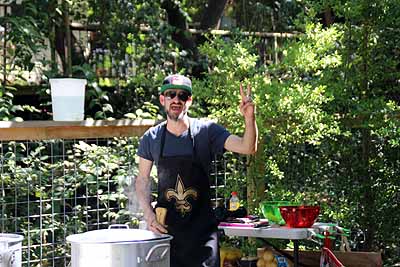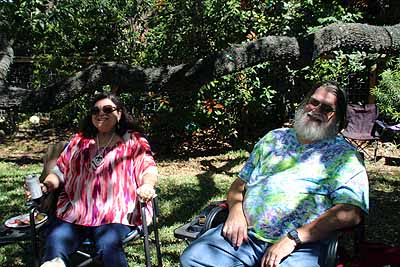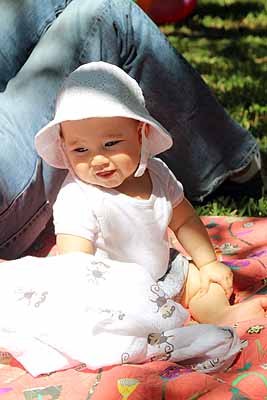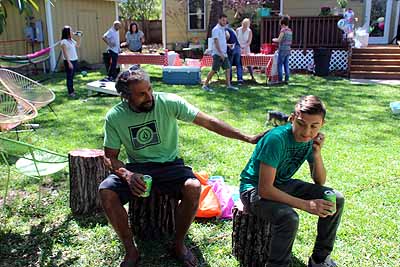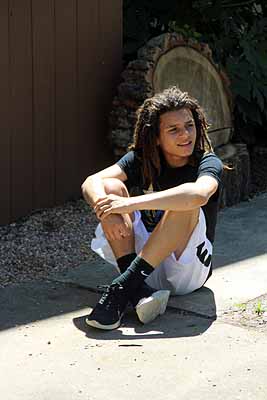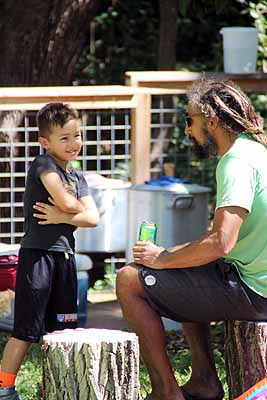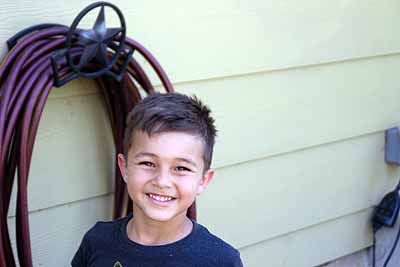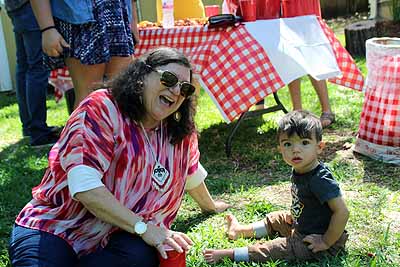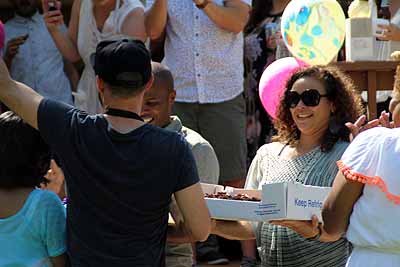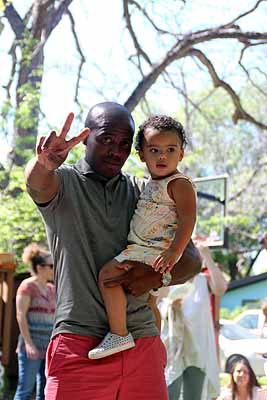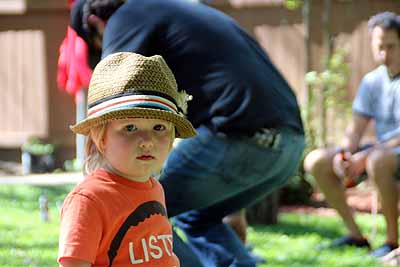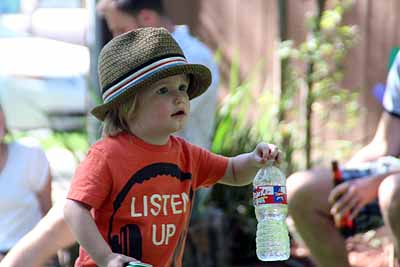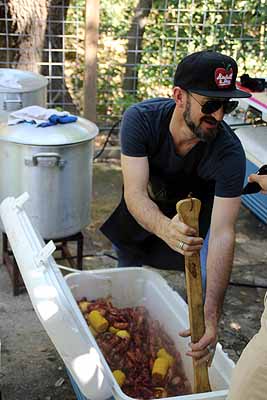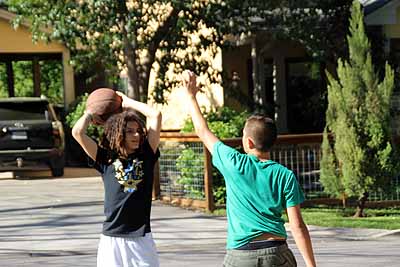 Football
Grandson Franti has been following in his big brother's footsteps and loves to play football - in this case flag football where you try to grab a strap hanging from a belt instead of tacking your opponent. The mouthguards give the kids an odd appearance, but keeps the teeth intact. The missing tooth below came not from football but from getting old enough to lose the baby teeth.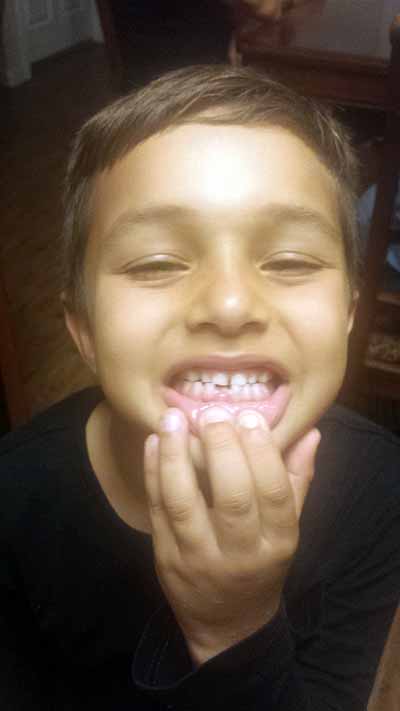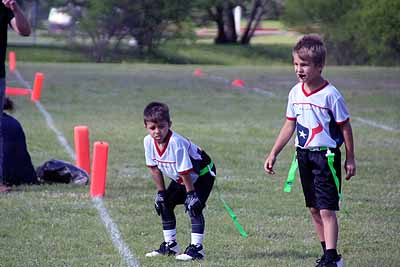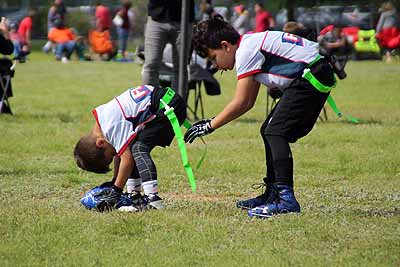 After the game we adjourned to a nearby park and let the kids play. It gets warmer early in Texas, so the water park was open.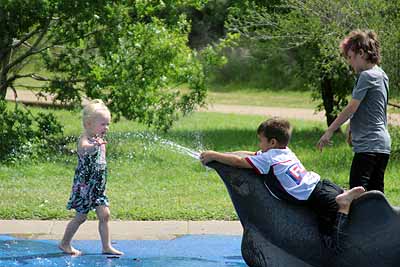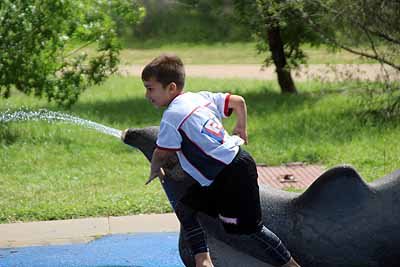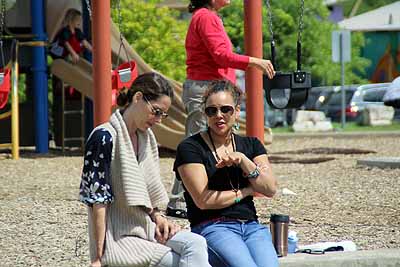 It wasn't really a party, but we had a great lamb roast just before we left.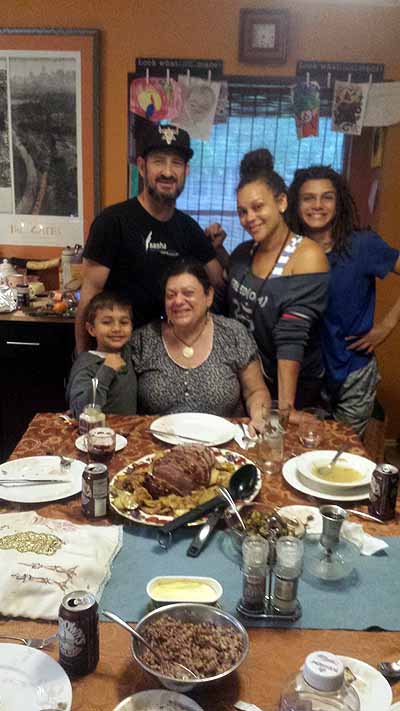 We got a bit of a surprise when one of our orchids decided to bloom. Since we were stationary, the bloom lasted quite some time. We found out that orchids do not like to travel very much the last time we had a bloom - they all fell off quite quickly.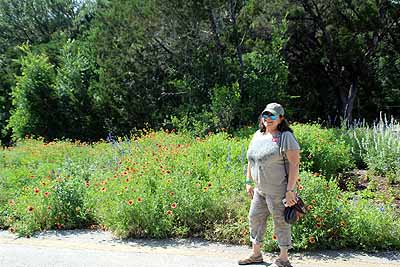 Lady Bird's Legacy
Lady Bird Johnson left her native Texas with a rich legacy. In spring the roadways are lined with gorgeous flowers for a good month, the result of her determined effort to plant flowers wherever she could. Austin has a wonderful for botanical garden that bears her name, a place that we visit regularly when we are there. The pictures don't do it justice, but you can get an idea of how pleasant a place it is.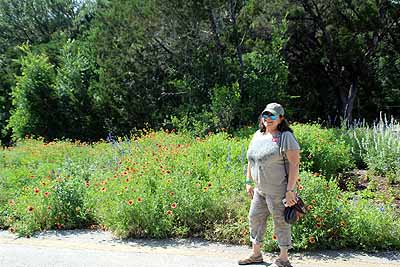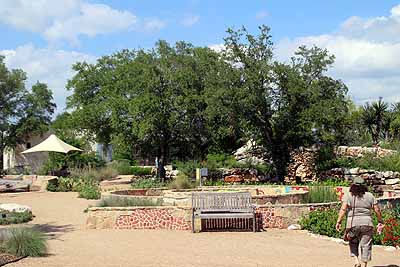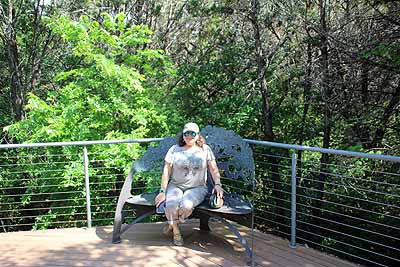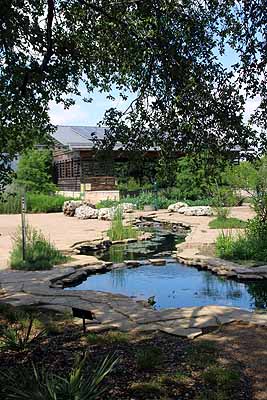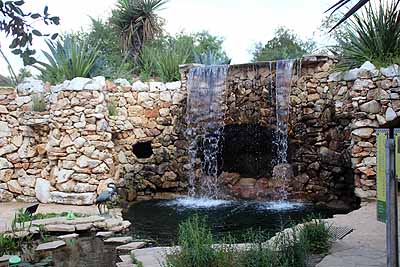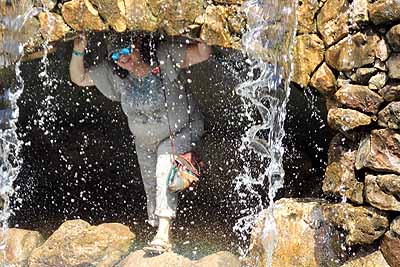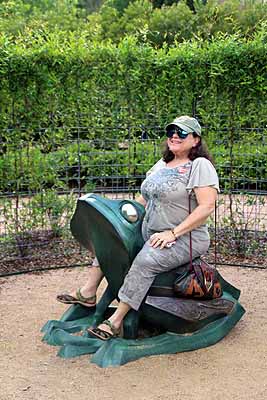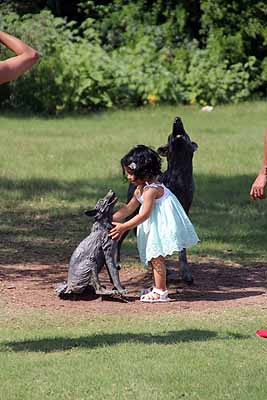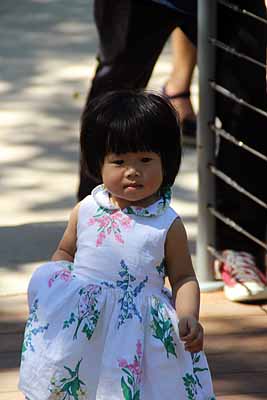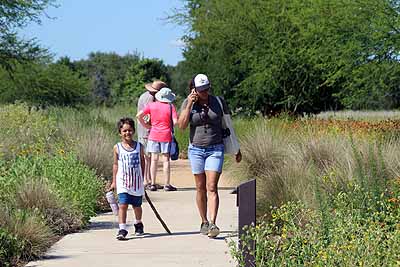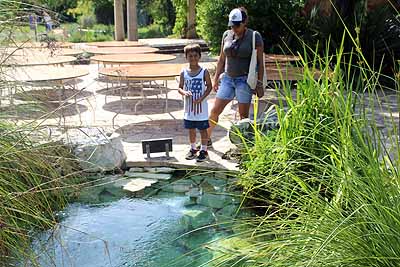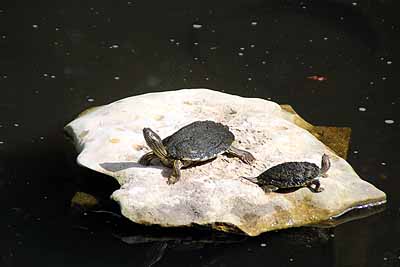 The Renaissance Faire
Just before we left we went to the Sherwood Forest Faire, where we watched the fire juggling, firey music, jousting (oddly, the same two knights were brawling just like we saw last year - the ancient equivalent of the WWF), ate turkey legs and I even got my hair braided. Judy was determined I get a hat even though I really don't wear hats (they're annoying) but this one stayed on my head and looked rather good.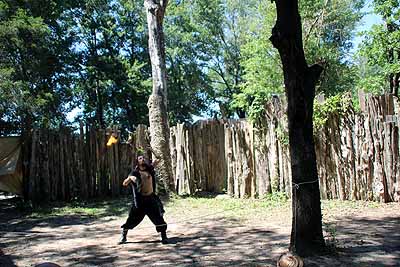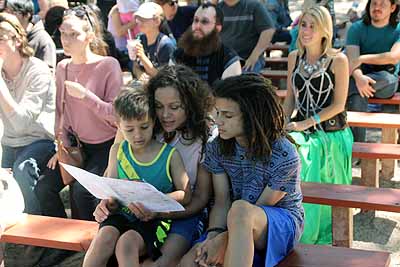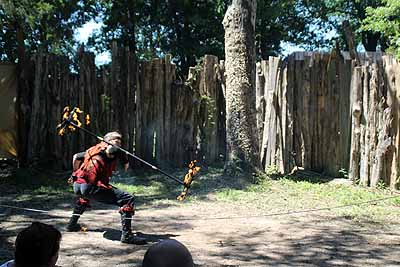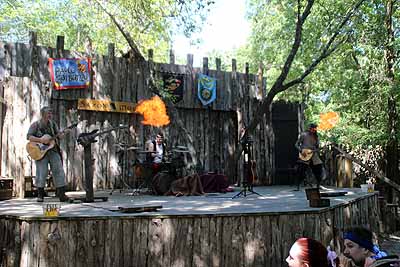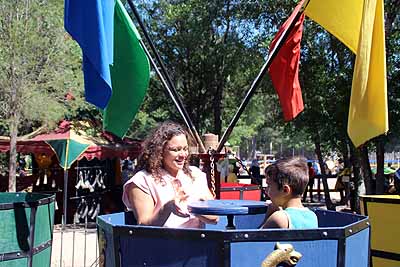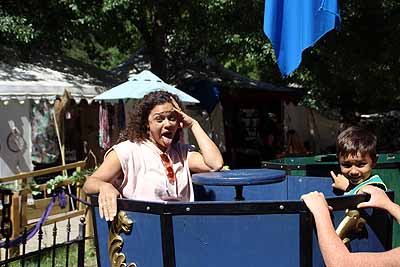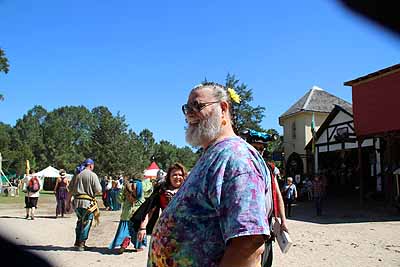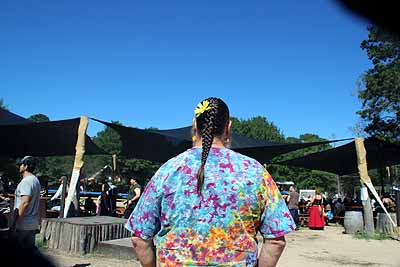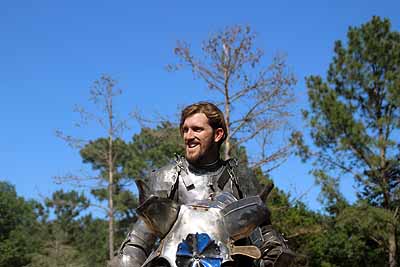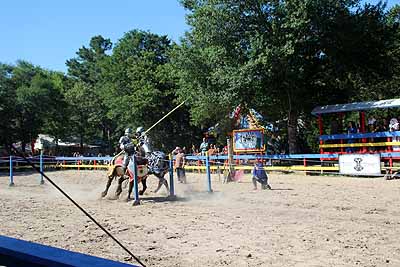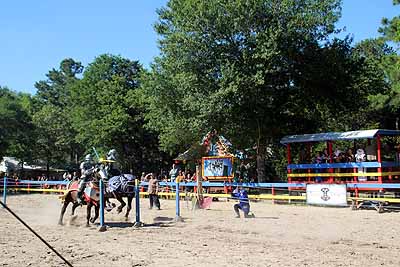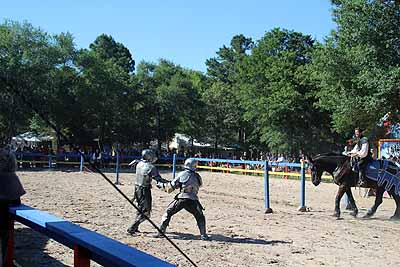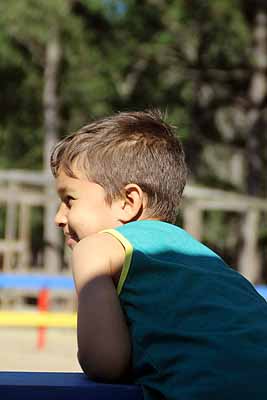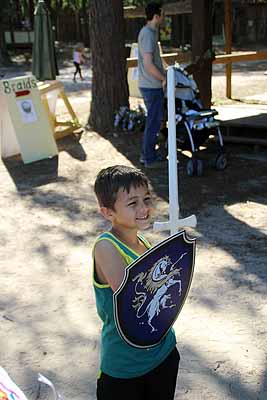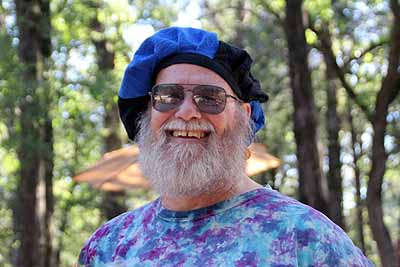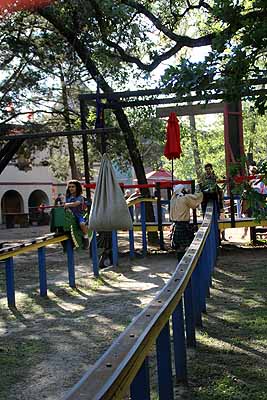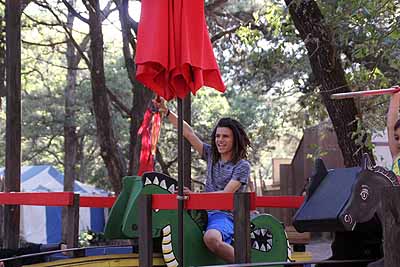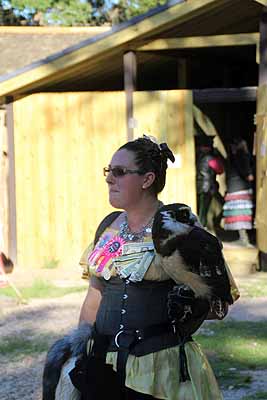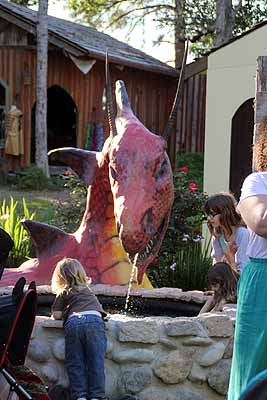 Ya gotta have heart
For some time now I have been having trouble with what I thought was acid reflux. I first had trouble about 10 years ago, but medication had solved the problem as long as I didn't stuff myself with fried food. Lately it had been getting worse, so when Judy went in for a follow-up visit after her blood infection I made an appointment too. The doctor doubled the dose of the medicine, but it didn't help.
That's when I got a referral to a cardiologist. I suppose I shouldn't have been surprised, heart problems run in my family, but surprised I was. I was scheduled for an angiogram and they found one of the small arteries to the heart was completely blocked, so I now have two stents in the artery and I have a few new pills to add to the collection I take every day.
The good news is that I feel much better and no longer have any pain other than in the wallet. These things are bloody expensive, even the co-pay hurts.
As Memorial Day approached, we packed up and headed for the legendary Kerrville Folk Festival, but that's in the next installment.