July 2017 - Portland and Environs
Ralph's Blog
Life in Portlandia
I'll start out with a picture of our cat Sophie, just because she's so cute - no other excuse needed. Just for balance I'll throw in a picture with K.D. and Rindy's dog Atreyu. Atreyu is the most laid back dog on the planet, two strange cats didn't even make him blink.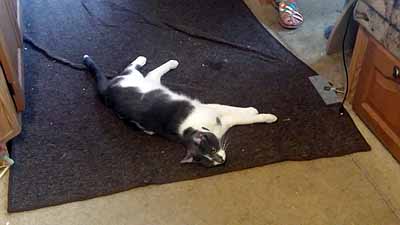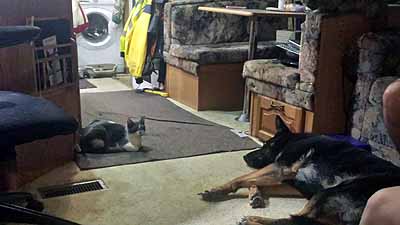 We settled into a spot in Portland in a new RV park on July 3rd, just in time for the fireworks. We were in a new place because Judy's son K.D. had moved from the suburbs to the downtown area of Portland since our last visit; the new place was much closer and with the horrendous traffic in Portland close matters. We were right on the Columbia River, a great place to be.
We didn't really get to see the fireworks, however, since we didn't realize just how freaking big the RV park was. I walk a lot slower than I once did these days, so Judy, K.D. and Rindy left me in the dust on their way to the show. By the time I got to the place where you could see them the display was just about over; the rest of them did get to see the finale. Better planning needed nest year!
Meeting Old Friends
Since we follow our friends on Facebook, we knew that Leslie Lee and Steve Gretz were on tour and would be in the Portland area at the same time as we were. We have managed to visit with some friends in our travels, but this was the first time we have met traveling friends away from home. We spent a lovely day in the Silver Falls State Park with them. Silver falls has ten waterfalls on a grand loop trail, we've been there several times and love to visit. We found four of the falls before we ran out of steam, then adjourned for pizza afterwards.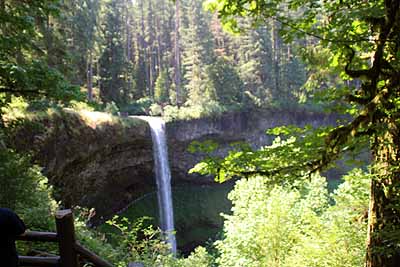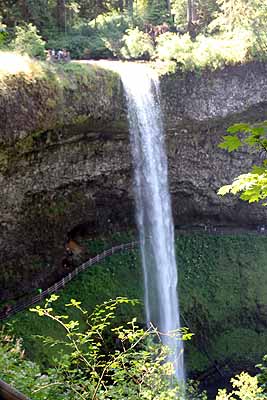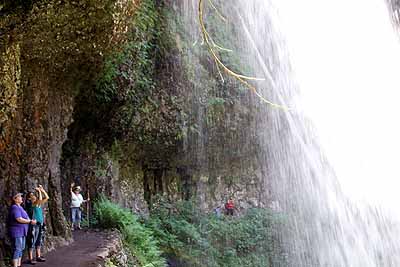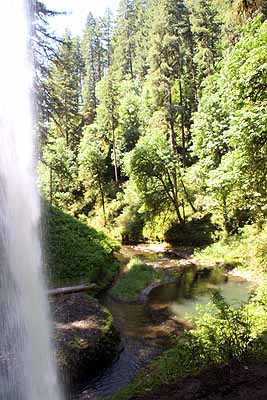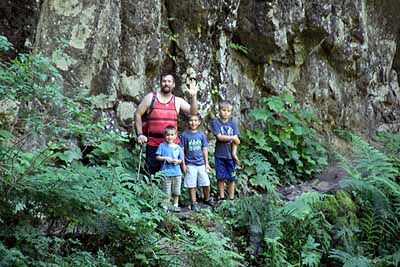 We got to go to one of Steve and Leslie's concerts, arriving a little late because we had to drive through Portland traffic and then hit a construction road closure with no detour posted. The GPS got us around the blockage but I had a few things to say about the road crew who left us hanging.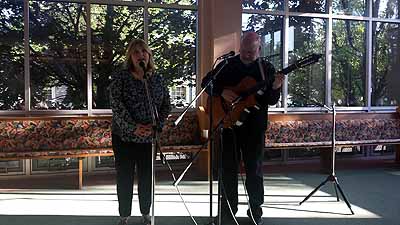 An aside for a Birthday
I'll pause here to celebrate grandson Dalton's 10th birthday even though we weren't there. Happy Birthday, kid.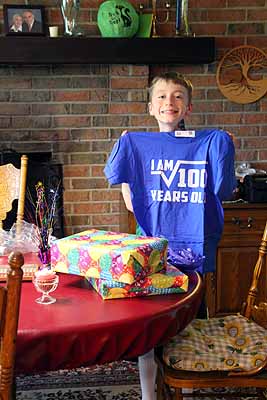 Party Time
No visit to Portland would be complete without a party with Rindy's family, and this visit was no exception. The place was swarming with cute kids and complete chaos, but what else are parties for?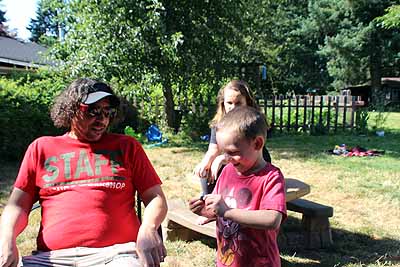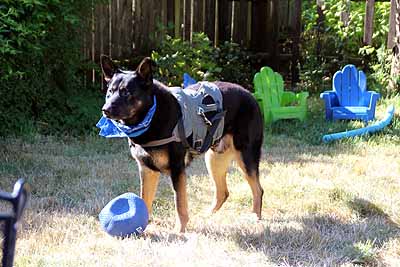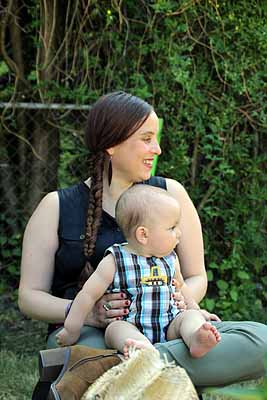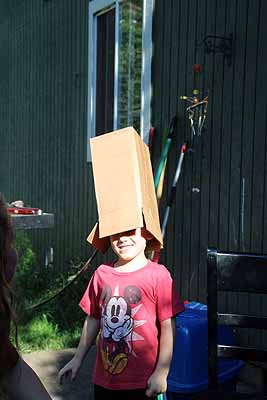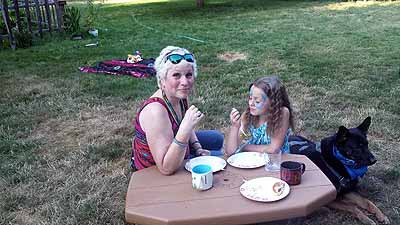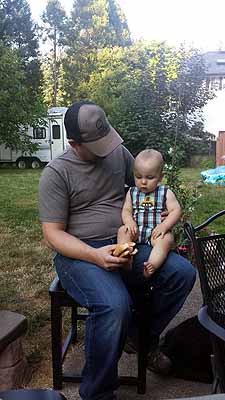 The Portland Rose Garden
We had our first visit to the Rose Garden in 2010 when we came for K.D. and Rindy's wedding. Not only are the flowers spectacular, but the people watching is second to none. I sat on a bench and enjoyed watching people pause to smell the roses - something you don't see every day. While I was watching a particularly attractive couple passed by and I complimented the woman on her necklace - it was quite unusual and very pretty. Her boyfriend immediately assured her she was as beautiful as her jewelry (the guy knew how to treat his girl!) and I replied to the effect of "I noticed that too, but didn't want to be a sexist pig in public." She was pleased and he agreed heartily.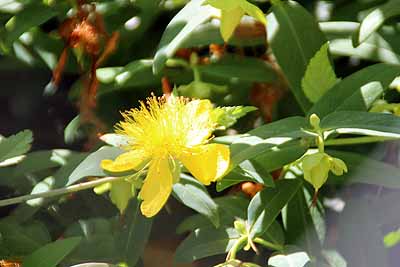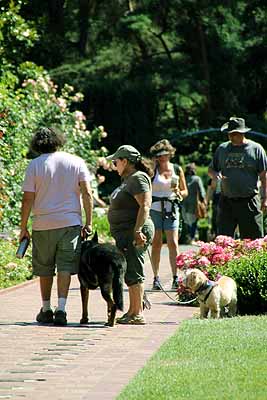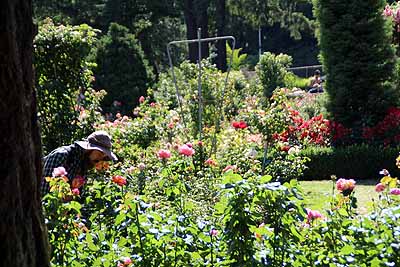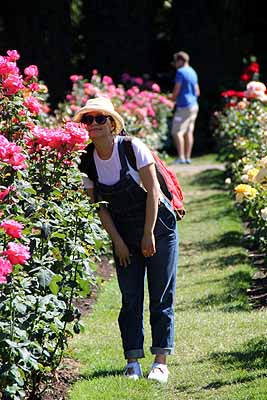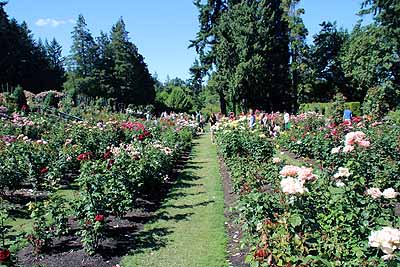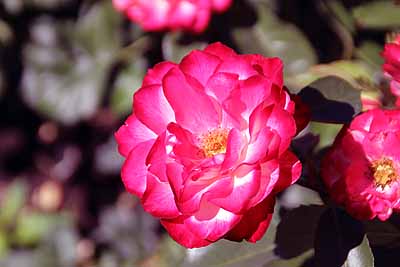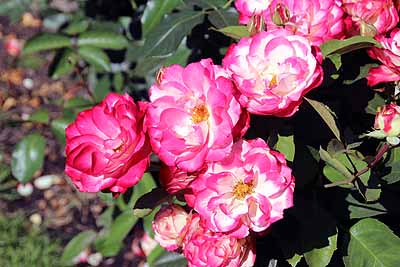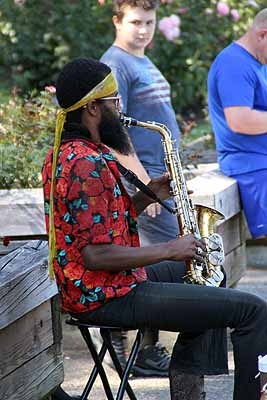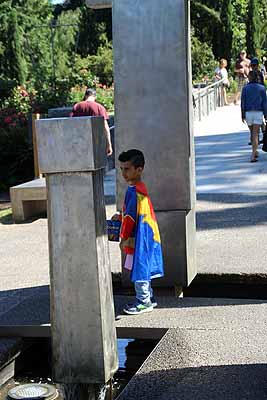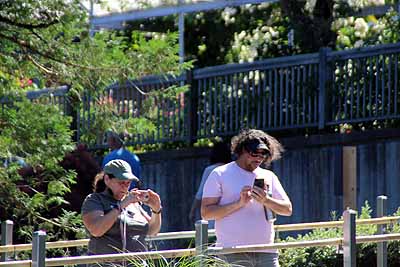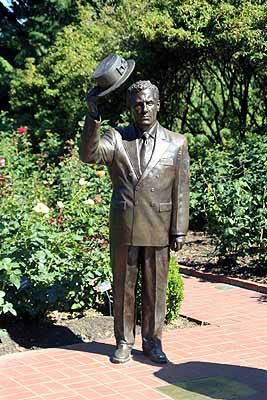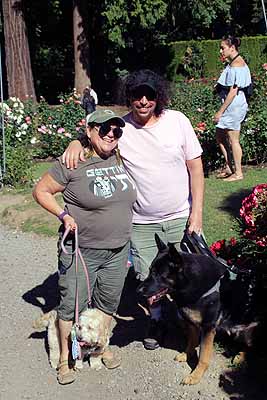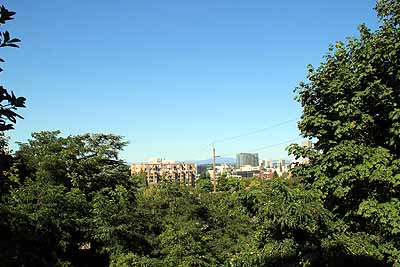 The Reverend Ralph
Our plans were to spend a few weeks in Portland Oregon visiting Judy's son K.D. and his lovely wife Rindy. (Why is it I'm compelled to use the adjective lovely whenever I speak of Rindy. The answer is obvious when you see her picture.)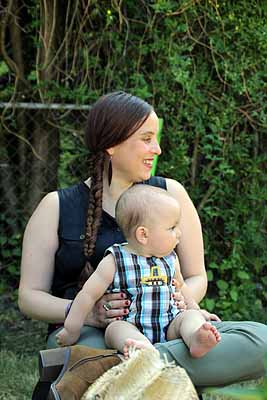 There's an old saw about the best laid plans of mice and men, often repeated because it's so true. We had long set our travel plans and made reservations to wend our way from Austin to Portland when I got a call from my sister Terri. My niece Alycia was getting married in July, but we had decided to pass on attending because we were 3,000 miles away. A good excuse but, as it turned out, not good enough. Alycia and her intended Dave are both atheists and were not interested in a religious wedding. My atheistic views are well known in my family, so somehow Alycia conceived the idea that I should perform the ceremony. Thus I found myself talking to sister Terri and being importuned to do the ceremony.
Only one problem, I'm not a minister and never had any interest in being one. Not a problem, she replied - soon-to-be son-in-law Dave is an ordained minister in some obscure Internet church and legally empowered to perform weddings. Just send in your $20.00, fill in the form and you are ordained.
OK, I've had a couple of friends who were "ordained" in such fashion so they had boasting rights, but really - it seems a little sacrilegious, if an avowed atheist can be allowed to use the term. But it is legal; the irony of me being a minister was too good to pass up. I even opted for the Deluxe Package - $63.00 with a colorful 8.5x11 ordination certificate suitable for framing and a marriage manual with sample ceremonies and such.
So I am now Reverend Ralph, ordained in the American Marriage Ministries Church - and it's completely legal - The government can't tell a church what kind of theology it preaches. The two tenets of my church are:
1) Anyone should be able to marry whoever they want.
2)They should be able to have anyone they want perform the ceremony.
Now that's a theology I can support wholeheartedly.
Remember Steve and Leslie from the start of this blog? Well, Steve is a for-real Baptist minister who went the traditional route to ordination. When I revealed my status on Facebook his comments were very positive. Funny how the world works.
So our well laid plans were interrupted and we spent a whole lot of money to fly back to Buffalo on short notice. It was worth it, Judy and I alternated readings at the ceremony and I got to say "I now pronounce you man and wife" and have it be the real thing. One note: I was supposed to be non-sexist and say "husband and wife," but my brain had been soaked in the traditional phrasing of "man and wife" for so many years that the old formula came out despite my best intentions.
The ceremony was held in the Glen Falls Park in Williamsville. Now I grew up in the Buffalo area, but I had no idea this little gem was there. The falls was lovely, but the background roar did make it a bit hard for the people to hear the ceremony. Despite all that, it was a lovely afternoon to get married.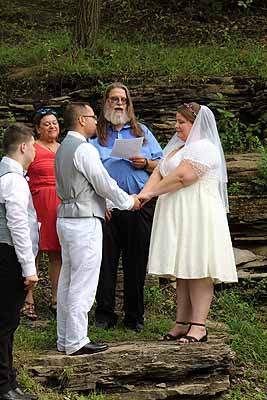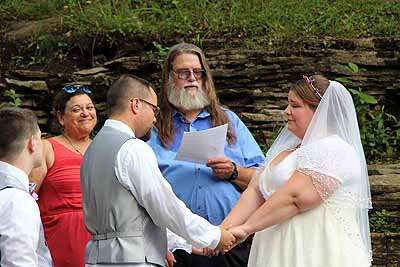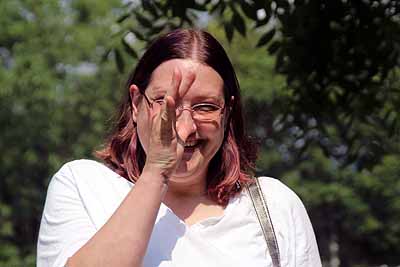 Daughter Jessica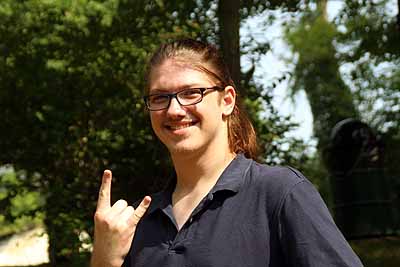 Grandson Nate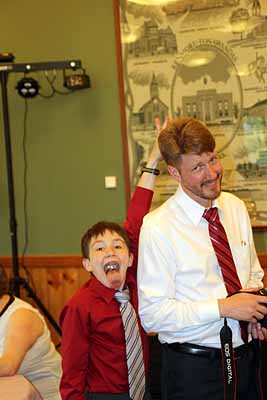 Grandson Calvin auditioning for a place in Kiss during the reception
Farewell To Shira
Sadly, the wedding will remain a bittersweet memory. While we were at the wedding, Judy was spending a great deal of time on the phone with the place where we boarded Shira. She had developed a gastric torsion, and in a fourteen year old dog the prognosis was grim. K.D. and Rindy were with her at the end and all we have of Shira is a lock of her fur and a paw print. This was especially hard on Rindy, who lost her cat to old age just the week before, not to mention Judy who had to say goodbye to her beloved Shira at a distance of three thousand miles. Life goes on, but not as you would wish it.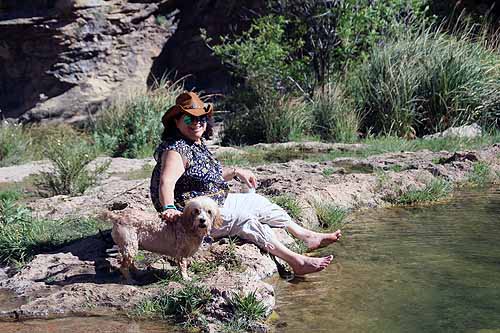 Surrogate Grandchildren
While we were in Buffalo we drove to Rochester for a visit with our friends Dave & Helga. Our surrogate grandchildren from Florida were visiting their real grandparents, so we enjoyed a day with them. We went to the public market and they suckered us into buying them these umbrella hats.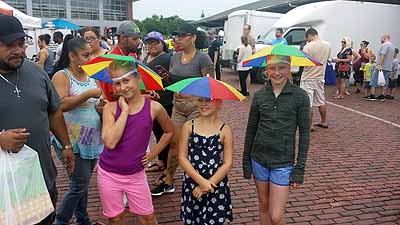 The Elusive Waterfall - Persistence Pays Off
Last Year we tried several times to hike to an interesting waterfall near Portland but failed to find it. This year we took one more shot at it and actually made it. With the proper coordinates in the GPS and remembering last year's near miss we parked in the right parking lot and took the steep climb to the waterfall. Naturally, Judy left me in the dust on the climb - I'm still a fat old man even if the surgeons fixed my ailing heart. It was wonderful to be able to hike again without that pain in the chest. There's something about a waterfall that just invites you to settle down and enjoy the scenery.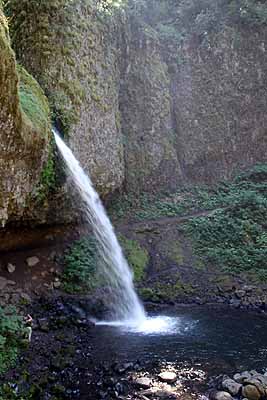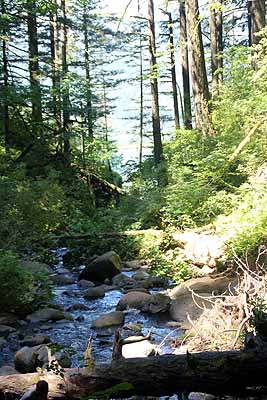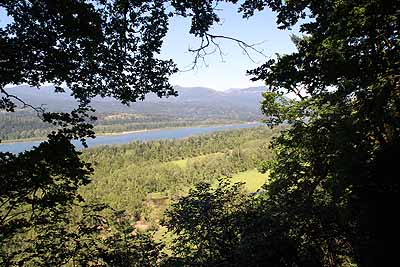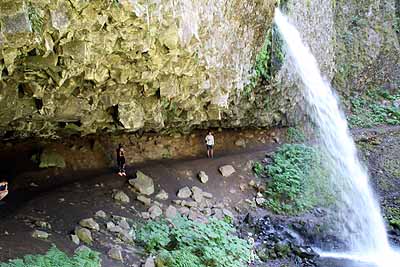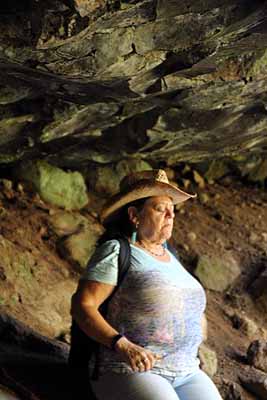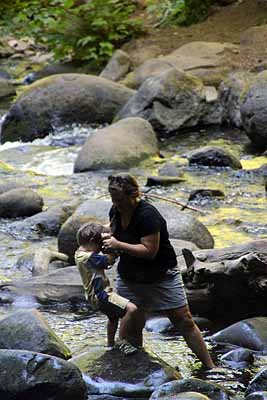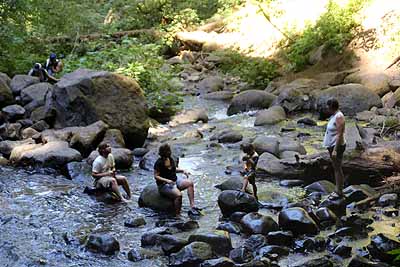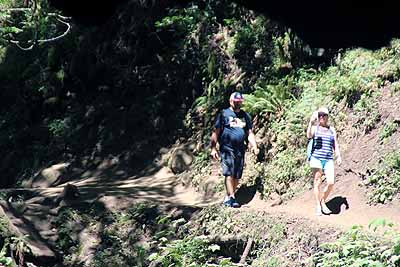 There seemed to be an exception to the need to settle down, this young man had the urge to walk like a lumberjack.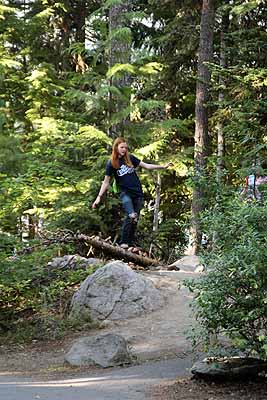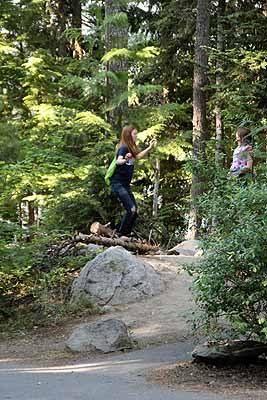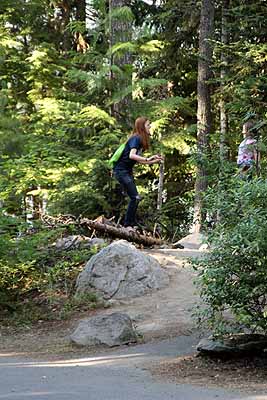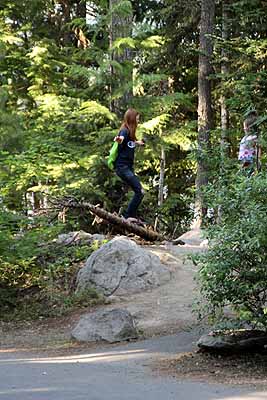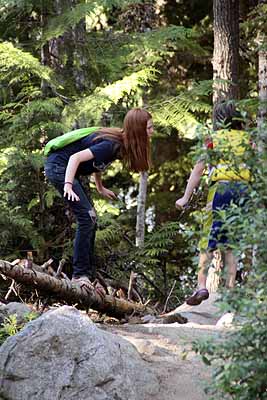 There was still plenty of day left, so we continued along the Columbia Valley and headed toward Mount Hood. That's where we came upon this ice cream stand with a unique CLOSED sign.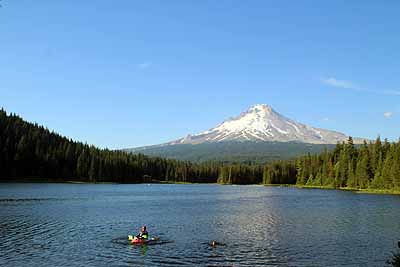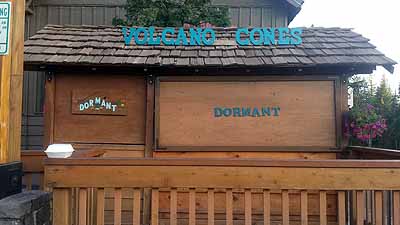 The Dry Branch Fire Squad
I spend a good bit of time checking out which of our favorite musicians will be playing somewhere along our route. It doesn't happen often that we cross paths with someone we want to see, but I found that The Dry Branch Fire Squad was playing at Gorgegrass, a sweet little Bluegrass festival in Stevenson Washington.
I first saw Dry Branch a good forty years ago at a mini-festival in my home town of Buffalo, NY. It was held in the then-new Convention Center during the winter and I, along with the rest of the crowd, was simply blown away. The lineup has changed often over the years, but leader Ron Thomason has been the constant heart of the group. He's a wickedly fast mandolin picker and a master of deadpan cornpone humor with a college-level vocabulary. (He is a teacher in his day job)
Dry branch was the last act, but the crowd didn't want to let them go when the appointed closing time rolled around and they didn't want to stop playing. The poor security guards tried in vain to move people out the door but it was hopeless. Great music is darned hard to stop.
I started to pack up the RV to head for the festival, but as I did I found there was a huge bubble in one of the tires, so I got to test out the new jack I'd bought after wrecking the old one when the tire blew in California. After much grumbling and complaining the spare was on the RV and I was on my way. Judy had decided to spend one more day with her son, so I made the trek alone.
Fortunately, the festival site had a nice, level spot and setup was a breeze - which is true of just about everything along the Columbia River Gorge. Wind surfers love the place and were out in force all weekend. Unfortunately, there weren't any tire stores in town, so I had to drive a good hour to the nearest bigger place, where I paid an outrageous price for a replacement tire. Not much choice, though, we've blown enough tires to know driving without a spare is an invitation to disaster. I was back in time for the evening show and the festival was a real pleasure.
I hope they can have it again in 2018, they were at the heart of the wildfires that swept the gorge in 2017. It would be a shame if the site was destroyed.
Seattle, Washington
Next stop was Seattle to visit an old friend of mine who now lives there. Having a local to scout an interesting to place to meet, we maneuvered our big honking pickup through the narrow streets and eventually found a parking place. There we spent a delightful evening with Suzanne, telling Judy some of the things about my past she didn't know and trading stories of our years apart. That's one of the joys of traveling, being able to reconnect with old friends.
We visited the Pike Place Fish Market, whose claim to fame is fish tossing. Seriously, they toss fish for your entertainment. My pictures didn't come out as well as I might have wished, but if you follow the link you can see some video of the event.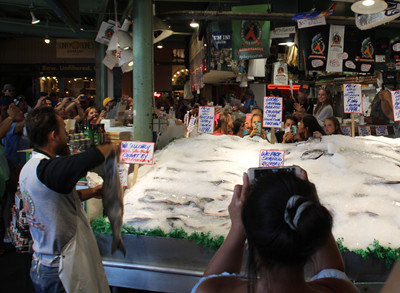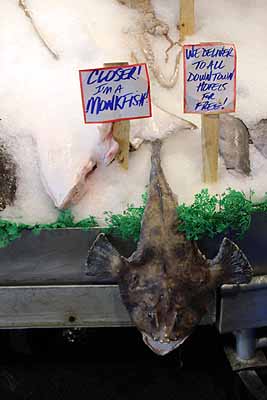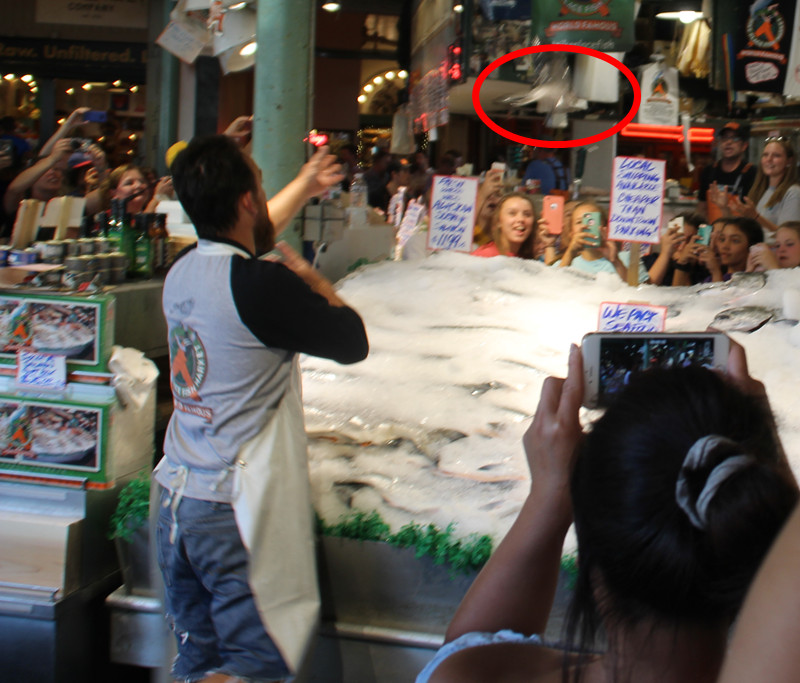 There were innumerable small stands selling everything under the sun, fruits, vegetables, fish, junk, crafts - you name it and it was there. It was a grey day, but there still was a nice view of the harbor.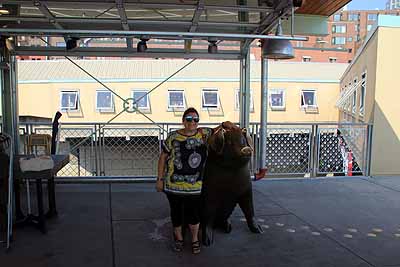 Then there was the Museum of Pop Culture. It is a very cool place, with a major exhibit on the life and work of Jim Henson - a Muppet fan's dream come true. After Jim we went through the Star Trek exhibit, taking me back to the days of my youth watching three consecutive reruns of Star Trek in a row in the college dorm.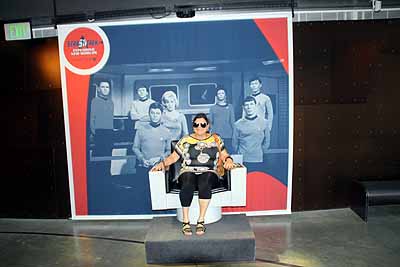 As if that wasn't enough, there was an exhibit on Science Fiction, where Judy got to pose with an old friend.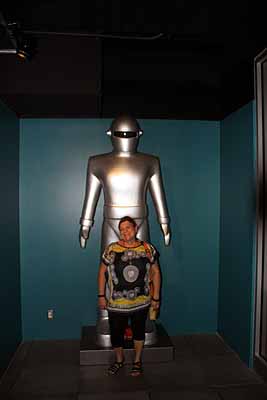 Then on to the Jimmy Hendrix room and the guitar gallery and the... You get the idea by now. For someone who has boasted about being totally disconnected from Pop Culture (I haven't the faintest idea who those one name celebrities are on the magazines at the checkout counter) I loved the place. On our way to ride the monorail we came upon a mob of people dancing in the square below the Space Needle. No, we didn't go up in the tower, $20 seems a bit steep for an elevator ride.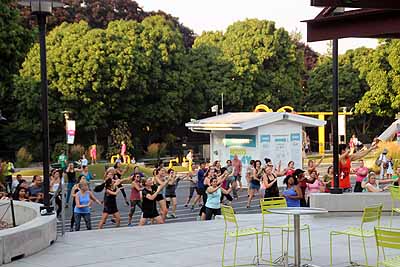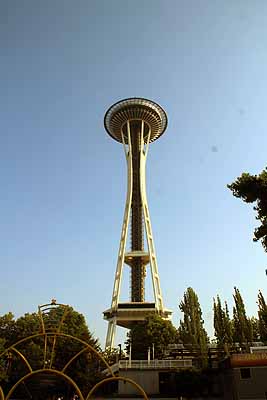 Vancouver Island
Last year we passed up a visit to Vancouver Island - there was only so much time to see the sights - but this year we made it. Not that it was easy, we were hassled at the border, mostly because I screwed up. When the lady asked us where we lived I should have said "Honeoye Falls, NY" and let it go at that. Instead I unthinkingly gave our standard answer of "We live in a fifth wheel and travel the country."
Wrong, wrong, wrong!
That's where I discovered our pickup has commercial plates. I've only driven the thing for three years and never noticed. With the two big toolboxes in the back I'm sure they suspected I was trying to sneak over the border to do some illicit work. I guess Trump isn't the only one who doesn't like foreign workers. (Exception - as long as he can pay them less than American workers to run his hotels, then he loves them.)
So we spent an interminable time waiting in their lounge while they inspected the pickup. Since I took the keys in with me they couldn't open the toolboxes; I have to wonder what they were inspecting. Those boxes are pretty big - I could have had kilos of dope or millions in cash (yeah - right!) or maybe an illegal alien in there and they never would have known. Anyway, we must have passed muster because they wished us a nice visit and off we went.
Only one problem. I had my insulin syringe on the back seat and when they checked under the seat it rolled into the dark recesses of the vehicle, so I couldn't take my insulin that day. Several days later the pickup relented and my syringe (with its $40 of insulin in it) reappeared on the floor in back of the pickup, but that did me no good by then. I suppose I should be grateful I was crossing the Canadian border and not the one with Mexico.
Anyway, we made our way to the ferry terminal and sat around waiting to board, watching all the people around us and looking out over the harbor - or I should say harbour since this is Canada.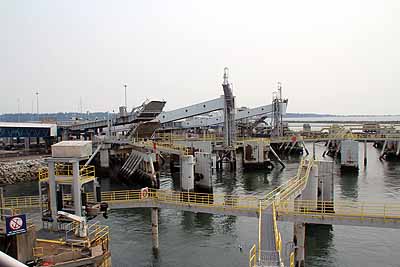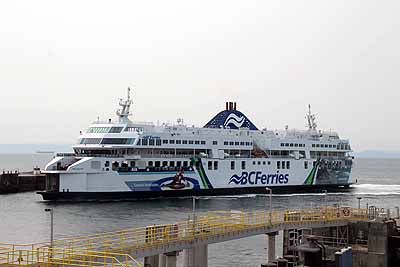 Arriving on the island we found a very functional bus system, for $5 you could ride the bus all day long to anywhere you want to go. We rode on the top of a double decker bus and enjoyed the sights.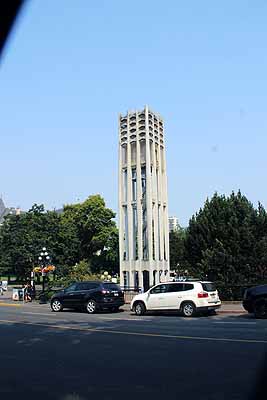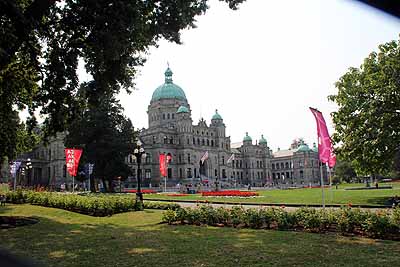 Victoria, the capital of British Columbia, has flowers and gardens wherever you look, mixed with many grand old buildings. It must have taken some determination to build your capital city on an island, then have to bring most everything over by ferry. Sure, it's a big island, but oy vey the work!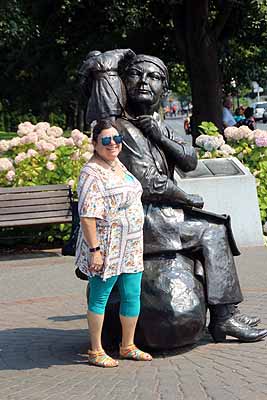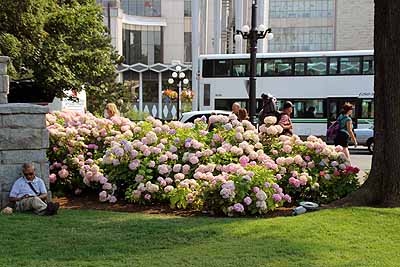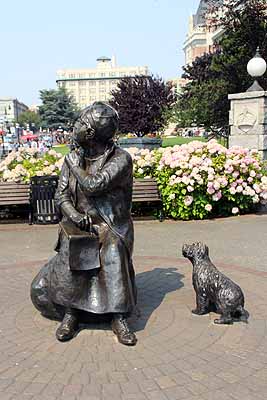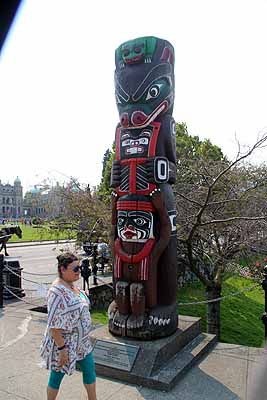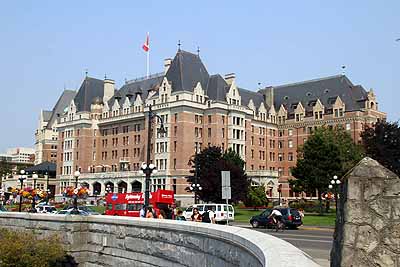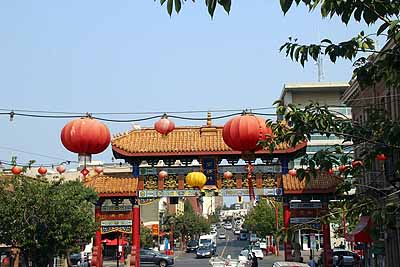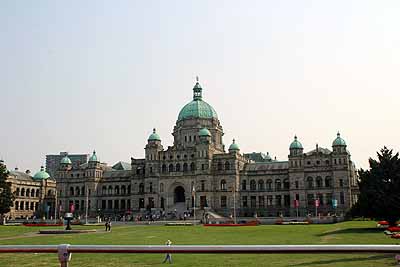 There's even a park in the downtown area where we saw a peacock and a totem pole. The totem pole is the world's largest freestanding example of the art at 128 feet tall.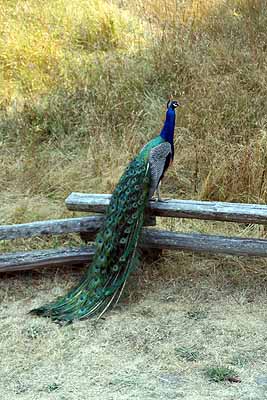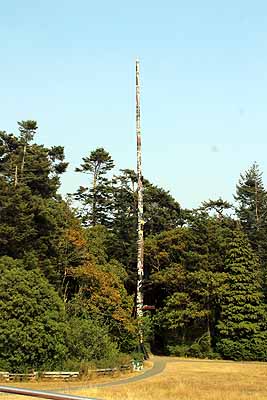 Despite the cheap bus fare, we opted for one of the sightseeing tours - again riding on the top of the double decker bus.
The driver had plenty of stories to tell about the city; we went through Chinatown and then stopped at Craigdarroch Castle. Castle is a bit grandiose a term, but it's a beautiful building with a fascinating history. Built by the 19th century coal magnate Robert Dunsmuir, (sounds so much better than robber-baron, don't you think?) a Scottish immigrant who made his fortune with coal from Vancouver Island. He didn't get to enjoy it, however, as he died before it was completed. The story then descends to soap opera with inter-family warfare, drunkenness and lots of juicy scandal.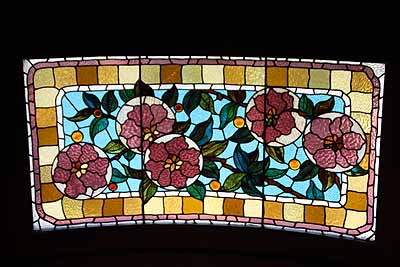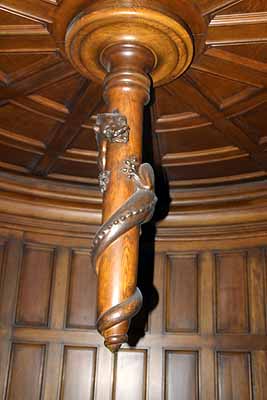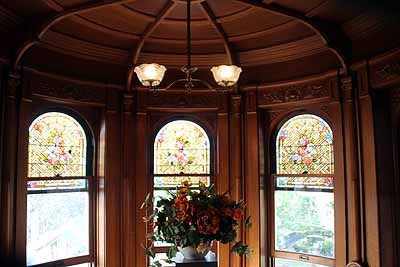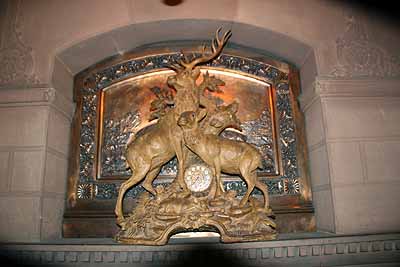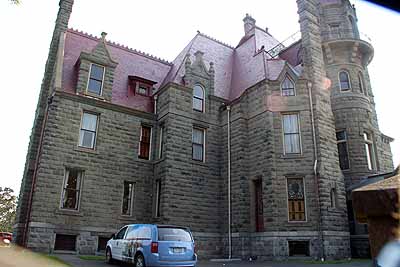 The building later became a military hospital for WWI veterans and later a college, eventually becoming the property of a historical society that runs the place now. A gorgeous piece of architecture.
The tour bus advertises that you can get on and off at will, so as dinner time approached the helpful driver told us about a good little pub; we hopped off and had a decent dinner. Returning to the bus stop we waited a while by this interesting lawn ornament:
We were to wait in vain, however; no bus came. Digging out the schedule, we found the driver had neglected to tell us he was driving the last bus of the day and we were stuck. Good thing we bought the all day pass on the city bus, the driver there was able to show us how to get back to the ferry terminal.
No hassles at the border in the way back, but they only had one booth open late at night and the wait was considerable. The lady at the booth wasn't interested in inspecting a damn thing; we showed our passports and were waved through.
Bellingham washington
We had intended to spend a few days with my cousin in Bellingham, but we only got to visit one night when some unforeseen circumstances cut our family visit short. We made the best of the situation and went on a picnic and explored the area. There is a very nice little park with some interesting artwork in the tunnel under the railroad tracks that leads to the shore. Another park yielded a waterfall and a trip to the harbor found us watching some very cute kids playing near the water.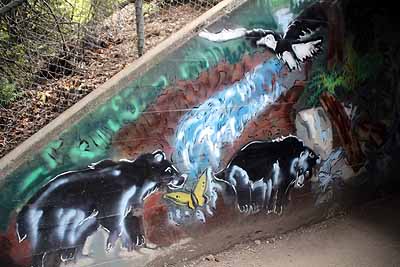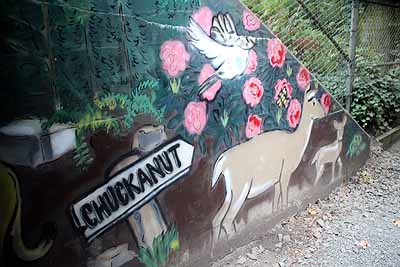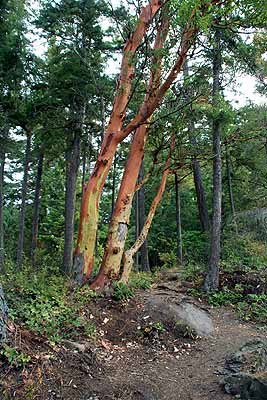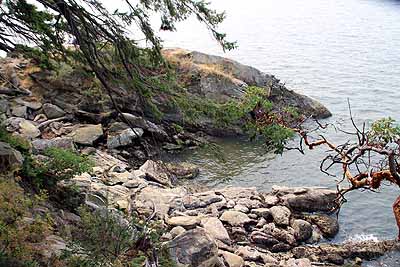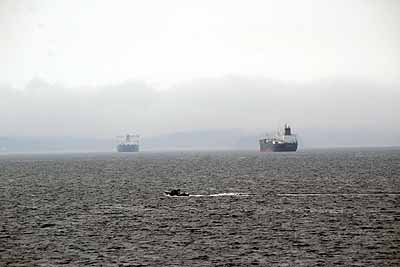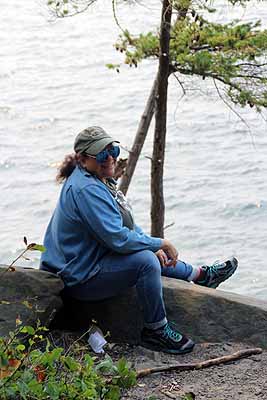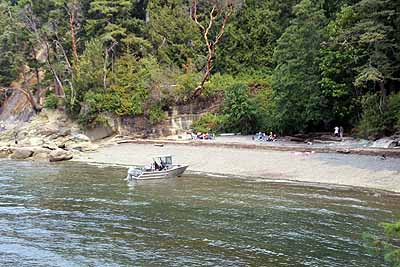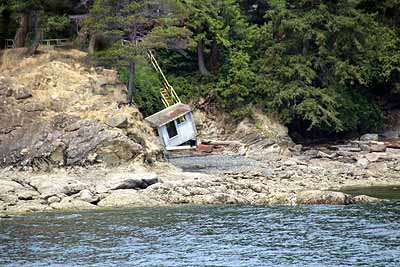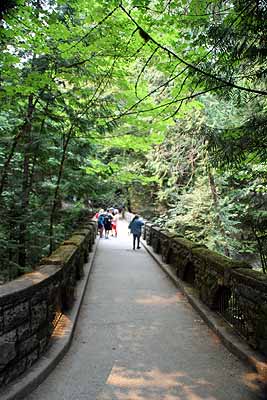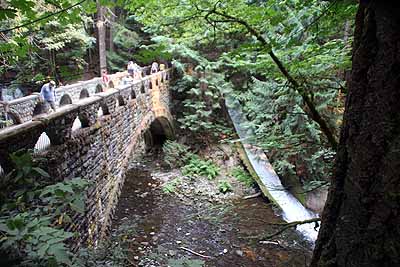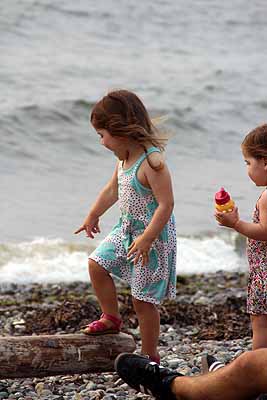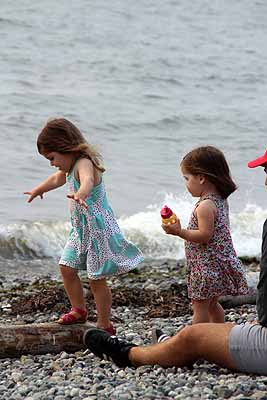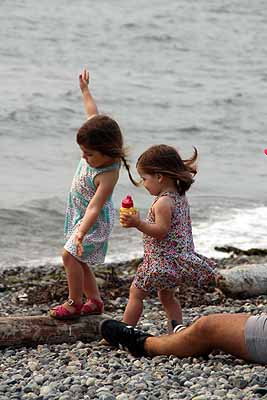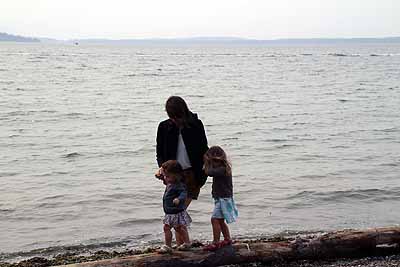 It's like the Hotel California
While we were in Bellingham the computer on the truck told us it was time to change the fuel filter. Not a big deal, we went to an instant oil change place and had the work done. Took an hour or so and we were done.
Or so we thought.
We hitched up the RV and headed out of town, but as soon as we hit the first hill the check engine light came on and the truck slowed down appreciably. Joy and rapture! I pulled over and got out my diagnostic tester which told me there was low fuel pressure. Not too hard to find the cause, so we turned around and stopped in the local Costco parking lot to unhitch the trailer - no way it was going to fit through the oil change bays. As you can see, we pulled up right next to another Keystone Montana in the lot. You can't make these things up - really.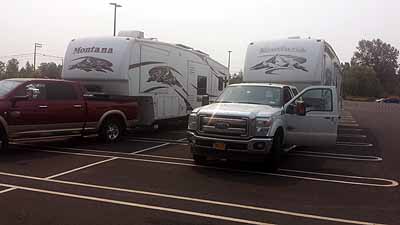 They fiddled and diddled and thought they had the problem solved so we hitched up again and once again headed south. This time we made it about 20 miles before the stinking light came on, so we turned around once more. Being a Sunday, the guys at the oil change place that were a little more experienced had the day off; we had to wait until Monday to have them fix the problem.
Naturally, the RV park didn't have any room, so we ended up spending the night in the old Costco parking lot (the one nobody has taken over since they built the new store) along with another camper and an 18 wheeler. We did fine with the generator running and a good Chinese Buffet within walking distance of our impromptu campsite.
The next morning we were on our way with yet another new fuel filter and no further problems with the truck.
Or so we thought - I'll tell you about crossing North Dakota in the next blog.