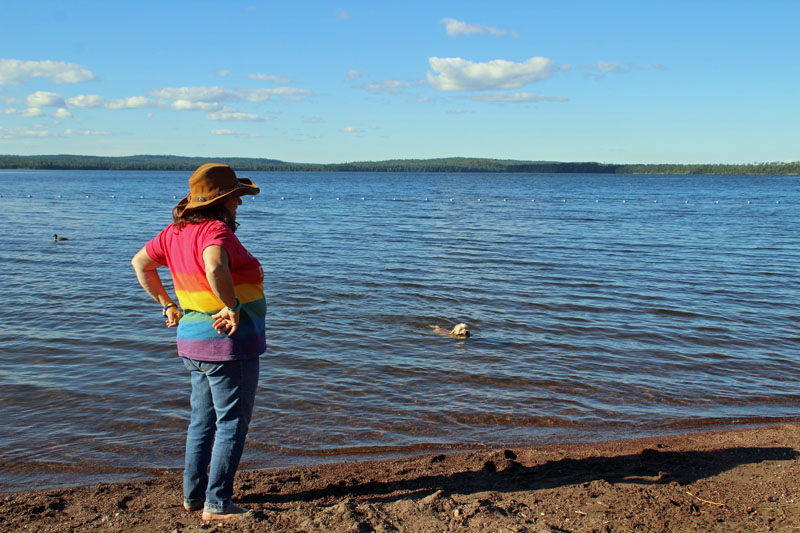 Ralph's Blog July 2016 - The Endless Prairies
They say that when you get older you start to forget things - but I forget who said it. It seems that I forgot to mention Craigellachie BC, which we reached just before getting to Banff. I don't blame you if you've never heard of Craigellachie BC. I hadn't either, but there's a rest stop there and it turns out it's the site of the Last Spike for the Canadian Pacific Railway on November 7, 1885. I hope you follow that link, because it's an interesting story, full of twists and turns.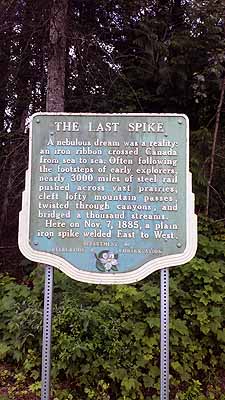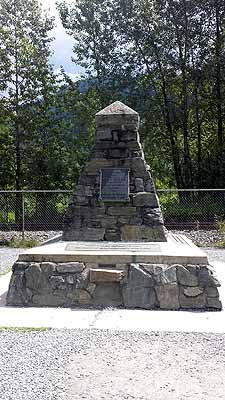 It was pure chance we found the place, if Nature hadn't been calling as we passed the rest stop we would have driven on none the wiser. But stop we did and thus we found the monument and learned a bit about Canadian History.
If you didn't follow the link, I'll tell you that are several last spikes, including the silver one that never made it to the ceremony, one that was bent when they tried to drive it in, one that actually got driven but was then removed so souvenir collectors wouldn't swipe it and one that finally got left in place. Nothing in life is ever simple, it seems.
We told our MP3 player to serenade us with Gordon Lightfoot's Canadian Railroad Trilogy as we drove away. It seemed like appropriate travelling music.
Heading Downhill
We left the Rockies and stopped in Calgary for the night. There's not much to say about Calgary, we weren't on time for the Stampede and nothing much was happening. The only thing notable was that when we tried to raise our leveling legs in the morning they were once again clunking and complaining. Remember back when I told you about forshadowing in the blog about our time in Portland? Well, the shadow had returned.
We love some of the names of Canadian towns. We camped in Medicine Hat the next night and Moosejaw the following night, where we met this handsome moose.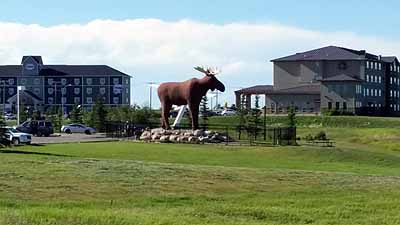 Each time we set out in the morning the problem got worse, and by the time we hit Moosejaw Saskatchewan I was once again turning the hand crank while Judy pressed the button for the electric motor. About halfway up the gears gave a mighty CLUNK! and the motor ran just fine. The problem was, the passenger side leg just sat there and didn't move while the driver's side leg retracted.
Remembering back to the first time the RV decided to become a stork I opened the front compartment and found the passenger's side leg had frozen and the shaft had shattered. That meant for the next two weeks we would have to raise and lower the RV on one leg, then use our spare scissors jack to level the thing. What a pain!
We did have breakdown insurance on the RV, but to use it we had to bring it to a Camping World to be repaired, but there aren't any Camping World Stores in Canada. I found the replacement part on line, (would you believe that only one company seems to make leveling legs for just about every RV manufactured?) put a few hundred dollars more on the credit card and had them send it to Goderich, Ontario - the next place we would be long enough to be sure we got the part.
So once again I resort to foreshadowing, I'm sure you realize by now it wouldn't be as simple as just replacing the part. You'll just have to wait for that blog to find out what happened.
Down in the Valley
Once down from the Rockies we drove for mile after mile - or , since this was Canada, kilometer after kilometer - of relatively flat country. For three provinces we saw nothing but endless fields of yellow flowers, but we had no idea what those endless fields were growing. The only relief from all that yellow was the occasional plot of purple clover, but that was rare.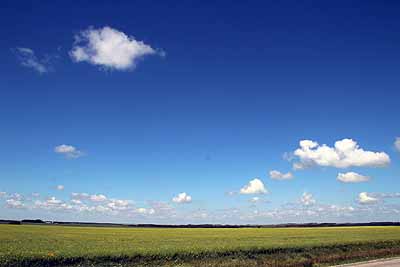 Firing up the cell phone we found we were seeing canola growing to produce the canola oil you see in the stores. The only other remarkable thing about the prairies was the abundance of water. While the East was in a prolonged drought, the West and mid-west were drowning. On our third day of endless prairie we headed for Crooked Lake Provincial Park in Saskatchewan. To our complete surprise, we turned off the road and descended a steep hill into the Qu'appelle valley.
Who knew that there was a lush valley complete with trees and lakes and such in the middle of all that flatness? Certainly not me when I had booked three days at the park - I was just looking for a nice place to spend a few days after many days driving.
The place was wonderful, with the lake right outside our door where we happily paddled around in the warm water. The only problem was maneuvering the trailer into place on the soft sand, but we made it.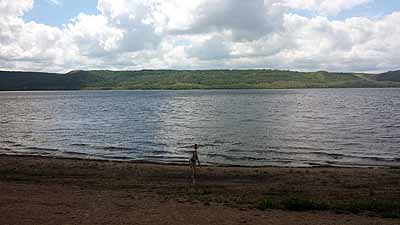 The park had lots of room to wander about, and we found a neighbor with a pig on his flagpole. They weren't home to ask just what it was for, but I took a picture.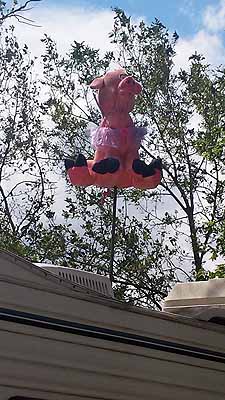 When evening came we were treated to a beautiful sunset.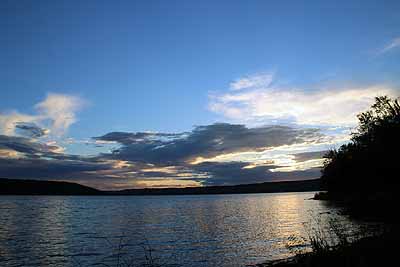 On our way to the park we passed a sign pointing to the Mosaic of Murals, which naturally had to be investigated. We followed the arrow on the sigh, but it lead nowhere. We cruised the town and couldn't find anything that resembled a Mosaic of Murals, but eventually did find a tourist in place that solved the mystery. The mosaic consists of many murals scattered over the entire breadth of Canada, one to a town; not a whole bunch in one place. So we found the one it town, which we had passed without noticing it several times, and here it is.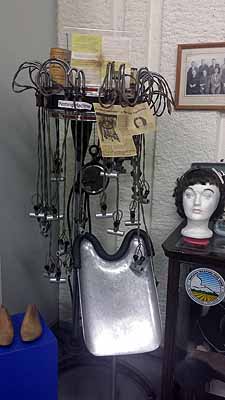 The nice lady at the tourist in booth also pointed us to the The Fort Qu'appelle Museum a sweet little museum in (where else?) Fort Qu'appelle. This turned out to be delightful, as we have seen in several other small museums on our travels. One highlight was this invitation to electrocution which is an old-time electric hair curler for use in the fashionable salons of the era. You had to be really serious about beauty to trust yourself under that thing!
The other notable display was some lovely hand carved miniatures.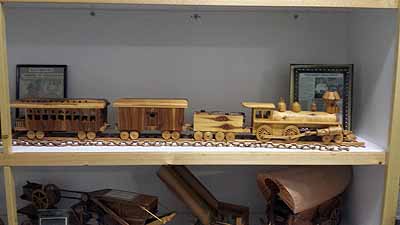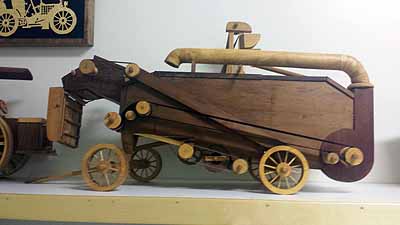 We continued across Canada through more yellow fields until alighting at Bird's Hill Provincial Park outside Winnipeg Manitoba. We found this was the site of the Winnipeg Folk Festival, but we were a few weeks too late for it. However, Curious George, our remaining cat, certainly enjoyed the scenery.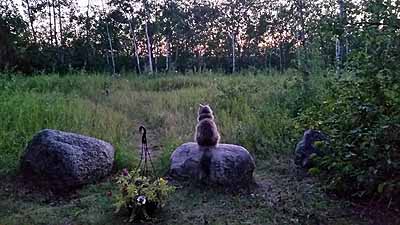 The big attraction for us was the Canadian Museum for Human Rights , a place of both architectural and cultural brilliance. We were greeted by a statue of Gandhi at the entrance and then with some amazing architecture within.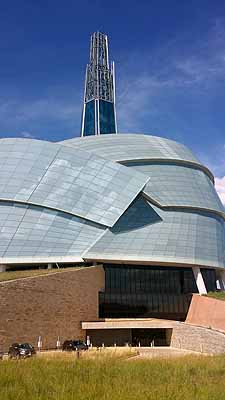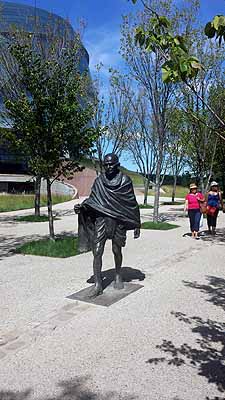 Architect Antoine Predock tried to incorporate many ideas of the human rights struggle into his building. His web site gives the details more clearly than my failing memory, so check it out. The alabaster walkways are beautiful and impressive, lit from within with a soft glow inside a rock-solid structure. I think that's an apt description of human endurance. It also has some wonderful pictures of the place.
If you didn't follow the link, here's some of my pictures of those wonderful ramps.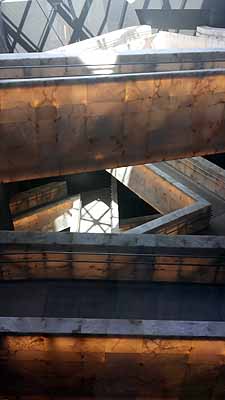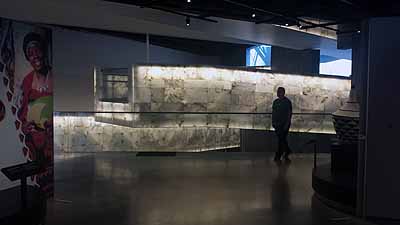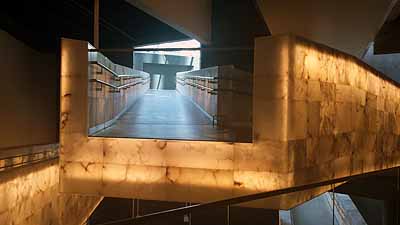 There's also a great view of the river from the top of the building.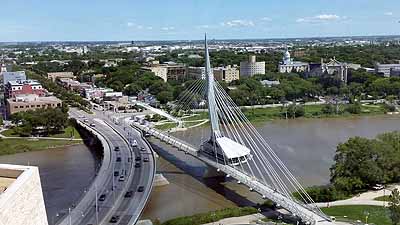 I really recommend you plan a whole day at the museum, you'll need it. It is both a sobering and uplifting experience. They don't shy away from the horrible things we have done to our fellow humans, in fact it is quite clear that there is a need for a place such as this to be sure that, as a people, we don't forget what evil we can propagate when we stop caring for our fellow humans.
This is balanced by the stories of the people who did their best to fight such inhumanity, who inspired us with their courage and humanity. It is entirely appropriate that Gandhi meets you as you enter, but you will meet many of his fellow travelers. There are the obvious ones to us Westerners: Abraham Lincoln, Frederic Douglas, George Orwell, Lech Walesa. Then there are quite a few people who I had never heard of, quiet people who fought the Nazis, Communist atrocities, genocide in so many places around the world. Just as there is no lack of hate and destruction there is no lack of people willing to stand and say "NO MORE" loudly and clearly, even as their bodies were crushed while their spirits kept fighting.
Powerful stuff…
The Sleeping Giant
Two more days of driving took us from the flat yellow fields of canola to the hilly rocks and trees of Ontario. We stopped overnight in Wabagoon, Ontario - of note for three things: 1)The clouds of mosquitoes unequaled until we reached the Everglades, 2)A spectacular sunset, and 3)A name close enough to Garrison Keillor's hometown to inspire several jokes.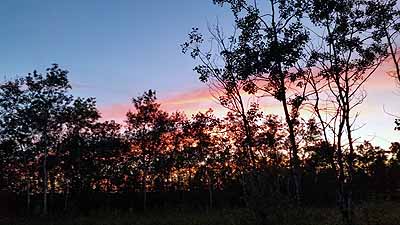 Crossing the Ontario border brought a marked change in scenery. Having had many Canadian artists perform for us when we ran Heartland Concerts, we had been musically warned about the unending landscape of much of Ontario. Listen to The Arrogant Worm's Rocks and Trees or Wendell's Rocks and Trees and you'll know what we went through. Granted, the landscape is beautiful, but there is simply a lot of it!
Another day brought us to the Sleeping Giant Provincial Park in Ontario, across the bay from Thunder Bay. The first thing we did after setting up was to go in search of a cell phone signal. Judy's son had landed in the hospital during our trip, (Don't worry, he recovered nicely.) and we wanted to see how he was doing. There was no signal at the campsite, but fortunately, a short walk to the beach overlooking Thunder Bay brought us a solid signal. It also brought us some sweet views along the shore, complete with a flock of ducks.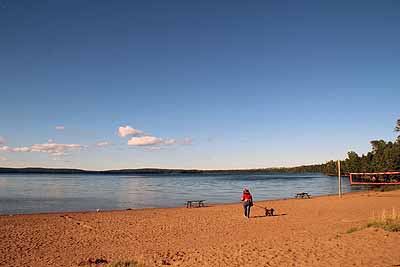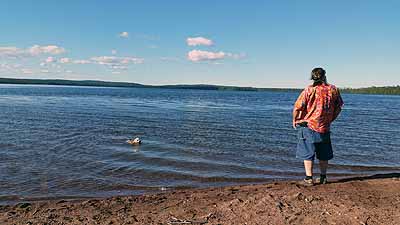 The next day we went exploring and found the town of Silver Islet. Once again our addiction to folk music stood us well and we recognized the setting to Tanglefoot's classic One Night More. The song speculates just why the captain of the last coal shipment failed to get under way in time to deliver the coal that powered the water pumps in the mine. Without the coal the mine flooded and was never re-opened. It was rather cool to actually be at the a place we had only heard about in song. Someday we'll have to find where Dollar Bill had his speakeasy.
There is some great hiking in the park, with beautiful views of Lake Superior. The arch in the pictures is known as the Sea Lion, but quite some time ago the lion's head fell off, leaving only the name behind for the formation.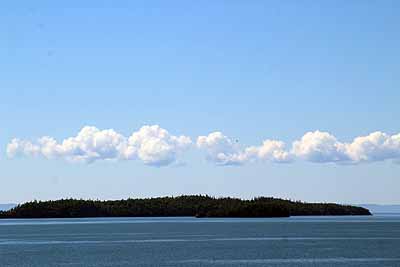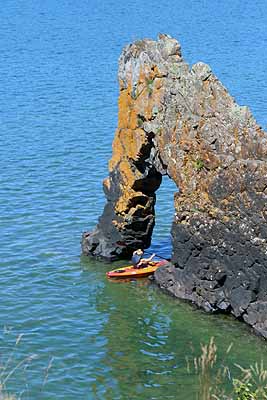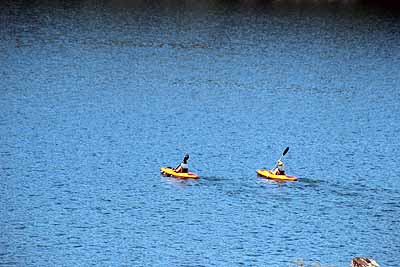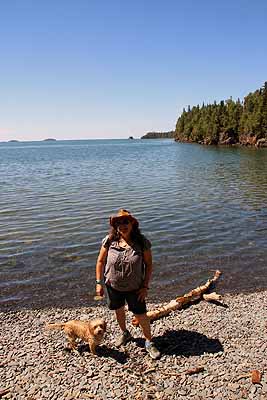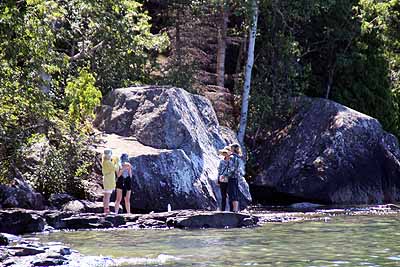 The Elusive Waterfall, Take 2
Having perused the literature racks in the park we found there were two nearby provincial parks with waterfalls, so we set out on another waterfall odyssey, hoping the results would me better than we had searching for our Elusive Waterfall. The falls at Kakabeka were easy to find - right off the Transcanadian Highway. The falls are impressive - second only to Niagara Falls in Ontario - with brown water cascading over the edge.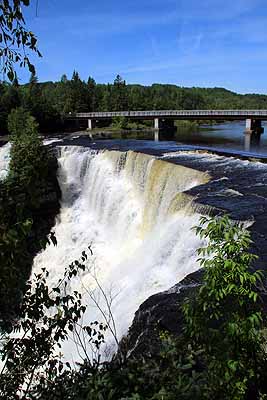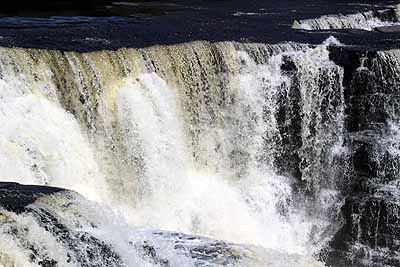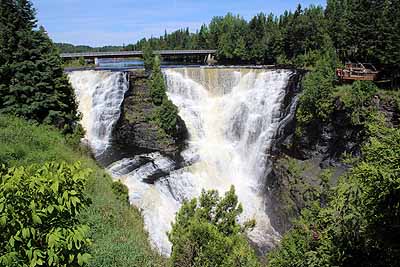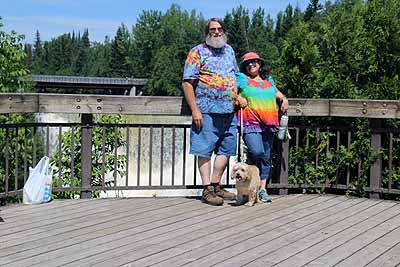 Annoyingly enough, we never found out why the water was so brown. The ranger we talked to didn't know and even a Google search failed to bring forth an answer. I guess it shall remain a mystery.
We did learn of the legend of the Green Mantle, the proverbial Indian Princess who saved her tribe by luring their enemies over the falls. Why is it that we ascribe royal titles to Native women who do something special in a legend. They didn't think of such people as "Royal" so why do we? Anyway, you can read the story if you follow the link.
On our way out we got to watch kids petting several pelts from animals that roam the park. Very cute.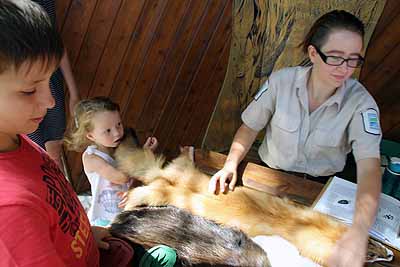 Having had our waterfall finding prowess confirmed, we put Pigeon River Provincial Park into Jolene, our semi-faithful GPS. She assured us she knew where it was, so off we went, heading South to the US border. Along the way we saw a sign for The Thunder Oak Cheese Farm.
Cheese Farm? How could we not stop? It turns out they produce only Gouda Cheese, but they have an incredible array of flavors mixed into the cheese, so we contentedly nibbled cheese cubes from toothpicks. If you click on the ORDER link at their web site you can see just what they offer. We took home some Tomato & Basil, Fenugreek and a well aged gouda. If you haven't heard of fenugreek before, it's a middle eastern spice with a mild maple flavor. Judy & I use a lot of it in pancakes and cookies - it gives them a wonderful flavor. The fenugreek gouda was superb, I just wish I could get more of it. Somehow I suspect shipping it across the border to Texas isn't such a good idea.
Having satisfied our cheese hunger, we continued on, following Jolene's directions, down a winding country road. Coming around a curve she smugly announced "You have reached your destination on the left." Yeah, right. There was nothing but trees as far as the eye could see. We continued on a mile or two, sometimes the rural addresses are off quite a bit, but no park. We did stop to take pictures of a small waterfall near the side of the road, but it had no indication if it had a name or any pedigree.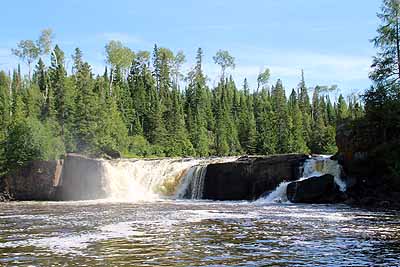 So we returned to the main drag and headed south once again, searching in vain for the park. Once again we rounded a curve, but this time we were at the US border station - we had run out of Canada before we had discovered the park. It's a good think I wasn't the navigator on those old sailing ships heading over here from Europe.
There was a "Welcome to Canada" type visitor's building, so we went in and asked how to find the park.
"Oh, you've found it - this is Pigeon river Provincial Park," the perky young woman at the counter informed us.
"But there's no sign!"
"I know, it confuses everybody."
I guess the US hasn't any lock on bureaucratic nonsense. However, by this time the sun was getting ready to set and hiking three miles to the waterfall wasn't such an attractive idea. So we opted to walk the boardwalk to the lake, which was a nice little hike. Along the way the boardwalk was marked by the occasional canoe paddle to mark where an interpretative sign was located.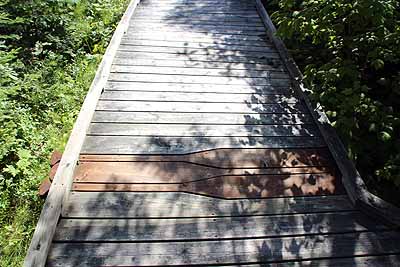 We especially liked the wrought iron seats at the viewpoint, and took the obligatory selfie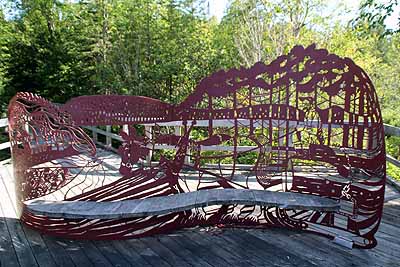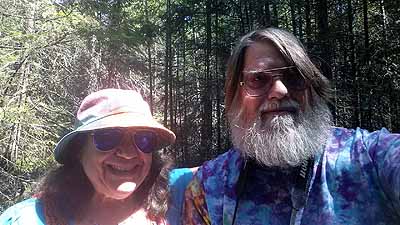 We had one more event to celebrate in the Thunder Bay area - July 30 was our sixteenth wedding anniversary. Living dangerously, we searched Jolene for restaurants in the area and picked one that sounded interesting. This time Jolene came through, it was a fine place and the food was great. I know this isn't Facebook, but I'm going to show you a picture of our dinners anyway.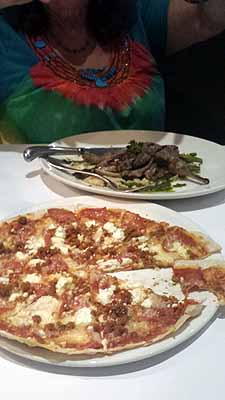 We did have a bit of excitement before the meal was through - the power went out and all the electronic cash registers and ordering was down, including the credit card readers. Nobody panicked - there was still enough light coming in the windows to see the salt if you used the salt shaker and we had just about finished our meal. So Judy and I dug into our wallets and came up with enough cash to pay for the meal (Whew!) while we chatted with our neighbors and the waiters. Nothing like a power failure to bring people together. Made for a memorable anniversary.
Sault St Marie
We continued our trek East, aiming to arrive in Goderich, Ontario in time for the Goderich Celtic Roots Festival. (More about the festival in the next blog.) We paused in Sault St Marie for a day, wandering around the locks and trying to go on a dinner cruise, but it was booked up.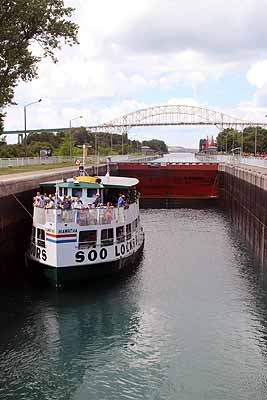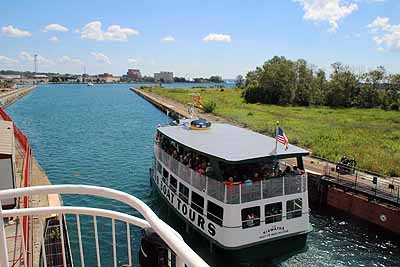 We found a small zoo on line and decided to visit it, but it was very disappointing - so much so I will not identify it. It was old, the cages were small and the animals minimally cared for. Things like this are what give rise to the need for animal rights activists. We did get a cute picture of a goat who was trying to escape the heat on the cooler ground, but he didn't have much luck - and neither did we.