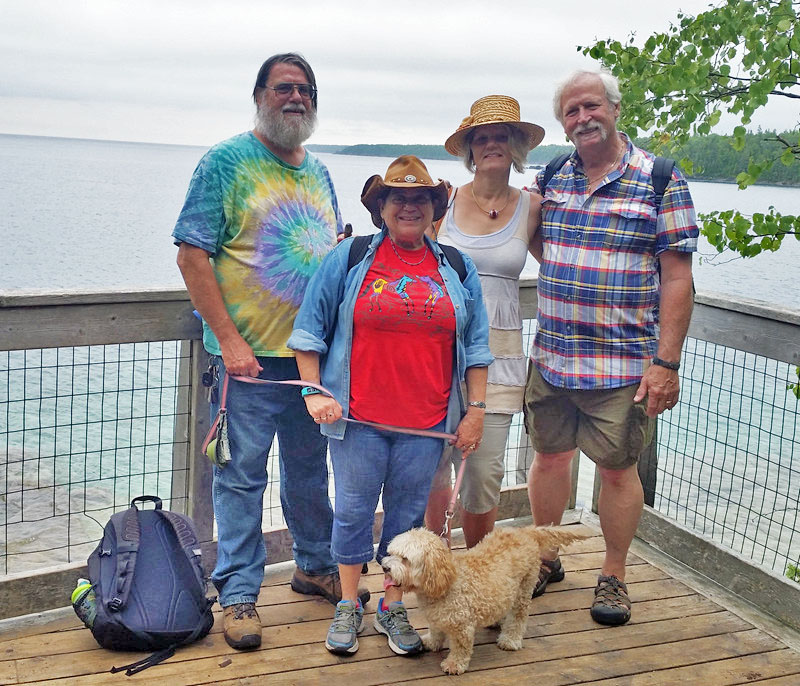 Ralph's Blog
August 2016 - Ontario
When I was a teenager I spent two summers with the Boy Scouts paddling a canoe around Algonquin Provincial Park." In the sixties, long before the Interstates were everywhere, the drive to Northern Ontario took forever, or at least to my impatient teenage mind it was forever. During one of our stops through the endless rocks and trees of Ontario I looked at the map there and discovered that in going above Lake Superior we were hundreds of miles north of Algonquin. After forty years of driving 30,000 miles or more, Algonquin didn't seem so far away any more.
But we weren't headed for Algonquin, our destination was Goderich, Ontario. The year before our buddy Joe Crookston played at the Celtic Roots Festival and we fell in love with the place. Its a lovely, small festival with top notch talent and a wonderful site. You can see some pictures of the place from last year if you're so inclined. If you aren't so inclined, I have some pictures from our visit this year.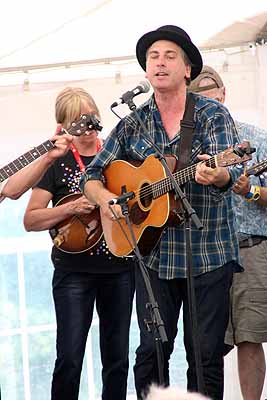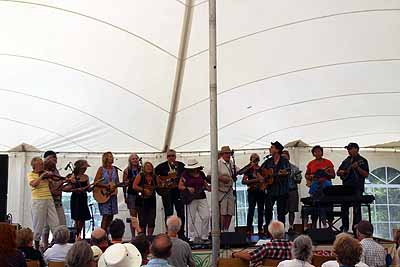 Joe Crookston with a version of Gravel Gerty and the Scratch Out Squad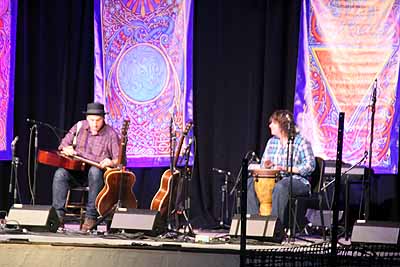 Joe Crookston taught an art class. Each student
got a small square cut from a picture
and had to enlarge it,then the enlarged drawings
were reassembled to recreate the image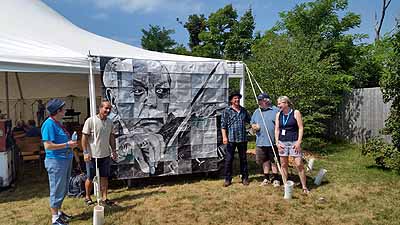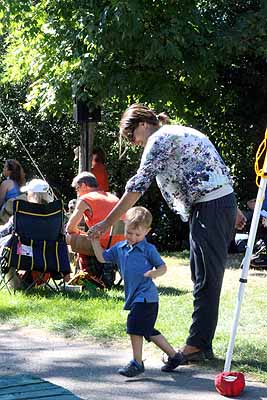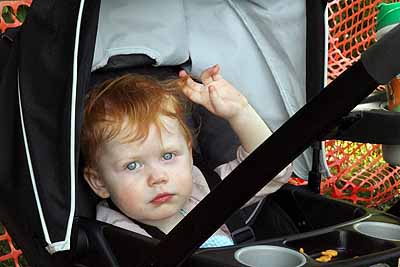 Naturally I had to take pictures of the cute little kids there.
The School On Wheels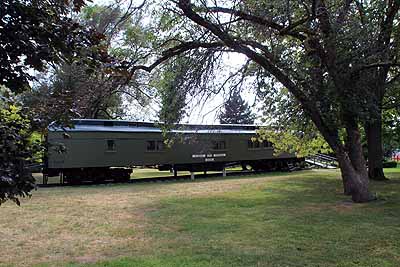 Goderich is a great place to visit, so we spent ten days in the area to really get to know it. One of our favorite discoveries was The School On Wheels in Clinton, Ontario. When the steam trains were just about the only way to travel in the back country, there had to be many stops along the way to refill the water tanks and stockpile coal. Each of these stops had men and their families to run them, so the Ontario government created several special railroad cars set up as schoolrooms. The itinerant teacher and his family lived in the car, which was dropped off at each site with children for a week or so, then taken to the next stop on the way.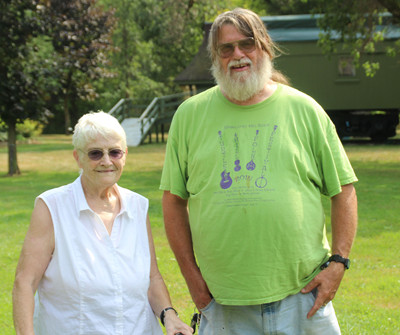 We were lucky to meet Margaret Sloman, the last surviving child of Fred and Cela Sloman, the teachers on the School Car. She and her sister Cela were the ones who found the old car in the railroad junkyard and spearheaded the restoration so people would know the fascinating story behind it.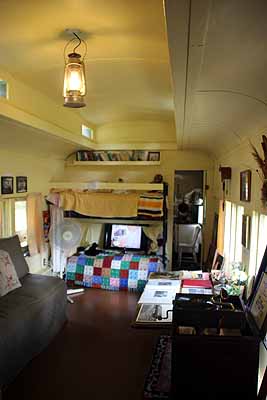 The picture on the right is the family's living quarters at the rear of the car, all seven of them! The one on the left is the schoolroom at the front of the car.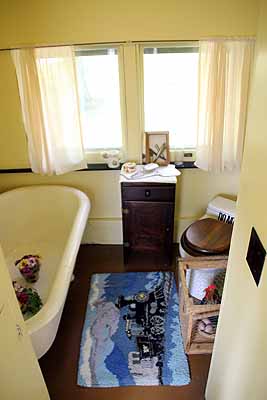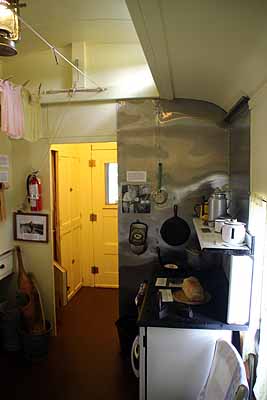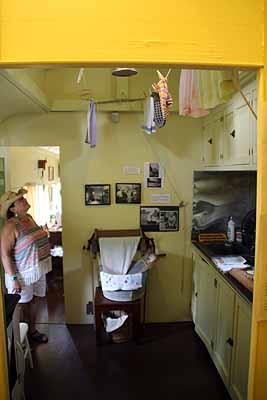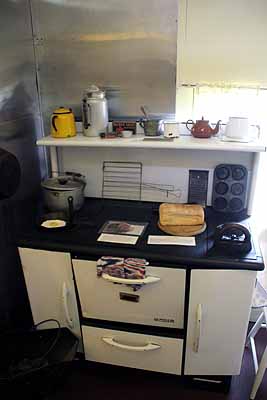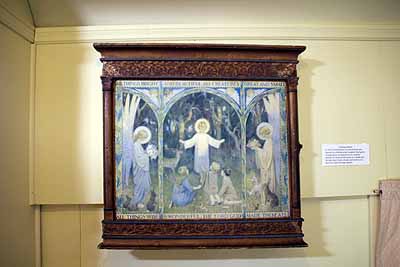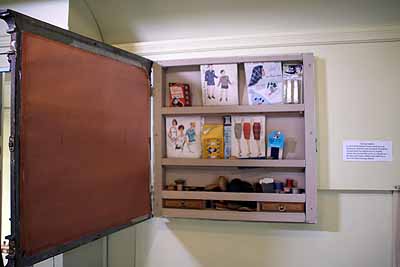 The sewing cabinet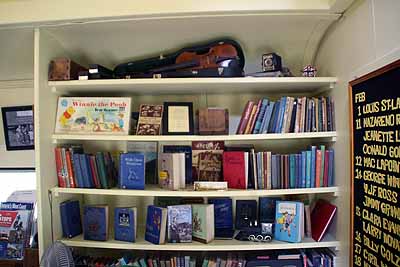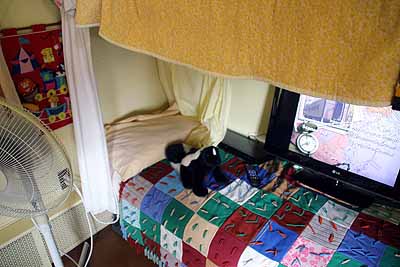 It's finding places like this that make traveling a joy; there are so many small, interesting places to discover.
- - -
Near to Goderich is the Wawanosh Park Conservation Area, another small gem with hiking and walks along the slow-moving Maitland River.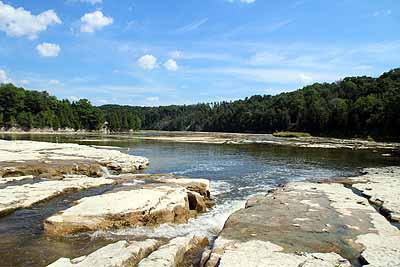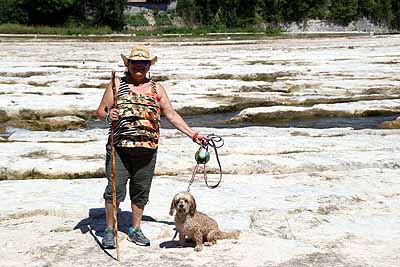 The Trailer Who Thought It Was A Stork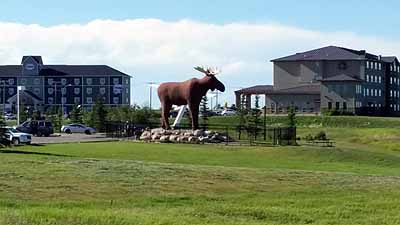 If you'll remember we broke one of our leveling legs back in Moosejaw. I found the replacement on line and ordered it - there is precisely one company that makes the leveling legs for just about every brand of trailer on the market - but had to wait until we stopped long enough at one place to be around when it came.
At every stop across Canada we had to lift the trailer on one leg, guess how much the frame had twisted side-to-side, then lower the jammed leg onto a scissors jack, which allowed us to make fine adjustments. This was a true pain-in-the-ass, that trailer is heavy and adjusting the scissors jack isn't easy. You can imagine the celebration when the campground manager told me the new leg was there.
I celebrated until I got to the office - it cost $165 to get the fool thing across the border - including a $65 "brokerage fee." At least that was Canadian dollars, so we Americans got a 25% discount due to exchange. I have to thank the owners of the Auburn Riverside Retreat, who paid the UPS man from their own pocket so I could get the part without having to fool around with extra deliveries. We really love staying there, it's a great campground.
Installing the leg was actually simple, it took less than half an hour and a couple of wrenches. I had to push the button a few times for the simple joy of leveling the trailer without a whole lot of hassle.
Camping With Friends
When we are in Rochester we live in Dave Shaver and Helga Lubbers' yard. Dave and Helga are some of our oldest friends, Dave was my best man when I married Judy. We've been camping together for a decade or more, us in a tent or our pop-up camper, Dave & Helga in a venerable 30+ year old Volkswagen Camper that spends much of its time in the repair shop. We even went to a VW campout with them one year. Think of it, an entire campground frilled with aging VW campers, several of which had to be pushed or towed in. Then there was us in our old pop-up tent trailer, sticking out like a sore thumb.
These people are genuine fanatics. The highlight of the weekend was supposed to be renting the Watkins Glen Speedway so we could tool around it dreaming of high powered racecars and checkered flags. The only problem was Dave's VW died at the entrance gate and he couldn't get it started in time to get on the track. Like I said: fanatics. I will freely admit to disparaging their venerable vehicle, smugly pointing out they could have bought a real camper for what they spent in repairs to the VW.
Maybe it was because Judy and I made them jealous camping in style, maybe they got sick of breaking down on the highway and sleeping above a hole in the roof of the tiny camper, but this year they went out and got a real, 25 foot camper with all the amenities, like a kitchen and a toilet. We're all of us old enough to appreciate not having to trek through the cold three times a night with our aging bladders.
Since we had extolled the virtues of the Gray-Bruce peninsula and the Summerfolk Festival in Owen sound, they decided to pack up their new trailer and join us. We've really missed camping with these guys. After a few days in Goderich we headed for Tobermory, at the very tip of the Gray-Bruce peninsula. Last year we discovered just how good fresh-caught whitefish can be in fish and chips, so we naturally had to take our friends there. Judy and Helga made a friend while waiting for dinner.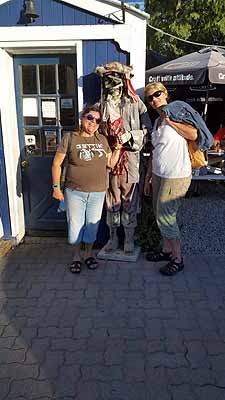 By happy accident we ran into the 8th St. Orchestra by the docks in Tobermory. The horn player could really wail. He's 16 and the clarinetist is 10. We spent quite a bit of time listening to some fine Dixieland.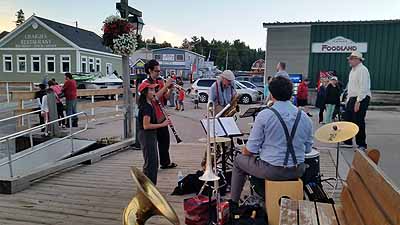 We took the ferry to Flowerpot Island and wandered around the place all day long. Shira came in for some serious loving from the multitude of kids on the island.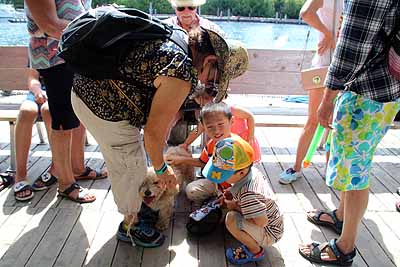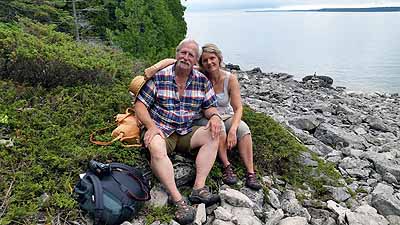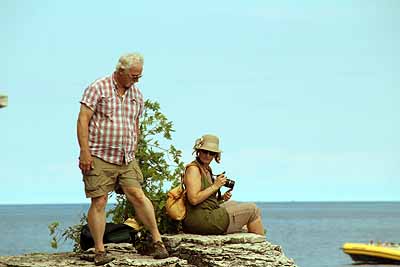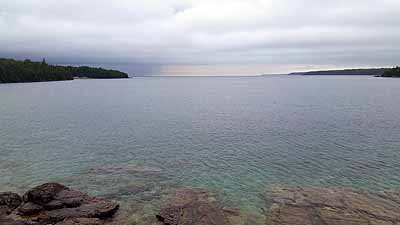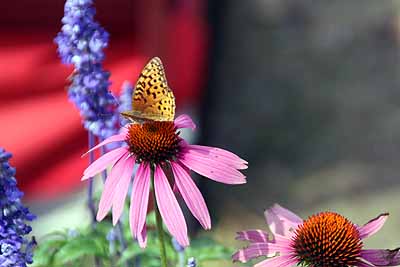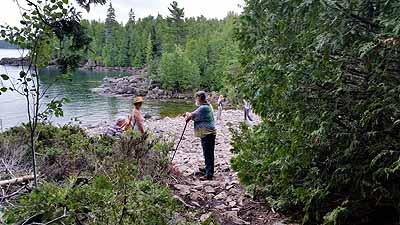 Travels with Grandchildren
Many years ago my first wife and I took our kids to Owen Sound for the Summerfolk Festival. Judy and I have been going for some time now and even volunteered for a couple of years. This year time didn't let us volunteer, but we met son Alan and his wife Billie, relieving them of their children in the process. That's Dalton swimming in my raincoat in the midst of the main stage crowd.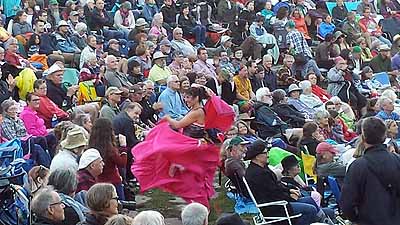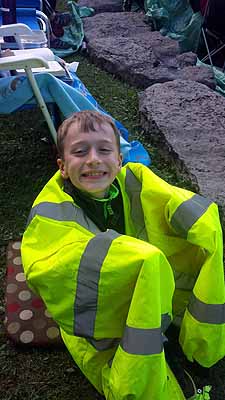 The festival was a great success - I was leery about it because last year's 40th anniversary festival was a great disappointment. I'm very glad I gave it another chance because the music was great. Check out some of our favorites from the festival: Steve Poltz, and Stu Fuchs. Most of all, check out the The Gypsy Kumbia Orchestra.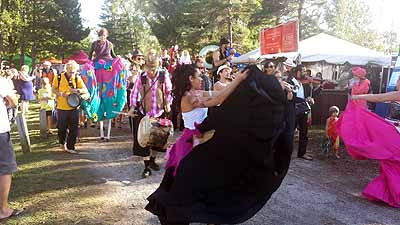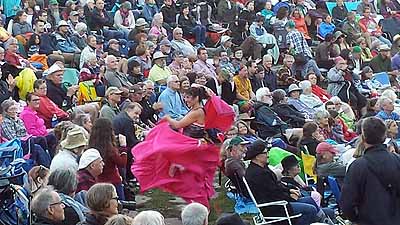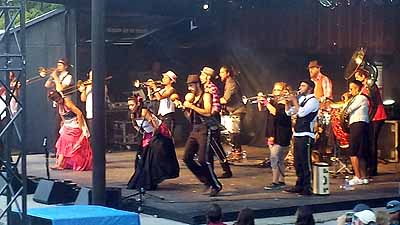 These guys are spectacular, hot music and wonderful dancers. Not just those women in the fancy skirts, but all the musicians were dancing as they played. Hot stuff!
We ended our time in Owen Sound with one more spectacular sunset.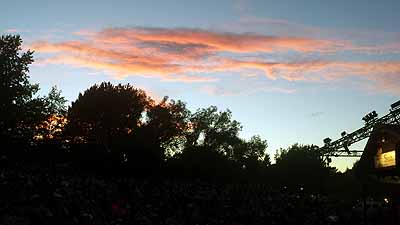 Toronto
On our way home with the grandkids we stopped in Toronto - well, close to Toronto. There aren't too many campgrounds in Toronto. Judy and I spent our honeymoon in Toronto, and always love to go back. This time we took Dave & Helga to Casa Loma, an honest-to-goodness castle in Toronto. Built by Sir Henry Pellatt in the early years of the 20th century, it is an amazing place. Pellatt made his money by building much of Ontario's electric grid, and he had plenty of it. There are some interesting details to be found at Atlas Obscura. He went broke when the government nationalized the power plants and ended up living out his life as a guest of his chauffer in a small apartment.
Since we were last there in 2000, they have discovered a wine cellar that had been walled off and abandoned. Now fully restored it would make my son Alan (the wine connoisseur) drool with envy.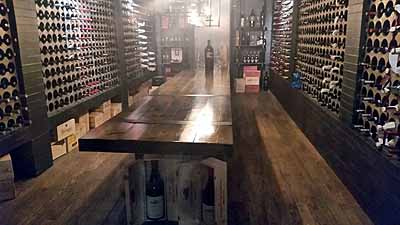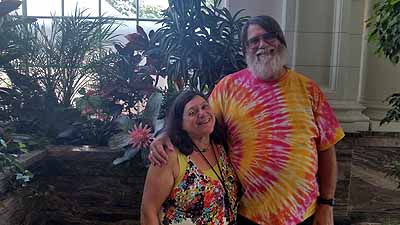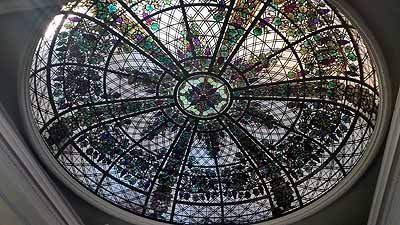 That's Judy and I under the dome in the conservatory.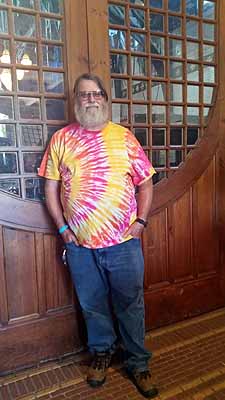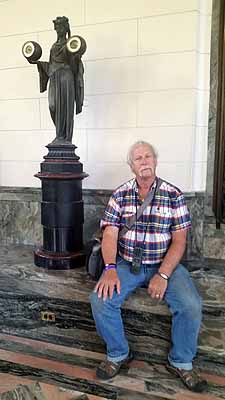 Niagara Falls
We couldn't leave Canada without seeing Niagara Falls. My dad was born there and I grew up in Buffalo so I spent a lot of time there as well. You don't want to know how many times they threw my teenage self out of Canada at 2:00 AM. They made you pay the toll both ways across the bridge when they didn't want any snot-nosed kids entering their country.
The nice thing is that you can park your car in a nice big lot and ride the buss to any of the attractions from Niagara Falls to Queenston. Much easier than parking. Queenston is where you find the Butterfly Conservatory.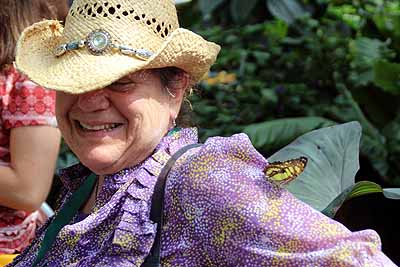 Everybody gets excited when a butterfly lands on you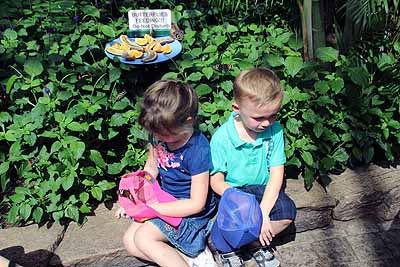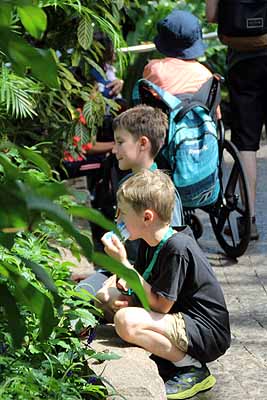 Grandsons Calvin & Dalton. That's Dalton with the pickle puss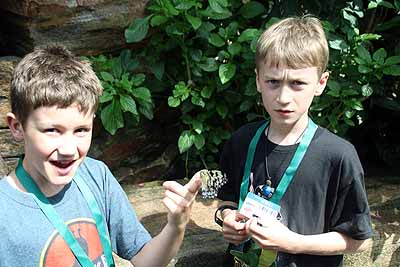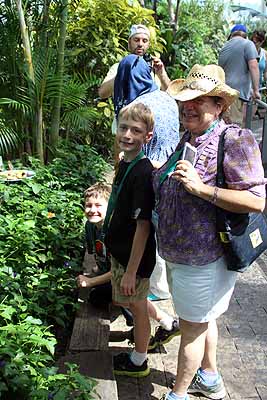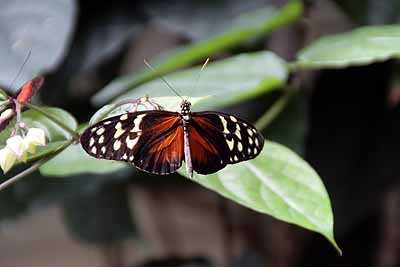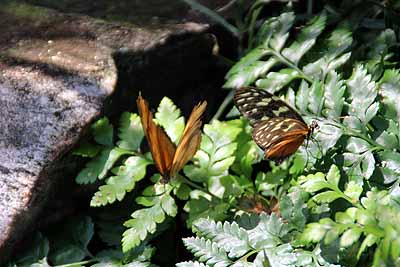 The attraction pass included the cable car across the whirlpool - something I've never done before.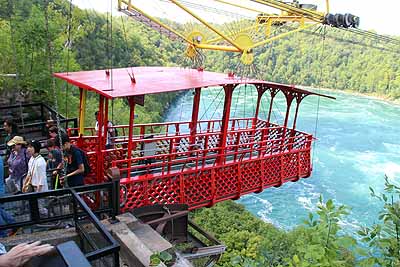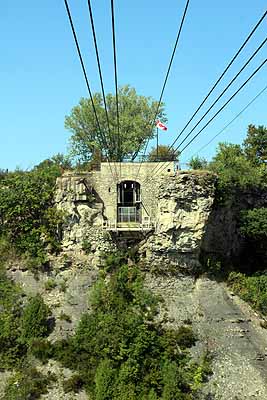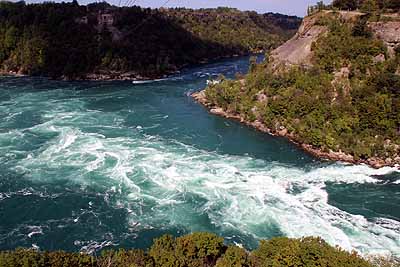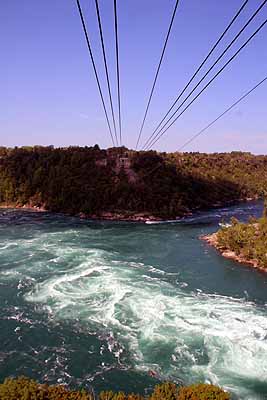 And of course we had to ride the Maid Of The Mist, even though there is a new concessioner and they call it Hornblower Niagara Cruises.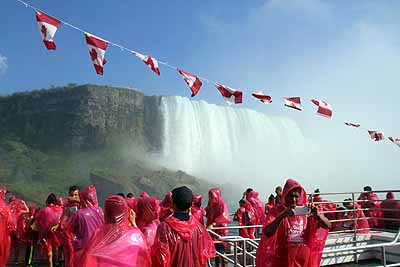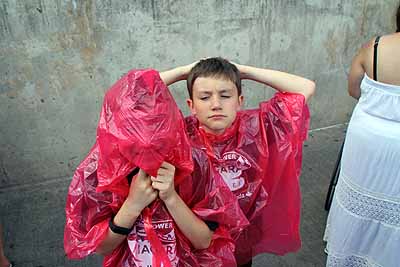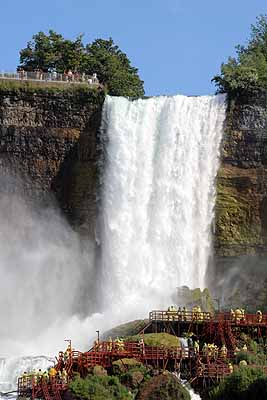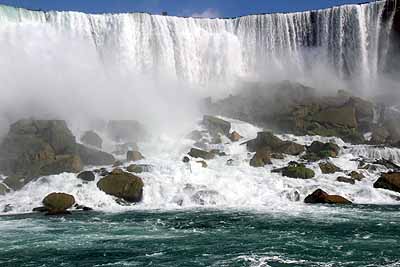 The Rainbow Bridge, complete with a real rainbow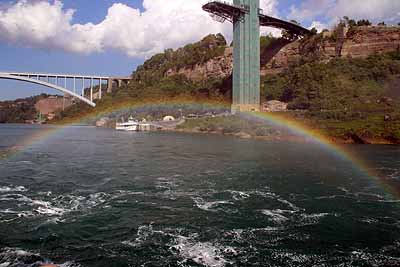 Next stop - Ithaca NY.