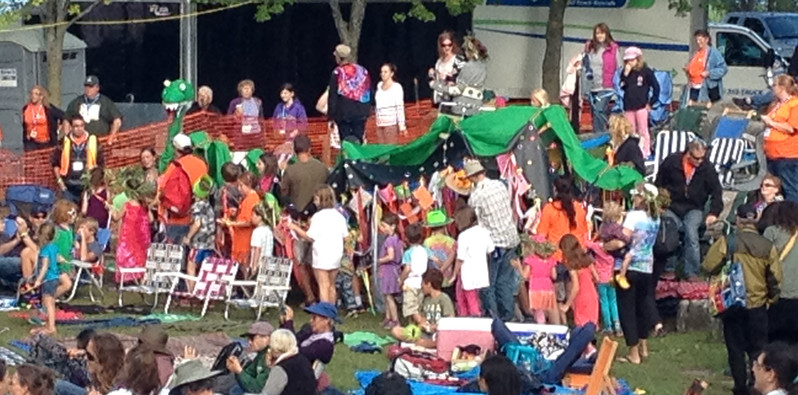 August 2014 - Summerfolk
Ralph's Blog
Being certified Folk Music Fanatics we spend much of our leisure time at folk festivals. Since Judy and I are together because of the Turtle Hill Festival that's not too surprising. Back in the late 90s I was the chair of Turtle Hill. As we planned the festival there was some concern about people sneaking into the festival without paying. My reply was along the lines of how many people are going to drive out here to crash a Folk Festival?
To my knowledge there was only one - my future wife Judy Gradford. The next year, in a fit of remorse, she volunteered to be on the festival committee and became my volunteer coordinator. We spent a lot of time together and in a couple of years we were planning a wedding instead of a festival. Since then our life has revolved around folk music, running Heartland Concerts for 10 years and going to as many festivals as we could over the summer.
In a prior life I had gone to Summerfolk in Owen Sound Ontario for many years, but had stopped when I moved far enough away to make the drive too long. Judy and I had thought about going for some time but things didn't work out until we had James Keelaghan come play for Heartland and found out he was the new artistic director for the festival. When he told us who would be playing we decided we could put it off no longer; we went and it was the best festival I had been to in decades.
This year, being retired, we signed on as volunteers and planned to spend a couple of weeks in the beautiful Grey-Bruce peninsula. The previous year we had stayed in a very nice park in Owen Sound, but we remembered that Sandy and Terry, previously of Tanglefoot and now playing s My Sweet Patootie lived in Owen Sound. As part of their regular shtick in their shows they explain how they are Professional Moochers, traveling the world mooching food and lodging from all and sundry. So, having had them mooch off us a few times, we called and they were willing to let us mooch off them for a while. They have a big place in the country with lots of room for the RV.
The appointed day came and we were ready to leave when Georgie came up missing. We had been careful to keep the door closed but to no avail. You would be surprised at how many spots a cat can find to hide in so small a space as an RV. So we left Dave and Helga to keep an eye out and trundled off.
We were lucky and had only minimal delays at the border and the trip was uneventful. (Yeah!) The GPS got us almost to the house but not quite. We took the first turn available, which was a dead end but had a church with a large parking lot that let us turn around without too much hassle. We opened up the trailer, turned on the computer and looked up their number - note: be sure to have the number a little more accessible place next time! - and called Sandy. It turns out she had been watching us maneuvering the RV and wondering if that was us.
Luck again smiled on us and the spot in the field where we ended up was perfectly level, no adjustment needed. We set up and invited Sandy over for a visit. As we were talking I opened the kitchen cupboard and out popped Georgie. She had ridden all the way on a wire rack in the cupboard.
Monday morning we went down to the festival grounds and met the people there. Judy was working in the office while I, with my truck full of tools, helped put together one of the stages. We worked each morning at the festival site, ate lunch (they feed the volunteers) and then spent the afternoon being tourists. The scenery on the peninsula is spectacular, great hiking on the Bruce Trail, clear waters on the lakes, caves and the usual tourist traps as well.
This trip we took a two hour cruise around the islands off Tobermory. We got to see two sunken ships through the glass bottom of the boat, birds walking on water (really shoals that didn't quite break the surface) and even a bald eagle launching into flight from the top of a tall pine tree. Coming around the tip of one of the islands we hit strong winds and very rough seas that tossed the boat about quite handily. I am not a sailor, I think I left dents from my death grip on the railings.
We hiked to see several waterfalls and explored the Grey Roots Museum and Archives with their little village of pioneer houses and other buildings. The guides were very informative and interesting, but I would hate to have spent a North Country winter in some of those pioneer lodgings.
There is an amazing amount of work to be done for a festival the size of Summerfolk, which attracted 12,000 people last year. There are 10 stages including the beer tent, dozens of tents and trailers, miles of fencing and light strings, 40 odd fire extinguishers to collect and distribute (one of my jobs) and tons of stuff to move from one place to another. There are also a great number of amazing people that come together to do the work. Working with people like that is truly a pleasure.
Another pleasure was spending an evening with Terry & Sandy and another friend whose name I can't remember, but they jammed until I fell asleep from shear exhaustion. It was a magical evening, folk musicians are great people to hang out with. They were just about to leave for a month long tour of England, so we inherited whatever was left in their refrigerator, including some wonderful BBQ sauce that was made with maple syrup. By the way, their new CD Good Day is some of the best music you'll hear. Smart, sassy and some stellar musicianship.
In addition to the beer tent Summerfolk also has a wine bar. My discovery at the wine bar was an accordion workshop with Yves Lambert and an English accordion master whose name I simply can't remember. Lambert is a grizzled raconteur with a story for every occasion, while the Englishman had a with a wry sense of humor. They spent and hour trading tunes from very different sources with these virtuoso players following wherever the other led. Great stuff!
Judy's discovery was Into The White Light, a wine from the Coffin Ridge Winery. I'm not a drinker so I can't vouch for it, but we visited the winery and came away with several bottles to share with friends.
So that about covers our trip to Summerfolk, sorry there were no amusing mishaps this time, but I guarantee there will be quite a few in the later entries.