October 2017 - Heading South Again
Ralph's Blog
After spending a few weeks hanging around Rochester and visiting friends, we paid a weekend visit to one of our favorite parks, Allegany, before we left. I've been going there for just about as long as I've been alive - with my parents and siblings, with my first wife and our family and then with Judy. I had a little fun with Judy the first time we went together, getting her to believe there were only outhouses and no flush toilets. When I was a kid that was true (ask my sister about making my dad remove the spiders before she used the outhouse) but these days they have all the modern conveniences. The only trick is timing your showers so there is enough hot water left to rinse yourself off after you shampoo your hair.
We decided to go with our friends Dave & Helga at the last minute, so there was no room in the park itself, but fortunately there was an RV park in Salamanca that had a couple of spots left. We had a great time despite some rain, but it was a bit sad to go hiking without Shira racing around us on the trail.
The picture above is one of many we have taken on the top of the Stone Tower over the years. Like the fire towers in the park, when Stone Tower was built the trees were much smaller and there was an unobstructed view for miles. A hundred years of tree growth has changed the view, but it's still beautiful.
Cleveland
First stop on our way back to Austin was the Rock & Roll Hall of fame. Judy took loads of pictures of the place, but they all came out as indistinct blurs due to the low lighting. I did get one shot of her standing in front of the place - if you look carefully she's right in front of the 'V' in Long Live Rock. I suppose that's visual proof that Rock & Roll dwarfs everything else.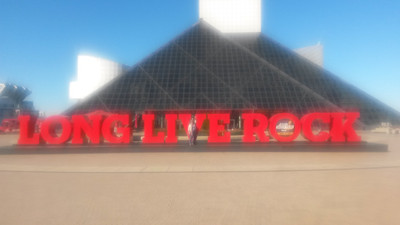 The first thing you see is a giant hot dog that Phish used to be lowered to the stage to start their concerts.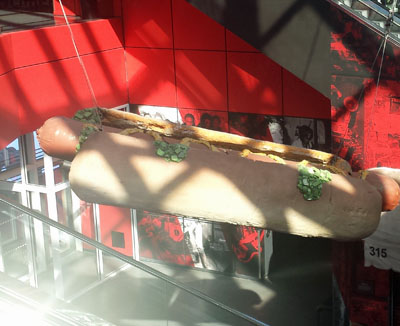 Being a grumpy old folkie, as well as a grumpy old fogy, I wasn't too sure if I would be interested in a place dedicated to Rock & Roll, but I was pleasantly surprised at how much I enjoyed it. They had some interesting material on the roots of Rock & Roll, which pretty much translates as 'folk and blues'. OK, I'm in - definitely worth the price of admission. Note - it didn't cost us anything as we are members of the Memorial Art Gallery and spent the extra bucks for the North American Reciprocal Museum Association pass to hundreds of museums around the country. We have certainly gotten our money's worth!
Since Judy was an old time Rock & Roller before she discovered the folk scene, she was off on a trip to the past, singing her heart out as she wandered down memory lane. I was particularly taken by the section devoted to the Beatles, with some great footage of their recording sessions.
One other thing stood out as I saw the costumes from the stars - they were downright tiny. Somehow you think of Rock & Roll legends as bigger than life, not compact.
The Botanical Gardens
We are members of the Lady Bird Wildflower Center in Austin, so we got to use another reciprocal benefit while visiting the Cleveland Botanical Gardens. It seems mid October is a fine time to be there, with lots of things in bloom and some very creative landscaping.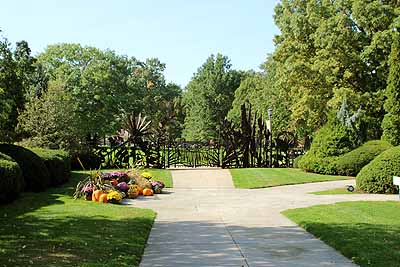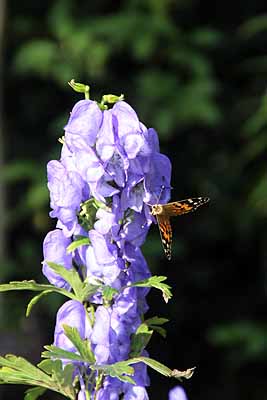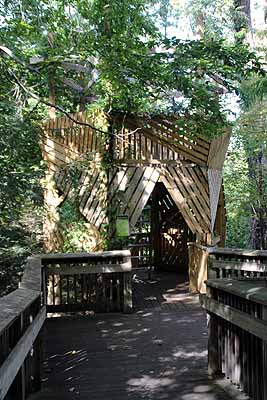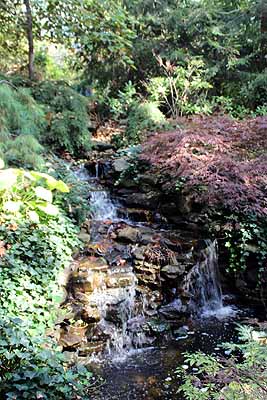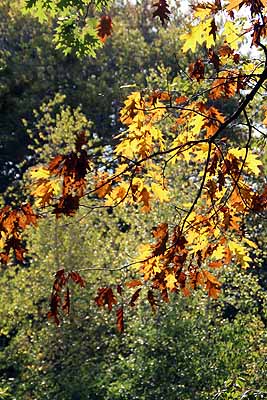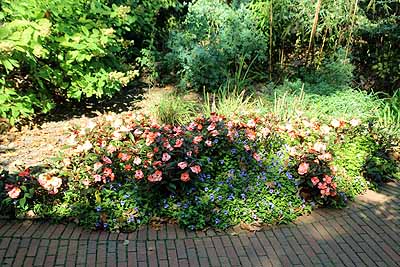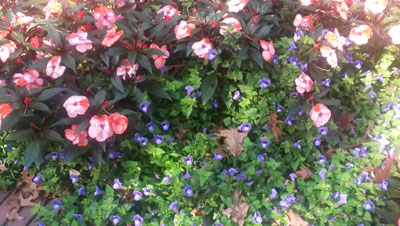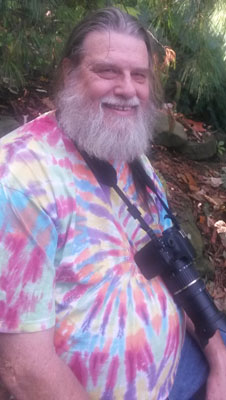 Of course, my favorite flower was the one I brought along with me.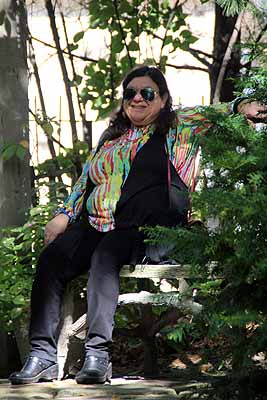 There were many places just crying out for some kids to fill the spaces, but as we were there during the school day we just appreciated the planning the gardens had done.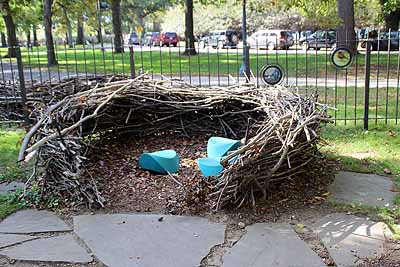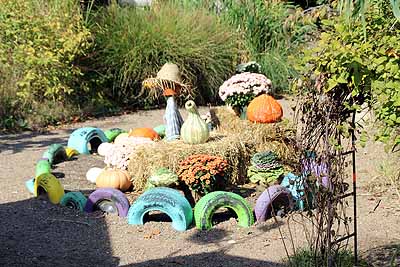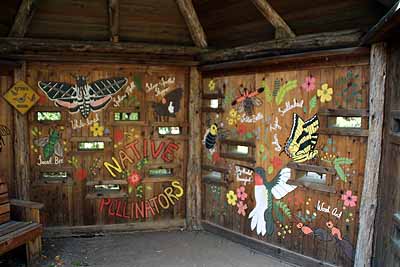 West Virginia
Naturally, we paid a visit to Judy's brother and his wife, but as we mostly sat around and talked while playing with the multitude of dogs that share their home, there aren't any pictures. Such is life.
With a week available in one place, I took the time to replace the water pump, which had quit a while back. Since we are almost always connected to a water hose that wasn't a big problem, but we knew one of our stops in Kansas didn't have water available so we were going to need the pump.
Naturally, the pump was installed at the very back of the storage compartment, which required removing everything in it and crawling into it and unhooking wires and hoses and unscrewing the mounting bolts. Not a fun job when you're my size (approaching Nero Wolfe's majestic sixth of a ton). After a considerable effort and considerable cursing the job was done and we could use water from our tank when we weren't hooked up to city water.
Unfortunately, the next morning I arose to find a massive puddle where the water tank was overflowing. It appeared that in the previous day's efforts the valve that fills the tank had started to leak. Going on line I found that the valve is obsolete,and the replacement has slightly different fittings, a problem because the plumbing under there is very tightly packed. So I emptied the storage compartment and plugged up the offending hose pending the new parts.
A warning: This is going to be a multi-chapter story, dragging on across half the country.
Cincinnati
We stayed at a very sweet RV park on our first visit to Cincinnati, but it closed for the season before we got there. The local KOA was just fine and we set out to visit as many places as we could.
About forty years ago I visited the Cincinnati Zoo while attending a training session for my job. I was missing my very young children after a week away from home, but fell in with one of my fellow technicians who had his family with him. Visiting a zoo is a lot more fun when you have children with you. At the time there was a new litter of white tigers, watching them play was one of the highlights of the visit. I was glad to see there are still white tigers in residence.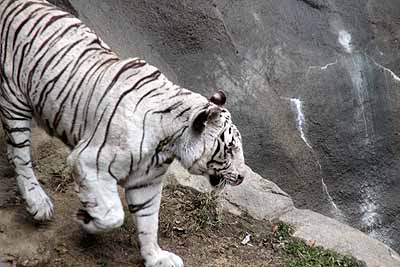 This time there were plenty of kids around the place, so we got to watch both the animals and the children enjoying the zoo.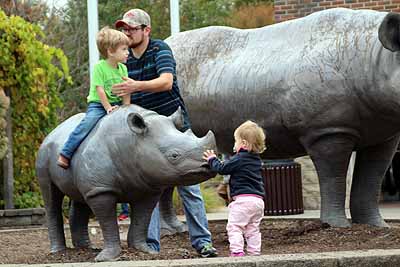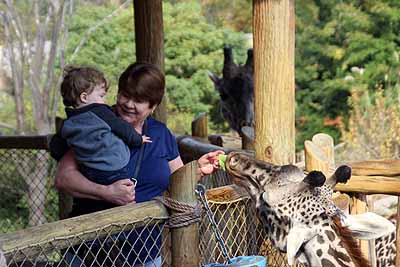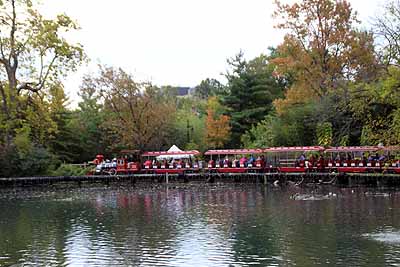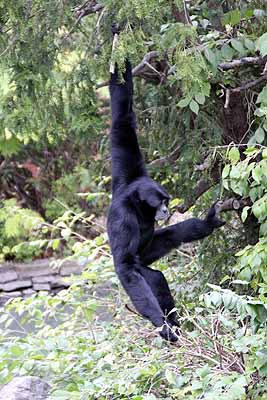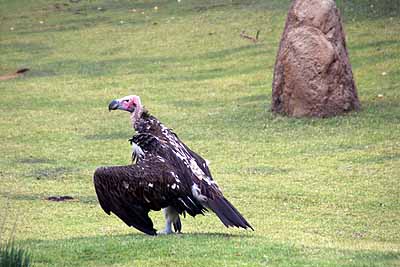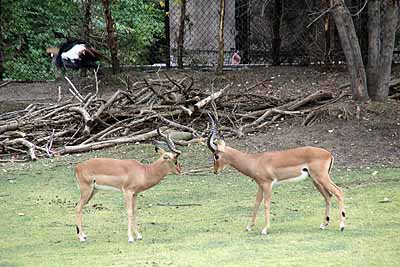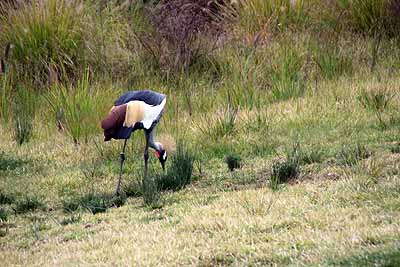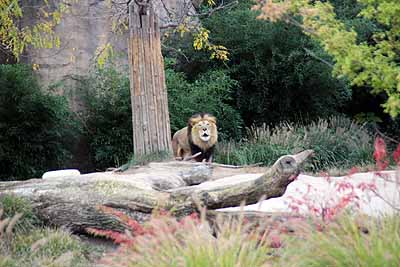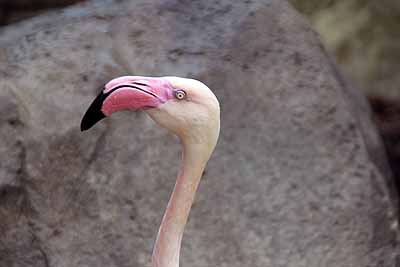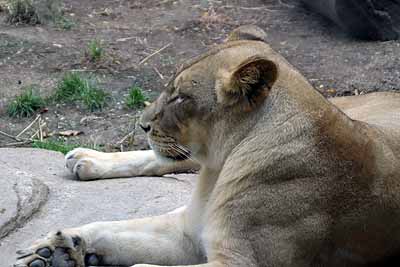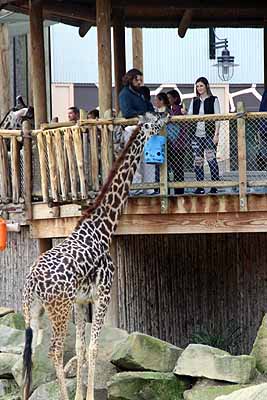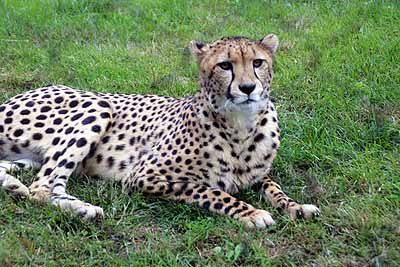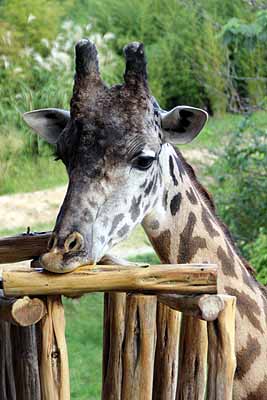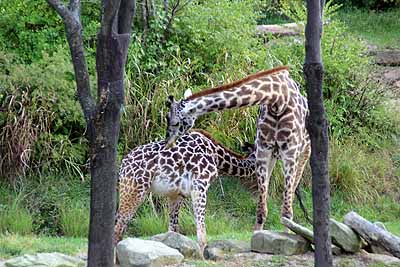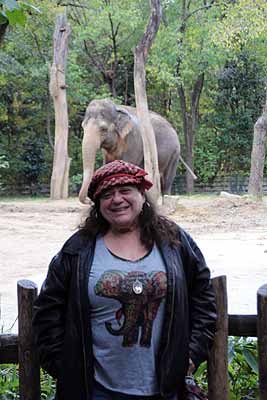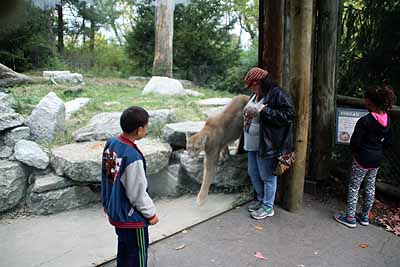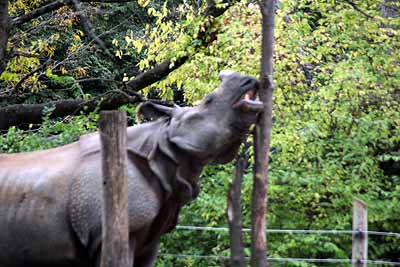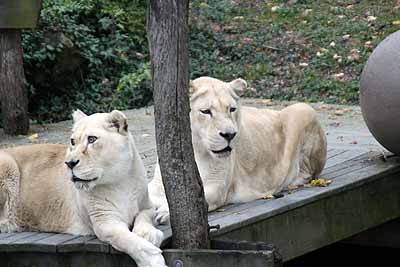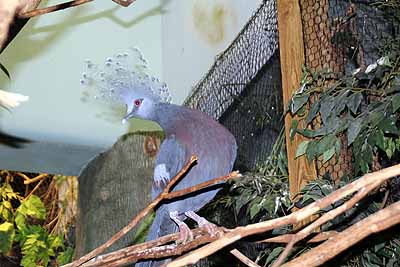 National Museum of the United States Air Force
The National Museum of the United States Air Force left me with an ambivalent feeling, much like when visiting the Smithsonian's air and space museum. The technology fascinates me - I was a space nut as a kid, filling scrapbooks with newspaper clippings of the space program - but so much of the progress in aircraft was driven by finding ways to kill people and destroy property.
War.
Rant warning: glorifying ways to harm your fellow man does not make me proud of my country. I know we need to be able to defend ourselves. It is a truism that it takes only one party to start a war, but the people in power always seem to be seduced by the power of military action and all too quick to start blowing things up and killing people.
Yeah, I am a Vietnam era protester - and proud of it. As far as I can tell, the only justified military actions this country has undertaken are Kuwait and the offensive against the Taliban. Over and over the politicians in my lifetime have betrayed our trust and sent our citizens to kill and maim for their own glorification or profit. The displays at the museum show just how much effort we, as a people, have put into killing. I can't help but think of how much good we could have done if we had directed that effort to helping people.
OK, I'm done.
That said, we saw several versions of Air Force One. This one was Harry Truman's, complete with wheelchair elevator so he could get on board.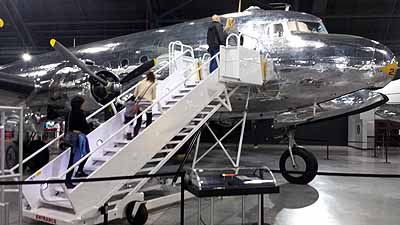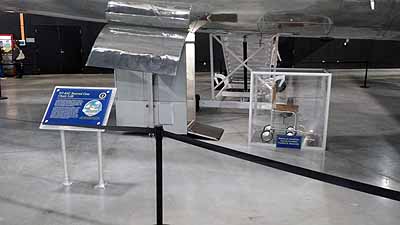 Then there's John Kennedy's version. A whole lot bigger but just as tightly packed as Harry's plane.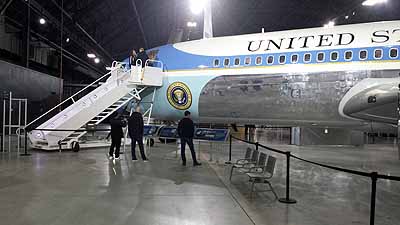 As an old space nut, seeing the actual Apollo 15 and one of the X series planes was downright thrilling.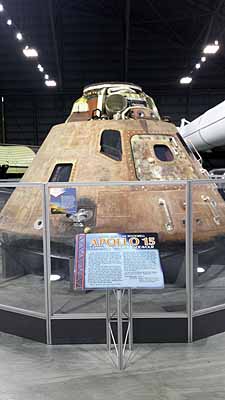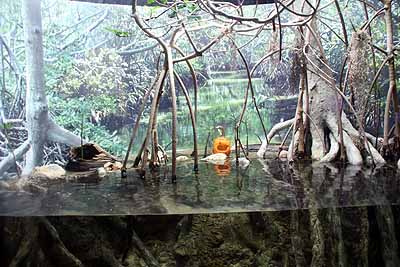 Finally, one of those small, silly things you find in many museums that catch your interest. This is the pen used to sign the act that created the Air Force. An interesting twist on the old cliche - the pen used to create a pretty damned big sword.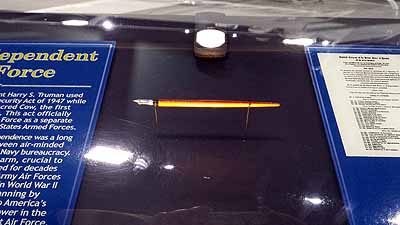 We hastily re-arranged our schedule to stay an extra day when we found out the Underground Railroad Museum was closed on Monday. Suffice it to say the place is awe-inspiring and thought provoking. If you are interested in pictures, they are on the blog post from our first visit, so I won't repeat them here.
Newport Aquarium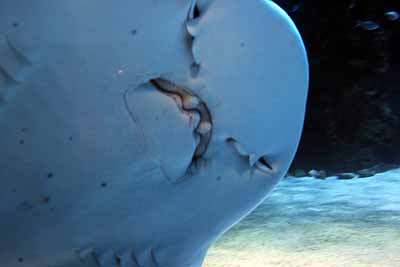 Maybe they should appoint this guy their official greeter. A bit fierce looking, but safely behind some thick glass. If he doesn't want the job, his cousin might be interested.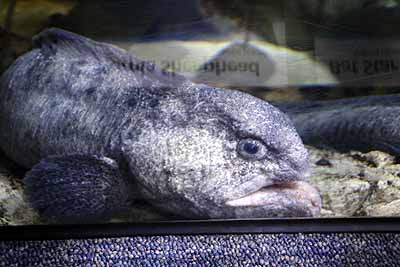 Then there's this guy - he's really a fish and not a waterlogged stick.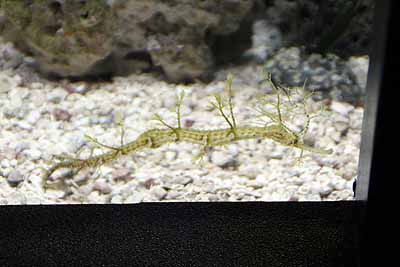 Plenty of ugly fish, but lots of colorful ones, too.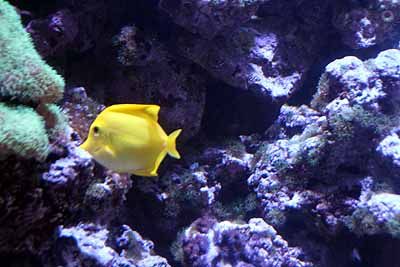 We took the behind-the-scenes tour and were impressed with how much effort it takes to keep the water in the place pure and the fish healthy. Would you believe they have a room for all the various worms they need to feed the fish, looking for all the world like a kitchen shelf.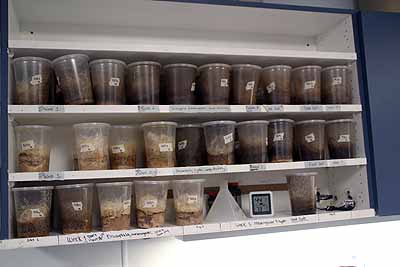 We visited in late October and found that the fish celebrated Halloween, too, with pumpkins floating in their tanks.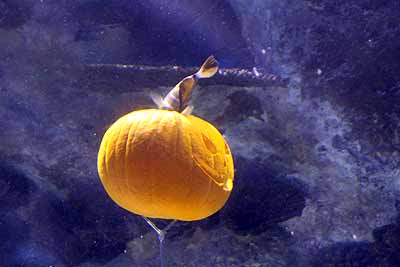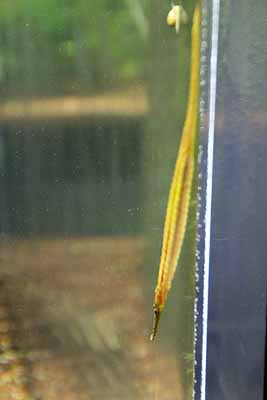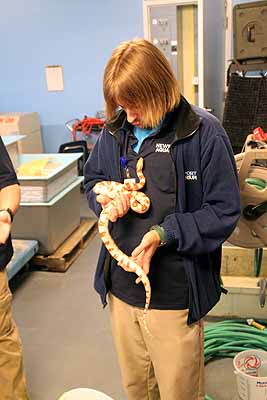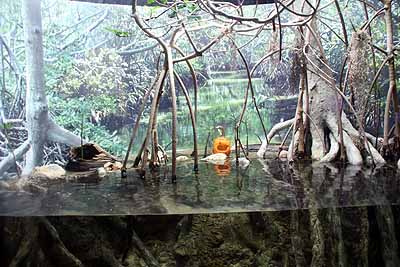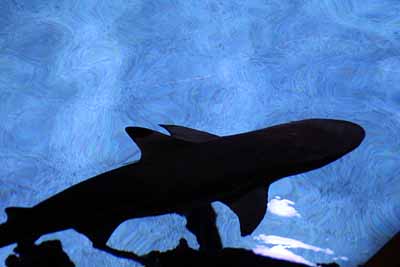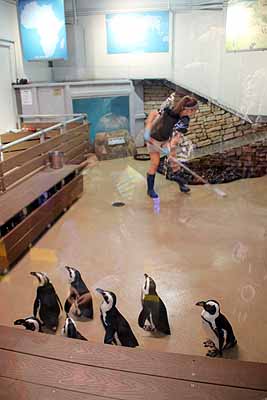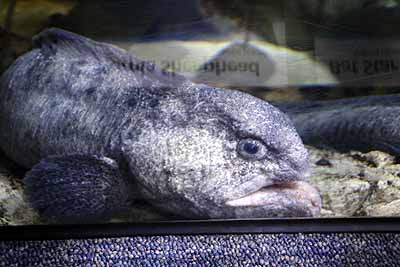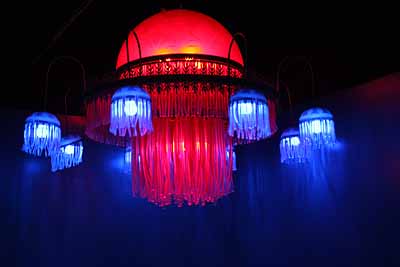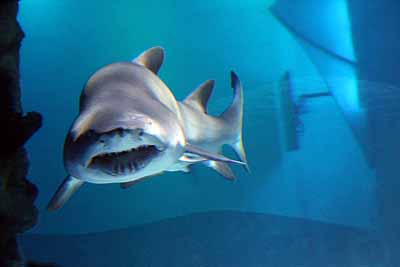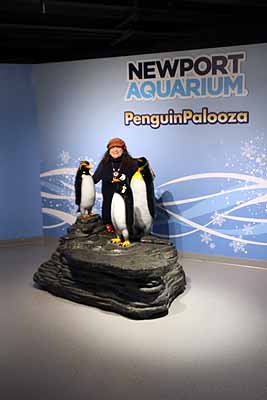 With the behind-the-scenes tour we got to walk across one of the big tanks on a rope walkway while looking down on the denizens.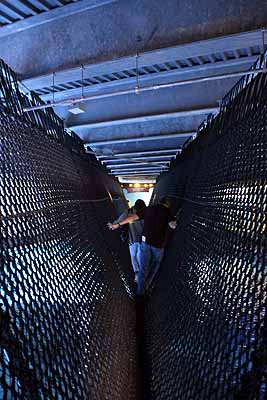 Louisville
On this visit to Louisville we had both better weather and a better RV park. Our first visit was accompanied by snow and the RV park I found online was pretty sleazy. The Buffalo Trace County Park was wonderful and so was our visit with old friends Tom and Kathy Lee Arnold.
This time we had more time to explore, so the obvious choice for Judy-the-horse-nut was to visit Churchill Downs, home of the fabled Kentucky Derby.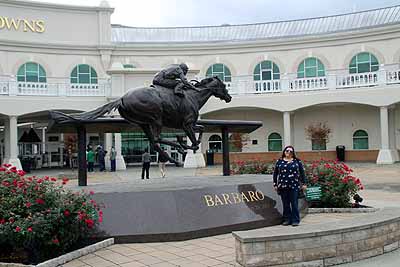 Once again, we took the behind-the-scenes tour visiting the stables and such and getting to see two races up close and personal, standing at the fence as they horses went by.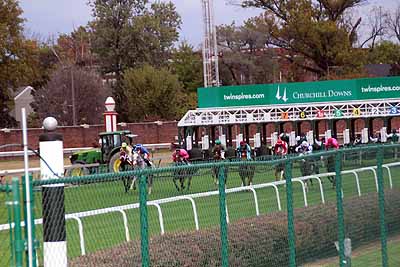 As the guide was explaining how things work, one horse managed to break away from the crowd lining up for the next race and took off down the track. It took some effort to get her back where she belonged.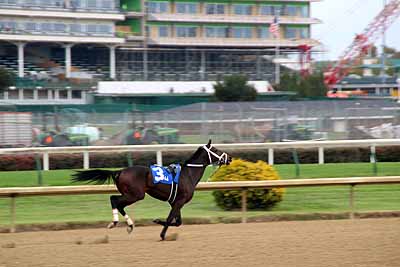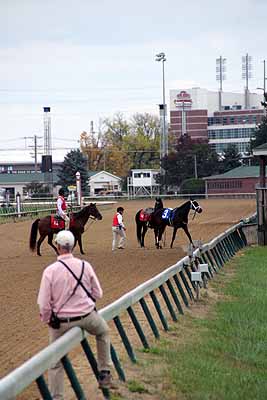 There are several people, like the lady below, whose job it is to keep order on the track.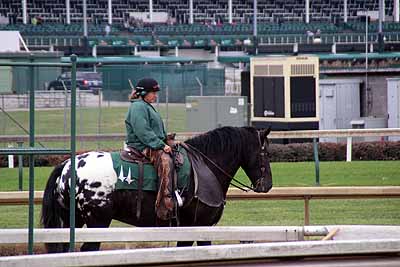 Once again, I found a place that was far more interesting than I thought it would be. That's the fun of traveling, you get surprised by the unexpected.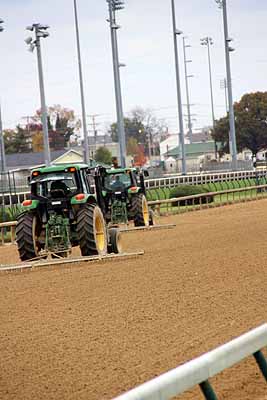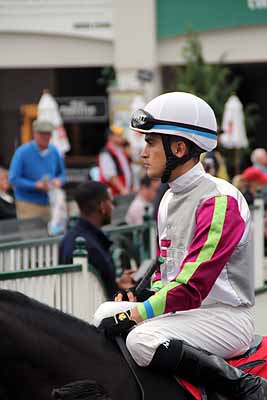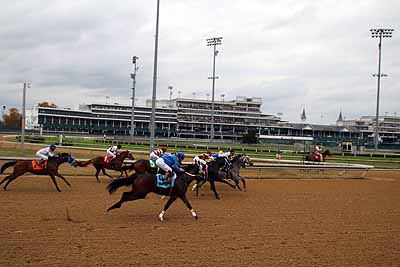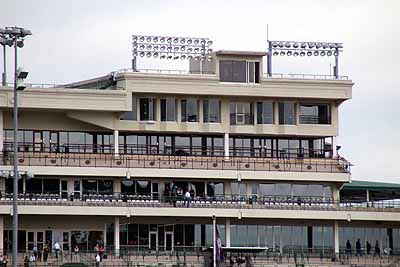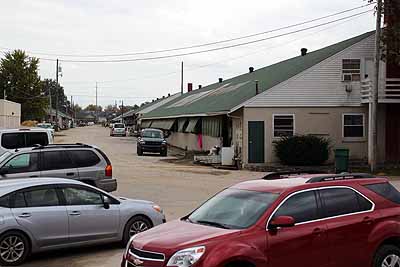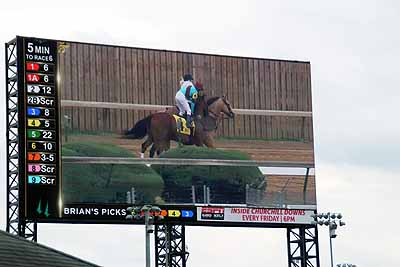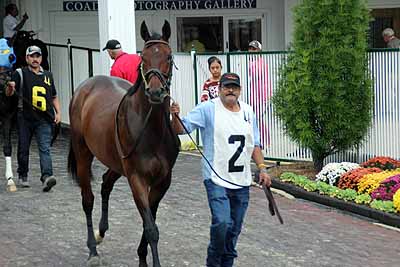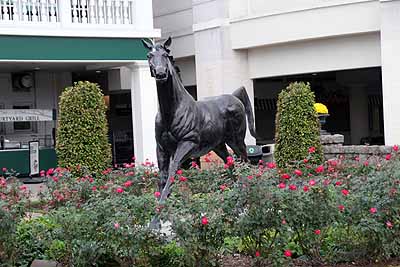 St Louis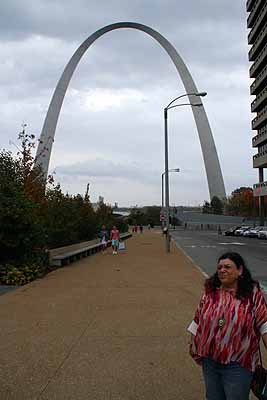 Did you have any idea that the Gateway Arch is a national park? You're in good company - neither did we. The park is a memorial to Thomas Jefferson's role in opening the West, to the pioneers who helped shape its history, and to Dred Scott who sued for his freedom in the Old Courthouse that sits just below the arch.
It's pretty hard to see, but at the very top of the arch are a series of little windows. We rode the cable cars inside the arch up to the top and leaned out to look down through them.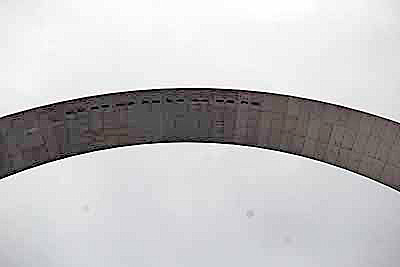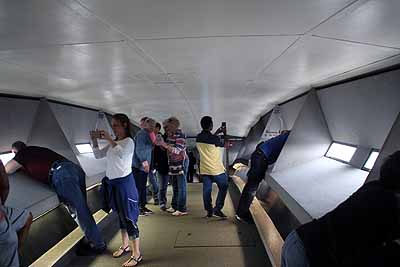 You get a very good view of the Old Courthouse, where Dred Scott pleaded his case. Today the courthouse is the visitor's center for the national park. The arch is a national park because it was built as part of a federally funded restoration of St Louis, spurring development of a blighted area. Today the area is quite nice for an urban area.
A visit with family
We were able to connect with some of the family of Judy's first husband. As Judy puts it - I divorced him, not his family. A very enjoyable evening, they have always made me feel welcome when we visit.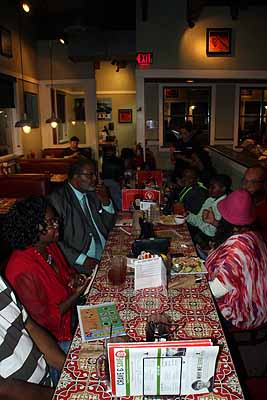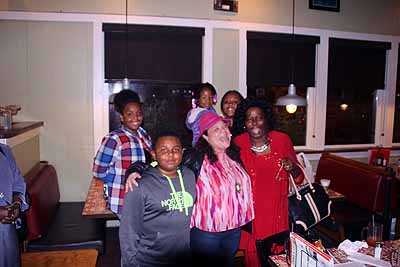 BBQ Time
If you ever visit St Louis in an RV, the Cahokia RV Park is the place to stay. Nice place, but the kicker is the Sawmill BBQ joint a few feet away from where we parked the RV Great BBQ and they serve a mean breakfast, too.
The next chapter in the pump saga
Another advantage to the Cahokia RV park is that it's only a few miles from one of the best RV supply houses in the country. Taking advantage of this, I once again emptied the storage compartment and with further cursing managed to replace the leaking valve. This took several trips to the supply house as I guessed wrong on what would fit in the tight space until finally it was finished. Good thing the BBQ joint was steps away as I wasn't really thrilled about having to cook dinner after my efforts.
The next morning we arose to that familiar puddle under the water tank. It seems that it wasn't the valve leaking but the new pump. So all the junk came out of the storage compartment once again and, with my neighbor's help, I moved the pump from it's home in the recesses of the compartment to a new home right behind the door where it is easily reached. My new friends at the supply house gave me a big smile as I once again returned to stock up on tubing and fittings and were kind enough not to laugh at me. I added a new valve in the filler line for the water tank so the leaking pump wouldn't flood the plains below the RV and ordered a new pump from Amazon.
You'll notice that with the water tank already filled, I didn't turn the new valve on to fill the tank, a lapse I was going to regret in the future. That's some more foreshadowing, folks.
Yup, the BBQ joint had our patronage once again.
Cahokia Mounds
Nearby St Louis is the Cahokia Mounds. This is the site of one of the largest settlements of early indigenous people in North America. In fact, it was larger than London, England in 1250 AD. Just because the technology was primitive, it doesn't mean the culture was primitive. It takes a lot of thought, planning and cooperation to have so many people in one place at one time. I urge you to Google Cahokia Mounds because you'll find a wealth of fascinating information.
The Visitor's Center has an amazing life-size diorama of daily life at Cahokia with plenty of explanations of what you're seeing.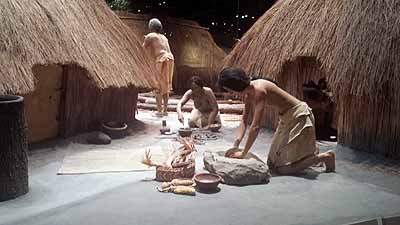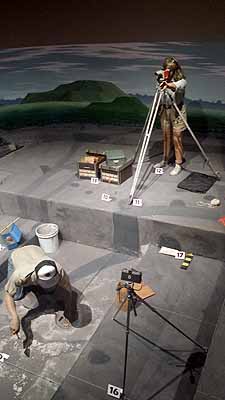 Near the mounds you'll find 'Woodhenge.' OK, it's a name designed to attract tourists, but it is a structure similar in purpose to Stonehenge. Some painstaking archaeological work has identified just where the wooden poles were placed.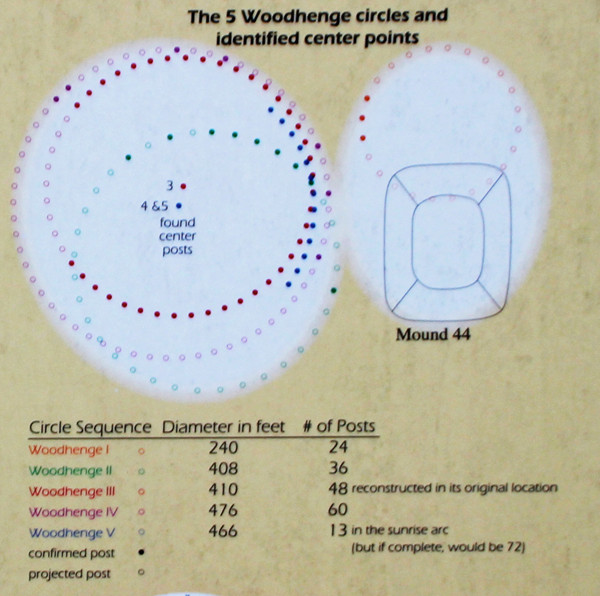 That's Judy walking on the grounds near one of the reconstructed poles
The Cahokia Mounds was another one of those delightful surprises on our travels. I had never heard of them until the people at the RV park told us about them. Things like that keep us going.
Lawrence, Kansas
OK, I know you've never heard of the place, it doesn't have anything very famous about it. However, it is the home of Judy's cousin Steve Shapiro, so naturally we had to stop and say hi.
We stayed in a Kansas State Park nearby, which is why I put so much effort into getting the water pump running - there is no water on site there. With some care the water in our tank lasted us for the five days we spent there and the pump worked just fine. Whew!
To get you somewhat oriented, Lawrence is just outside Kansas City, which - just to confuse things - is actually two cities with the same name on either side of the Kansas - Missouri border. This sort of thing happens all the time; I lived in Canton PA for some time, which is in Bradford County. Canton is 116 miles east of Bradford PA, which is in McKean County. Don't ask me to explain it - probably due to local politics, which never ceases to be confusing.
Anyway, Steve is a retired professor of Drama at the local college with a devilish sense of humor. I'm going to embarrass him by showing you a picture of him taken a year after we visited, but will give you a good sense of his love of theatrics.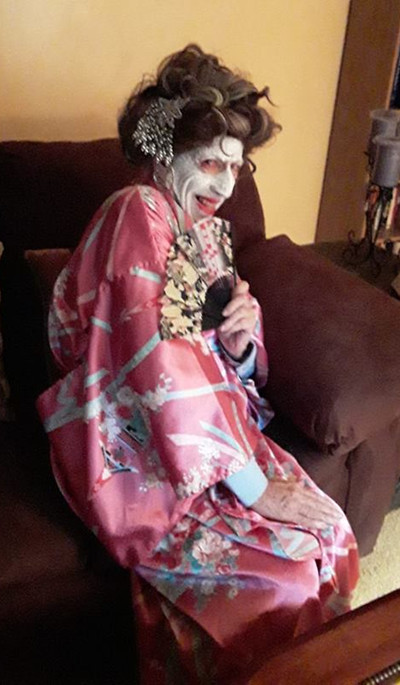 Hey - he posted it on Facebook so it's his fault I have the picture.
Turns out that Lawrence is near to Leavenworth, which is a city in Kansas that anyone who has listened to Country music or watched a gangster film will know as the home of the infamous prison. No, we didn't visit anyone there, but a much more interesting feature of the town is the C.W. Parker Carousel Museum. Charles Wallace Parker was an interesting character, largely responsible for the carnival industry in the USA. I lifted the next few paragraphs from their web site:
In 1892 Parker bought a used Armitage/Herschell track machine and operated it until 1894 when he built his own track machine and started the C.W. Parker factory in Abilene.
By 1900 he had traveling carnivals in the Midwest and was expanding rapidly. He built all types of amusement devices, including the railroad cars to carry them. His carousels began to evolve. He went from the track machines to the jumping carousels, from steam to electric. The carving on the horses began to get more fanciful. Parker continued to grow. By 1905 Parker had four full-sized carnivals on tour throughout the country. He also sold equipment to other amusement operators.
In 1911 Parker began moving to a new factory he was building in Leavenworth. The new building was much larger. And the factory had 10 railroad sidings to hold all of the Parker carnival equipment and amusement devices that he sent around the world. The Parker "Carry-Us-Alls" (his play on words for "carousel") continued to be the most important part of the amusement business. He built hundreds of small traveling carousels that were used by carnivals worldwide. He also built five large, extravagant "park" machines, designed to be permanently installed in large amusement parks. Only one of those five is still in existence: Jantzen Beach Mall, Portland, Oregon.
C.W. Parker's carvings behind the cantle (the raised, curved part at the back of a horse's saddle) are some of the more interesting carvings found on carousel horses. His standard carvings were hound's heads, roses, tobacco leaves, bull horns, fish, shields, and ears of corn (from his Kansas heritage). He sometimes carved strange creatures with gnome-like features and large feet. He also went through a stage about 1906 where he carved dragons, fish, birds, and exotic women. But the ear of corn behind the saddle became his best known carving. His horses were the only horses known that had this carving.
Who knew there was so much fascinating history about carousels and amusement rides? Our guide was terrific, explaining all the details and oddities of the craft of making carousels. Certainly worth a visit if you get near the place.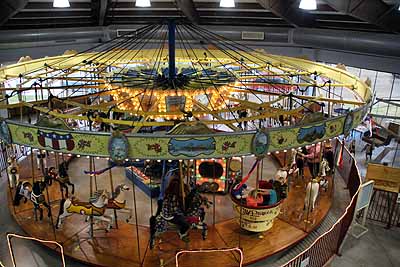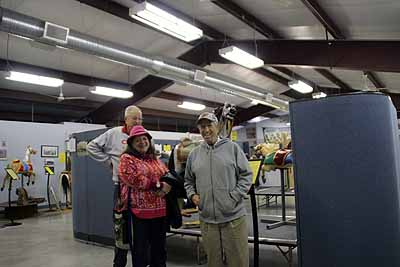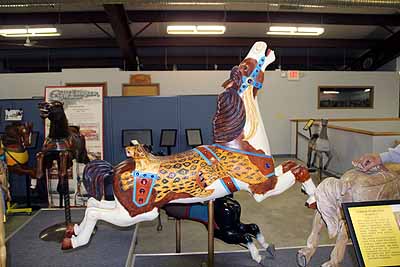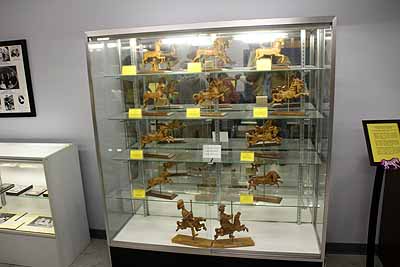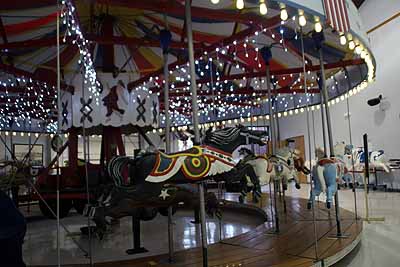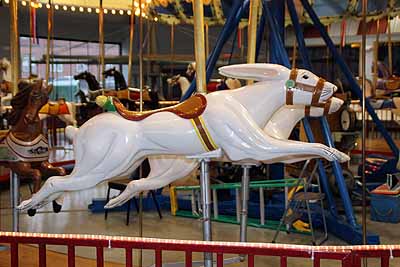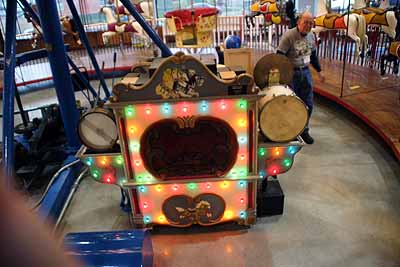 Nebraska
When looking at the places we have been on our travels, there was one big hole in the middle of the country that we had managed to miss - Nebraska. Firing up the computer and Googling Nebraska attractions, I found an interesting place, The Steamboat Trace Cliff Carvings. It was about a three hour drive from Lawrence, not so far when you have put on the miles we have. So on a beautiful, clear day we hopped in the pickup and headed northward to Nebraska. The directions were easy to follow, and we found a nice, shady parking lot at the head of the trail to the carvings. Grabbing our walking sticks and water bottles, we headed out. About a quarter mile later we came to a fence with this sign: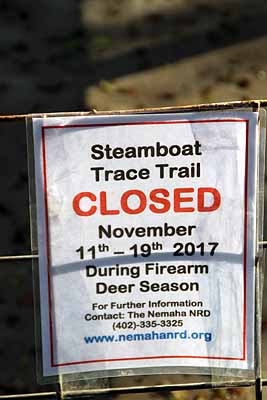 Naturally, the trail is closed one week of the year and that was the week we came. Mr. Murphy apparently lives in Nebraska, so all we could do was turn around and go back to the RV in frustration.
Oklahoma City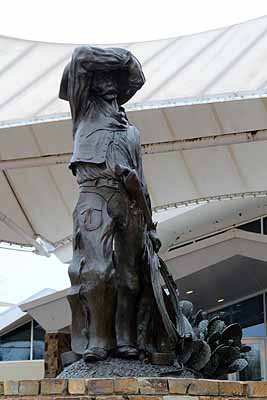 To tell you the truth, Oklahoma City was mostly a convenient place to stop on the way back to Texas; I really didn't have much hope for it as a tourist destination.
Boy, was I wrong! Oklahoma city has all kinds of cool and interesting things to see and do. Consulting the Internet, it found that the National Cowboy & Western Heritage Museum was good for two days all by itself. We happened to hit it during a magnificent display of tooled leather saddles, each one an intricate masterpiece in itself. Sadly, they didn't allow photography, so I can't share them with you.
In the rest of the place you can take all the pictures you want, they even have 'Selfie Stations' conveniently marked on the floor for you to position yourself. Here's Judy following their directions, even if I was the one to take the picture.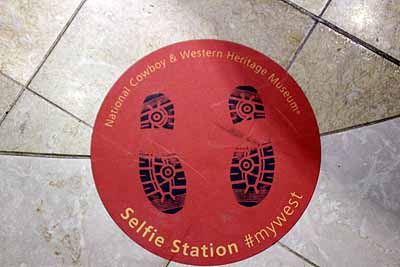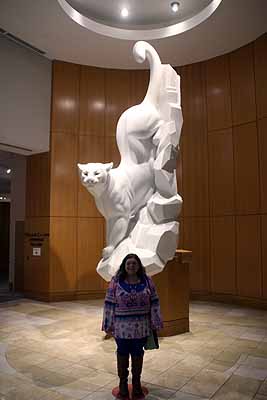 The museum gave a good overview of how we settled the West, not neglecting the way we treated the natives who were already there and the blacks we imported as slaves. There were many impressive dioramas and lots of interactive exhibits.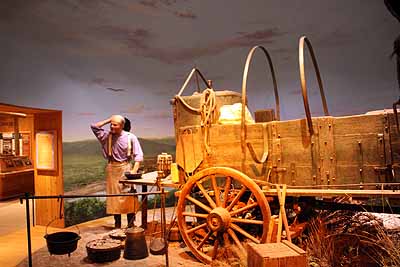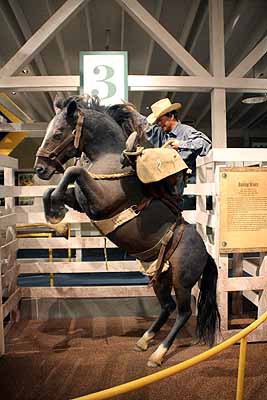 At first it seemed odd to see a large statue of Abraham Lincoln dominating one wing of the museum, but we learned that Lincoln was a great proponent of the westward expansion of the country.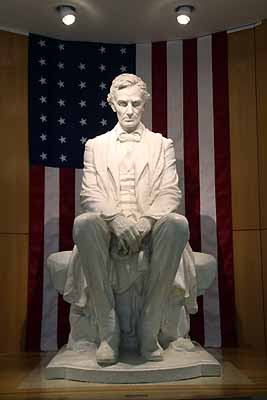 On our first day visiting the museum we ran out of time and were feeling a bit peckish, so we consulted our GPS, which showed us an Italian place just down the street. This is where we began to discover that Oklahoma City has some of the best restaurants we have found on our travels. We got to Gabriella's Italian Grill and Pizzeria in an off hour and were the only people in the place. That didn't matter, the service was great and the food even better. Judy swears they have the best marinara sauce she has ever tasted.
The Pigeon Museum
One of the quirkier places I found when looking for Oklahoma City attractions was The American Pigeon Museum. Since it was near the Cowboy Museum we took a drive over there only to find it was closed, despite the hours posted on the door telling us it was open. I suppose they must literally operate on a wing and a prayer, depending on volunteers to keep the place running.
We tried again on our second visit to the Cowboy Museum, and again it was closed. This time we found several cages of pigeons by the front door, so we at least got to see a few live birds. I hope someone came back and took them back indoors before the night fell.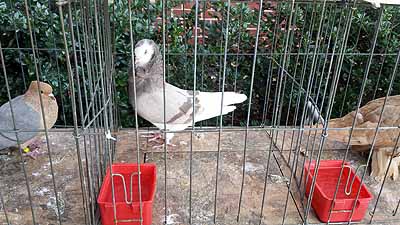 Banjo Time
OK, cue the banjo jokes:
What's the difference between a banjo and a(n)…
Chain saw - you can turn a chain saw off.
Trampoline - you take your shoes off to jump on a trampoline.
South American Macaw - one is loud, obnoxious, and noisy; and the other is a bird.
Harley Davidson Motorcycle - you can tune a Harley.
Onion - no one cries when you cut up a banjo.
And finally:
What did the banjo player get on his IQ (or SAT) test? - Drool.
Credit where credit is due - I stole those from The Canonical List of Banjo Jokes.
Oklahoma city is home to the The Banjo Museum, a truly unique experience and certainly no joke. We spent a lovely afternoon learning about the banjo and it's history - and for all the years Judy and I have been involved in music, we did learn some things we didn't know. They have a fantastic collection of instruments that are high art, beautifully displayed so you can see them from all sides.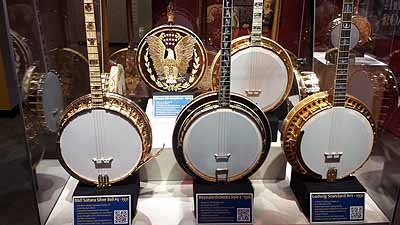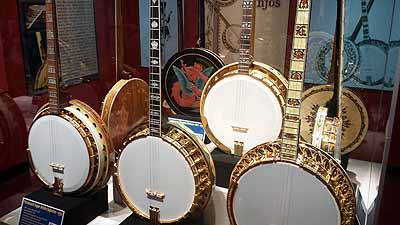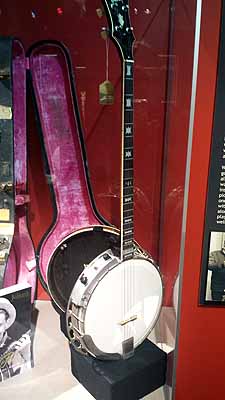 They even have the first electric banjo. Sadly, I can't remember who made it, and searching the web gives me conflicting answers, so you'll just have to take a trip to the museum if you really want to know.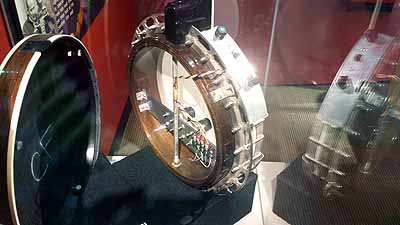 And then there's the player banjo. Just like a player piano but different.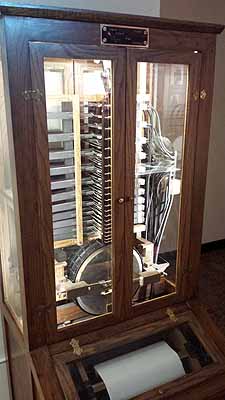 We left the museum at twilight and stumbled upon the Bricktown Canal. Another pure coincidence that we found it - but it reminded us of the beautiful canal network in San Antonio. So we strolled about a bit and enjoyed it before going home.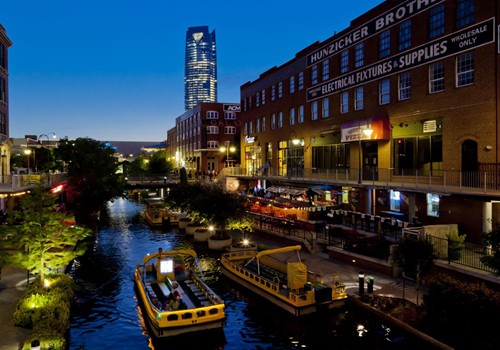 Strolling along the canal, we heard some pretty good New Orleans style jazz coming frim the Bourbon Street Cafe, so we decided that was the place for dinner. Once again, Oklahoma City proved to have some fine food available, and having it accompanied by some sweet jazz made the evening complete.
Myriad Botanical Gardens
With beautiful grounds and a very creative piece of architecture to house the indoor collection, the Myriad Botanical Gardens were a delight. I'm just going to show you some of the pictures and not try to describe it.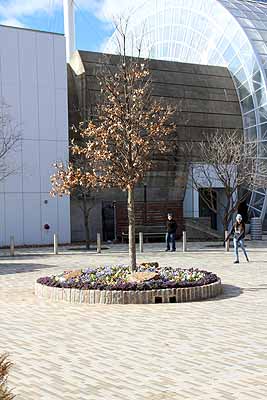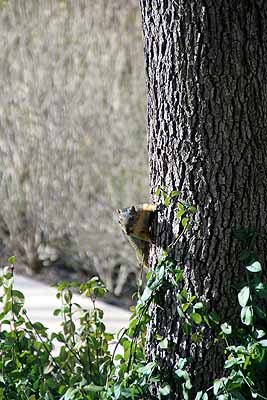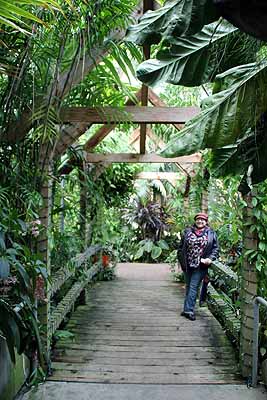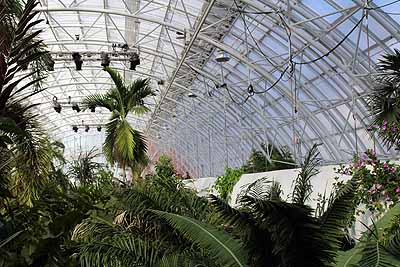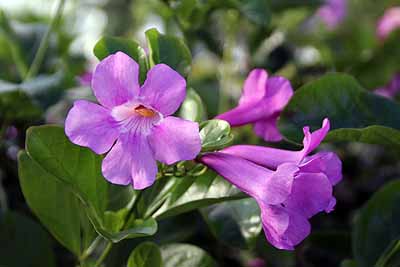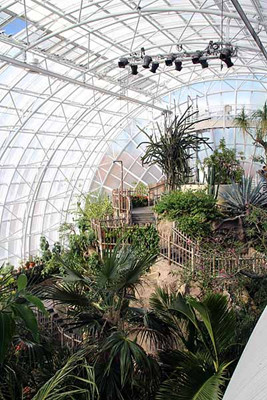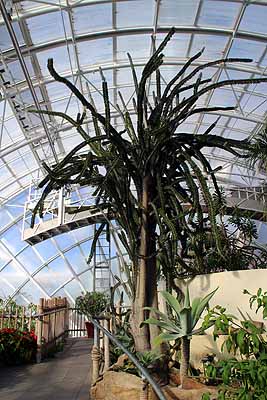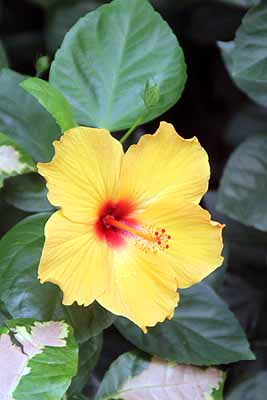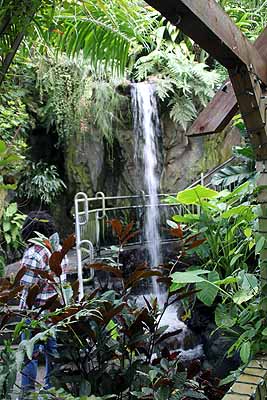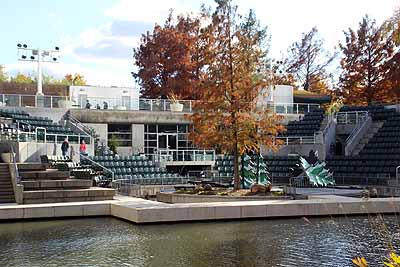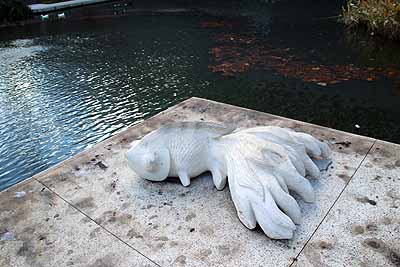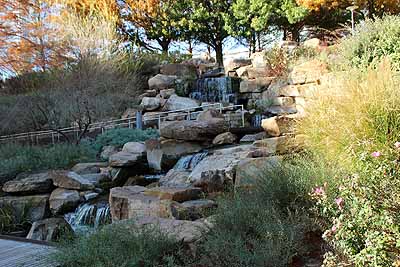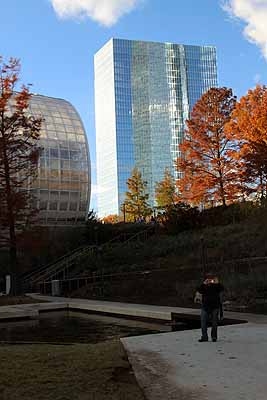 One last word before we leave Oklahoma City. As I said before, the place has some terrific places to eat at very reasonable prices. We were guided to Jimmy's Roundup Cafe on our first night by a very enthusiastic woman. She told us they have the best dinner rolls in the world, and she was right. I'm not sure how we found room for the rest of the meal after tasting the rolls.
Finally, the time had come to head for Austin and set up for the winter, but Oklahoma City is certainly on our list of places to return to in the future.