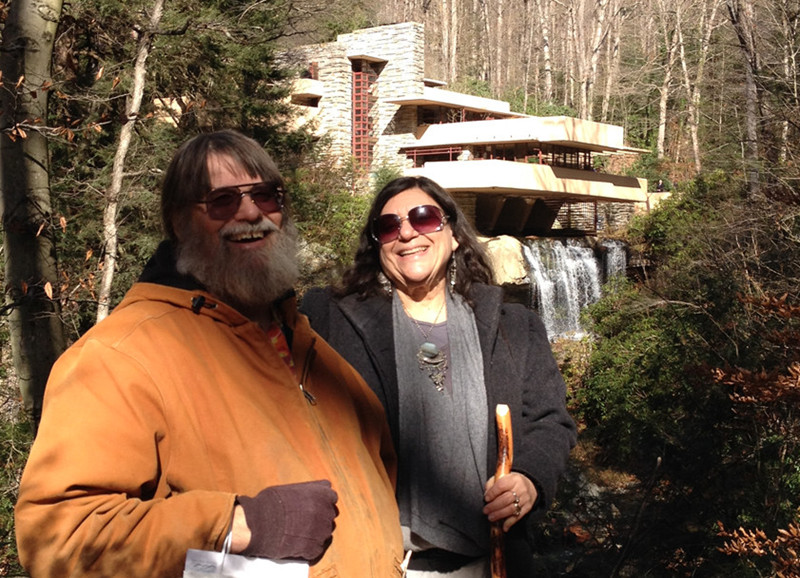 November 2014 - The Trek South
Ralph's Blog
We bade farewell to Rochester just as the first snowflakes began to fall, an auspicious time if there ever was one. After a hectic week emptying the house, storing what we could and piling the trailer with boxes of stuff we needed but didn't have time to put into some permanent place we set out for life on the road. For the first week or so we came to appreciate what it was like to live with a hoarder, there wasn't any place we hadn't stuck something as we left town.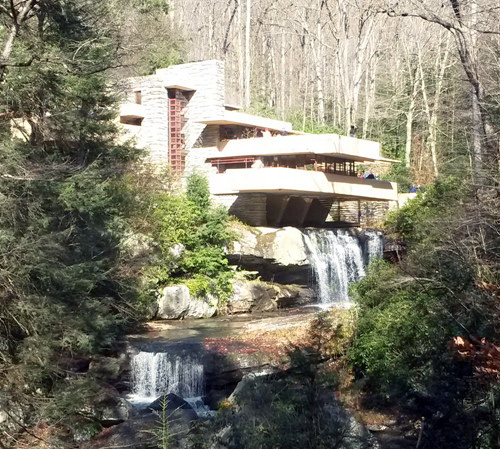 First stop was a visit to Frank Lloyd Wright's Falling Water, the incredible house built over a waterfall in Pennsylvania. Many years ago I watched a film showing how the house was retrofitted with modern materials to keep the outhrust porches from falling down into the water. Wright was a genius of an Architect, but a lousy engineer, so may of his buildings have needed extensive renovation and updating to keep them standing. Of course he didn't have our modern hi-tech materials that would have made his life easier.
The tour was fascinating and we learned a lot. Judy and I had read a book called Loving Frank some time ago about Frank and Mamah Borthwick Cheney, whose long term affair was a very popular scandal of the times; ever since we have had a renewed interest in Wright. For many years I lived a couple of blocks from the Darwin House in Buffalo but didn't really realize the significance.
We were so impressed that we became members of Falling Waters and Judy got an official Falling Waters hiking stick. We can now visit several Wright houses around the country, many of them on our intended travel path.
There was a second Wright house, Kentuck Knob, only a few miles from Falling Water so we saw that one too. Wright did not believe in garages or attics, to him they only encourage clutter so he wouldn't build them. Wright was the inventor of the carport, protecting the vehicle but not allowing any junk storage. The owner of Kentuck Knob did not agree with this philosophy, so once she was sure Wright wasn't going to visit the place she had local workmen cut a door into the closed off rafters and had her attic. By the way, Falling Water enclosed the carport there to create a visitor center - sorry Frank.
We paid a visit to Judy's brother in Parkersberg WV, camping at a lovely but deserted park on the Ohio River. Actually, most campgrounds are rather deserted or closed during November, it was interesting finding a place to stay at times. As we left the first morning Curious George made a break for freedom and disappeared into the woods. We figured she would be back and left for the day.
We didn't get back until about 10 that night and when we got out of the pickup there was Georgie atop the 12' 9" trailer howling forlornly. How she got up there remains a mystery. How she got down is less of a mystery, I climbed the ladder with a flashlight in my mouth, enticed her close enough to grab and descended the ladder with a very unhappy cat in one arm and clutching the ladder with the other. I did have the foresight to wear my heavy coat and use the leather work gloves I save for chopping wood and such. Georgie did not attempt to escape the trailer for many weeks thereafter.
The next stop was Cincinnati. Hamilton County, just north of Cincinnati, has a wonderful park system and we stayed at Winton Woods Park for a couple of days while we explored the area.
There was another Wright house in the area, so we visited it and were once again impressed by his ability to design beautiful and functional homes. Poor Frank, the carport at Wescott House was once again enclosed to make a visitor center. This place had required extensive restoration as it had been cut up into apartments when the Wescotts fell on hard times and sold it. A few decades ago no one placed any special value on such architectural treasures, they were just buildings to be used as wanted.
On our way back we stopped at the Air Force Museum in Dayton, but got there with only an hour left before closing. Definitely not enough time to explore all the exhibits. There was an interesting section devoted to the Holocaust, very sobering.
The next day was spent at the National Underground Railroad Freedom Museum. The museum is a brilliant tribute to the men and women who suffered under and gave their own freedom and even their lives to end the abomination of slavery. The juxtaposition of the best and worst of humanity is strangely fascinating and thought provoking. If you ever get to Cincinnati it is well worth a visit.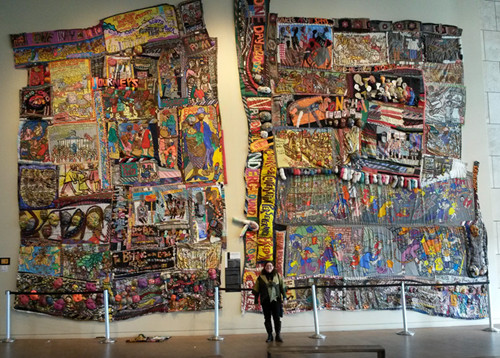 Oddly enough, we came upon two pieces of the Berlin Wall that trip. One was at Kentuck Knob, courtesy of the eccentric English Lord who now owns it, and the other at the freedom Museum. What better place for it?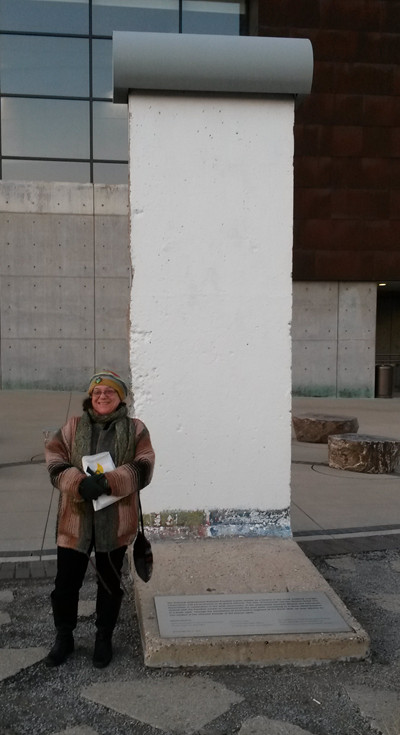 The next stop was Louisville KY, home of our friends Kathy Leigh and Tom Arnold. Rochester lost one of its most beautiful voices when Kathy Leigh moved to Louisville. We shared pizza and a lovely evening of music with them as they practiced for an upcoming gig.
I don't know about you, but when I think of Kentucky I picture lush grass, horses and Southern comfort. (Not that kind - I don't drink!) What we got was a pretty sleazy trailer park (hard to tell when you reserve over the net) and 3 inches of snow when we woke up. That's enough snow that the awnings that protect the slideouts will not roll up. Judy and I had to schlep a picnic table over to the trailer and I stood on it to brush off snow as she pressed the button to close up the trailer.
Our trek continued Southwest to Arkansas, arriving well after dark at our chosen campground. It was pitch black, no lights in the camping area except a lamp on the closed bathrooms. Somehow we managed to back the trailer into an open spot (they were all open - no one else was there). The cold seemed to be intent in following us South; it was cold enough that there was no water available, but we had a full tank and didn't worry. Cheapskates that we are we plugged in and used the electric heat to save propane and curled up for a good night's sleep.
The next morning we went to check in and discovered we had gone to the closed part of the park. The open area, with complete hookups was just up the hill from where we stopped. We made do, we were not going to hassle closing up, moving and opening again.
The reason we were in Arkansas was that Judy had found an old friend from her days in California in the seventies. We invited them to the trailer and had a lovely roast beef dinner with Yorkshire pudding while they reminisced about the good old days. We steadfastly ignored asking if we were old farts who spent our time reminiscing about the good old days.
We were getting near the end of our journey, but Austin Texas was too far to make in one day, so we stopped north of Dallas and discovered that Texas has a park system every bit as good as New York. We even saw an armadillo as we pulled in. One very nice part of the parks is that most of the campsites were pull-throughs, no backing up!
With one final haul we made it to Austin by mid-afternoon. We arrived at the Royal Palms RV park, checked in and then spent the next half an hour trying to back into our space, finally giving up as the trees and short space just wouldn't lat us in. We changed spaces and spent another hour wedging our way in with much help (if you have a liberal definition of the word) from our new neighbors. At last we were positioned, connected and ready to stay in one place for the next few months.
Since the park offers free cable, we may never leave as Judy is addicted to HGTV and spends endless hours watching people buy, sell, gut and rebuild houses, throwing money about like drunken sailors. Me, I'm happy to be on the net again and have the printer hooked up and usable.
We're here through the holidays, intending to leave sometime in mid-January. Thanksgiving is in two days and the party is at the Romero household with the grandkids - we are more than ready for the party.