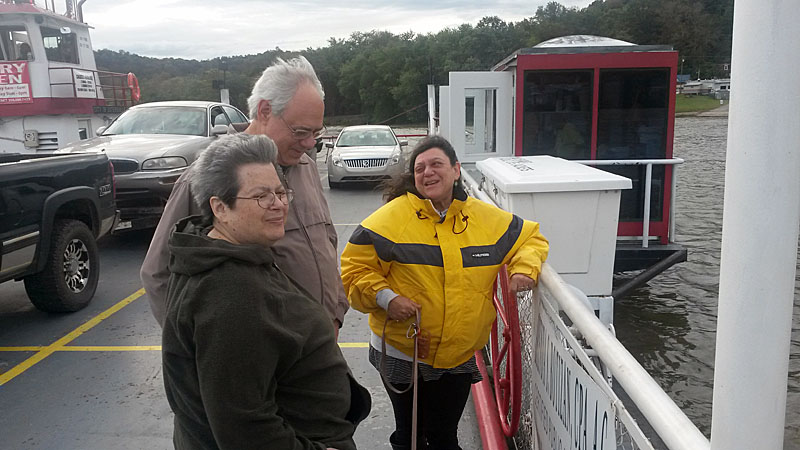 Riding on an actual ferry
October 2015 - (Almost) On The Road Again
Ralph's Blog
You know what they say about plans - well, it's true. We had planned to leave Rochester in mid September and visit the Corning Museum of Glass, Falling water and a few other interesting places. That all changed when water started dripping out of the bottom of the RV. Not a good sign at any time, but really bad when you want to get on the road.
So we called Camping World and made an appointment, packed up the RV and toddled on down there. Then we sat around in the waiting room until they discovered the greywater tank had a split in the seam and was unrepairable. A pain in the patoot to fix, but covered by our RV Platinum Insurance and would only cost us $50.
That was the good news, the bad news was that the new tank would arrive a week or so after we planned to leave. So what else could we do but rearrange our travel schedule and spend another couple of weeks with our friends Dave & Helga in Rochester?

Aside: RV Tanks
RVs come with several tanks; one for fresh water, one for grey water (the drain from the sink and the shower) and another for black water (that's the toilet, folks. Sounds better than shit tank, OK?). There are weight considerations when the tanks are filled. The fresh water tank holds 60 gallons, the two grey and black tanks hold 35 gallons each. If they were all full (not a realistic possibility) that would be 8.34 pounds per gallon times 165 gallons or an extra 1376 pounds of water. That's more than half a ton, folks. Naturally, you try to empty the receiving tanks before you travel and I try to keep the fresh water tank half full just in case we break down and need it for an emergency. We almost always have fresh water at the RV park, we seldom have to camp without utilities.

Actually, we didn't have to cancel our trips to the local attractions, we just came back to Rochester instead of heading south. Robert Treman park in Ithaca is one of our favorite places. It fills up fast as there are only a few sites with electricity, but we managed to reserve one. Some of the sites can be a bit tricky to get into, and this time I had the Devil's own time backing the Gypsy Wagon into the site sideways. After half an hour of frustration it was finally in place; not without a lot of whining and cursing on my part.
I use the phrase Devil's own time advisedly; Lucifer Falls is one of the most spectacular series of waterfalls in the world. Previously we have driven to the top of the falls and walked down, an eminently sensible way to do the hike, but it still leaves you with the problem of retrieving the car at the top of the falls.
The last time Judy, brimming with health and vigor from her days in the gym, valiantly walked up the falls and drove back down while her slug of a husband sat around trying to regain his breath. But this time I tried to walk up the Lucifer Falls instead of down. The falls is truly spectacular scenery and well worth the trip.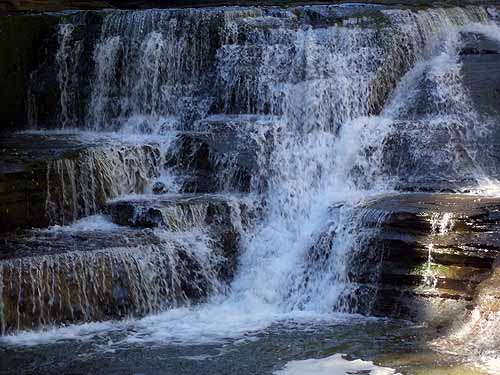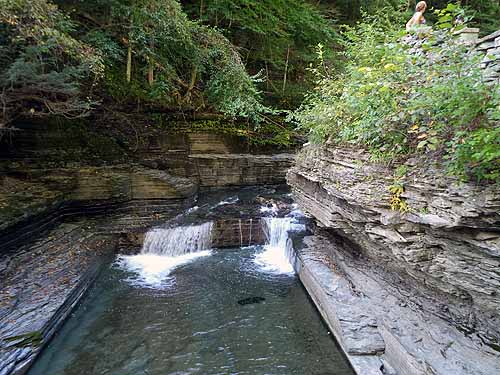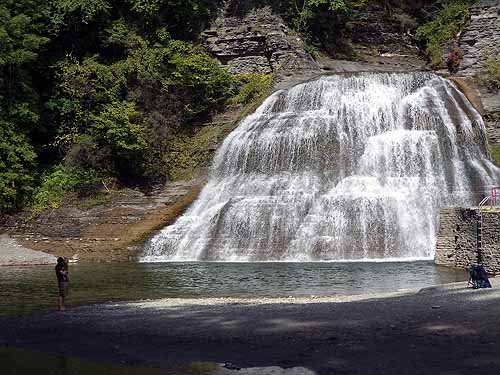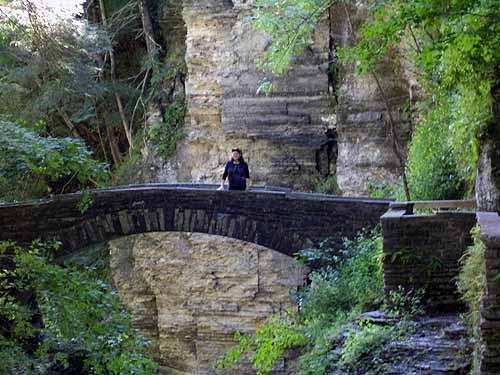 Actually, I only hiked up half way; a while back I dropped something heavy on my big toe and made rather a mess of the toenail; it was still healing and the climb was a little too much for comfort at that point. (That sound better than saying I'm a fat old man with only one working lung and couldn't make it!)
Our next stop was the Corning Museum of Glass, another favorite place that we hadn't been to in a while. Their new addition is spectacular, well worth a visit if you haven't been there in a while. Judy took pictures of everything, so here are some of the more interesting things on display.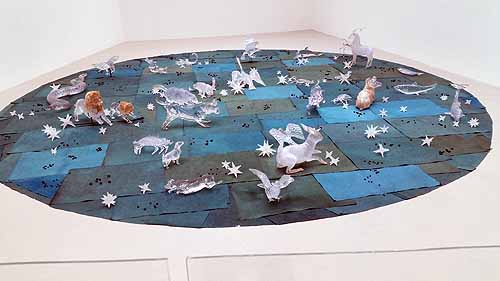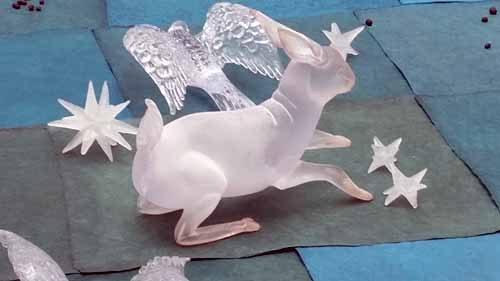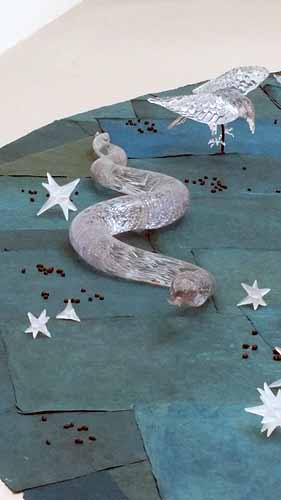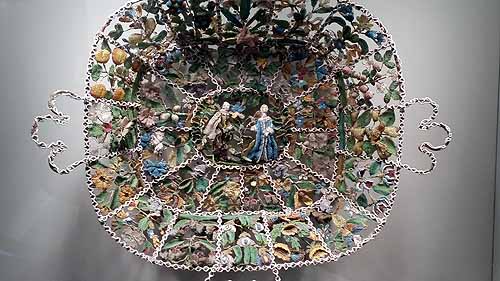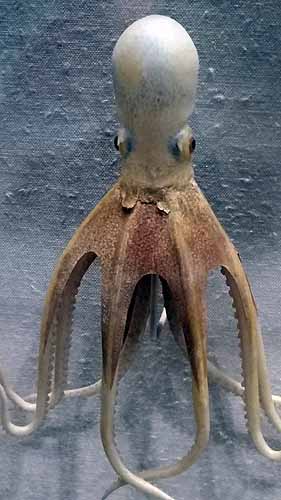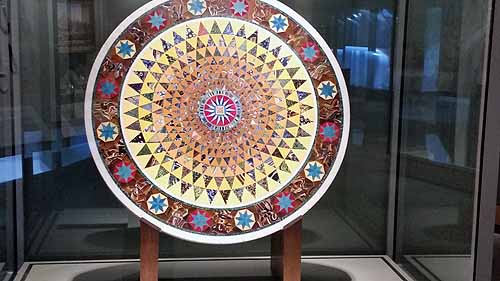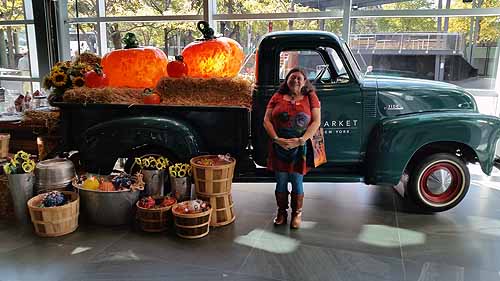 I couldn't tell you how many times we've been to Corning and wanted to visit the The Rockwell Museum, but just plain been too tired to do it facing a three hour drive back home. Well, this time we did it since we were staying in town overnight. It was well worth it, there were many interesting exhibits of Western art - Western as in the Wild West, not as this half of the globe. Not only that, but Judy got to raid two gift shops in one day - not a bad day at all.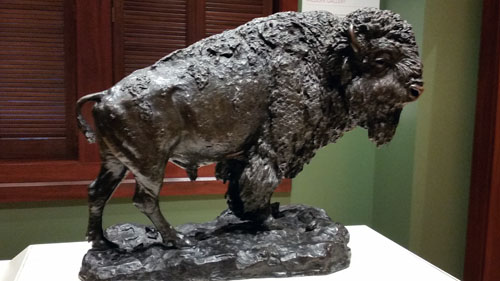 We made one more day trip during our enforced hiatus, driving to Buffalo to see Frank Lloyd Wright's Darwin Martin House there. For many years I lived only a few blocks away from the place and never really noticed it, being a callow youth at the time. Somehow it seemed just too big and impressive to have missed it, even if I wasn't looking for it.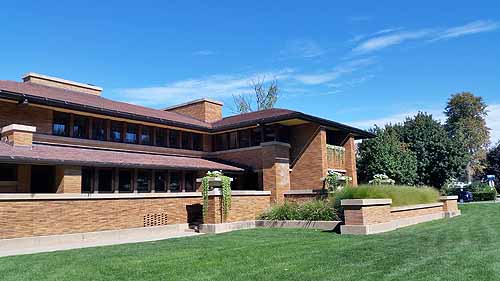 We learned the answer when we took the tour - it wasn't there to notice. The place fell on hard times and the new owners tore down the entire back of the building, constructing three cheap, ugly apartment buildings. When people started to value FLW's work again the restoration corporation bought the apartments and tore them down in turn, then rebuilt the conservatory from the original plans. They did a great job, too; it looks fantastic. Take a look at the virtual tour on their web site. You'll have to go for yourself to see the inside since they wouldn't let us take any pictures.
After waiting what seemed like ages, our new tank came in and we bid farewell to Dave & Helga and got on the road. The tank was installed by an old buddy of mine who I hadn't seen in many years. Years ago I worked evening shift at Schlegal Industries as an electrician. My mechanic buddy Don and I spent many hours together when things were slow. He recognized me (I suppose I rather stand out from the crowd) but it took me a minute or two to search the memory banks and find him somewhere down deep in the dross I keep in my brain. Not only did they replace the tank, but they fixed our big vent fan and replaced the vent for the stove vent. Nice people there, I highly recommend them if you are in the market for an RV. (Later update - they are no longer a Camping World, but are now Meyers RV - same people, new name.
So we hauled the RV a few miles to the campground for the night, opened it up and let the cats out of durance vile in the shower stall, but Harry had a pronounced limp as she fled her confinement. She wasn't too hard to catch since one of her paws was swollen and hot to the touch. Another delay, but fortunately our Rochester vet is in Brockport, not too far away, and was able to see her early the next morning. Something bit her on the paw, but a shot of long lasting antibiotic and she was feeling fine in only a few hours. The people at Southwoods RV Resort were very understanding and let us stay late while we took Harry to the vet.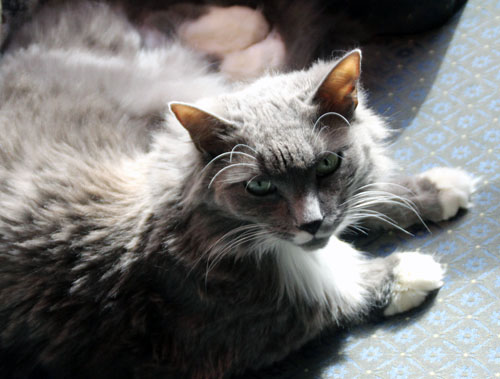 By the way, Harry Houdini and her sister Curious George were named long before we knew they were female. They don't seem to object to the names at all. Fortunately, when we got to North Carolina they used their own catbox so we didn't have any bathroom issues down there.
So, at long last we were off to West Virginia to visit Judy's brother. Unlike last year, I was able to find an RV park just across the river from Judy's brother Mac, not a 45 minute drive away in the next state. Oddly enough, there don't seem to be many RV parks in Parkersburg, WV.
One of the highlights of our visit was seeing Roberta and David Baird again. An elderly couple who live off the grid at the top of a mountain. They make some of the most fantastic jewelry on the planet. Whenever we visit, we will stop off at their favorite pizza place and bring a couple of pies for supper and spend a very enjoyable evening in conversation with them.
This visit Mac and Rachael took us to visit the Ash Cave, a beautiful state park and picnic area. We didn't, however, picnic; we opted to sit down to a fine dinner at a nearby restaurant whose name I just can't remember. I do remember some great BBQ, however.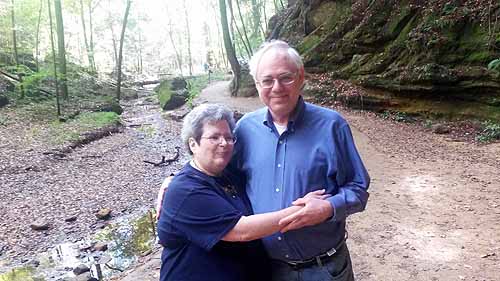 Mac and Rachael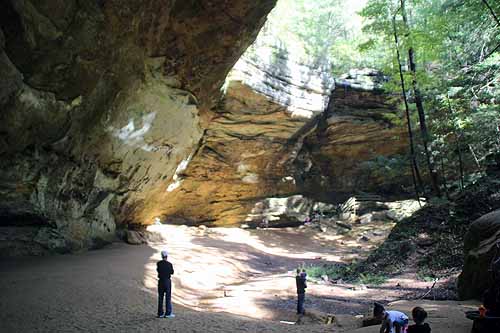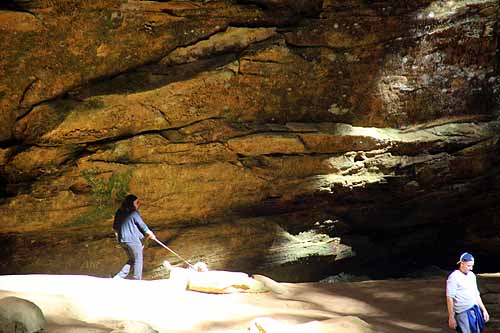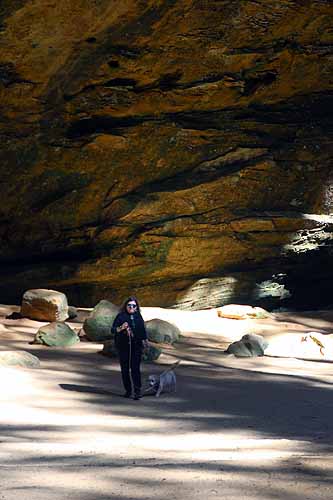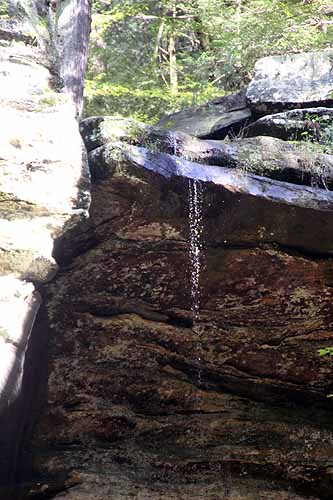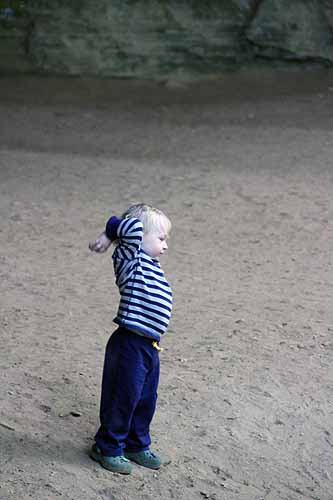 I know, it's another cure little kid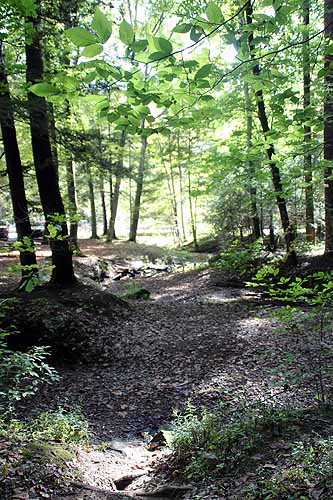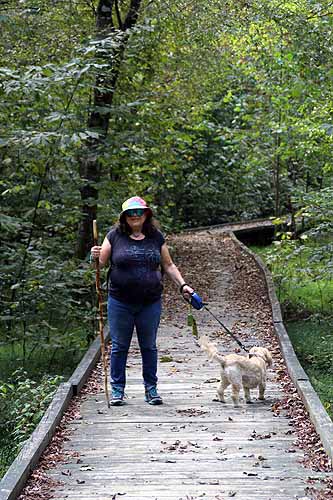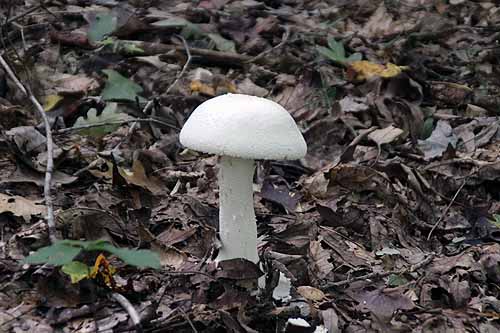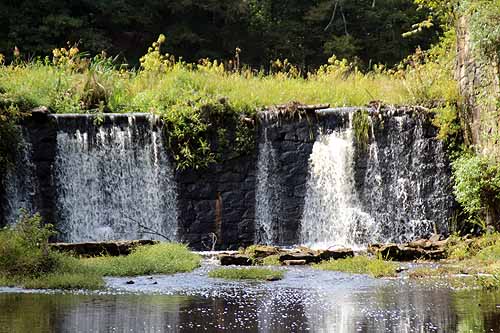 Having visited Judy's brother, we headed onward to visit my brother Dave in Richmond VA. Physically, we are both fat old fogies with very similar features. Mentally we are about as far apart as you can get. I'm a long haired, bearded, tie-dye wearing, bleeding heart liberal prone to fact checking my Facebook friends; Dave is a short haired, clean shaven, suit wearing, hard hearted conservative prone to posting conservative lies without fact checking. (Sorry, Dave - I'm writing this and you can't do anything about it!) Here's a picture of Dave from a few years back, somehow he never stood in front of the camera on this trip.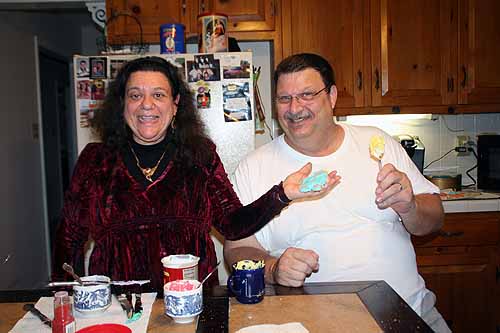 I apologize if this picture interferes with your ability to sleep without nightmares tonight.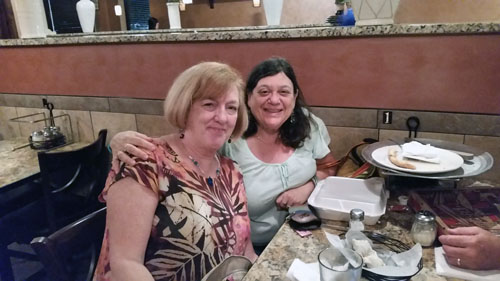 I hope this one of Linda and Judy will make up for it.
Actually Dave's a pretty good guy as long as his wife Linda keeps him in line. He's a model train enthusiast who builds his own trains and displays. He has even gone so far to name buildings after the family and make scale model figures of the family to populate the display.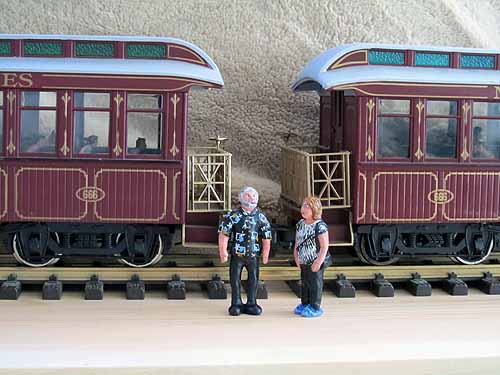 That's our sister Kris and her husband Karl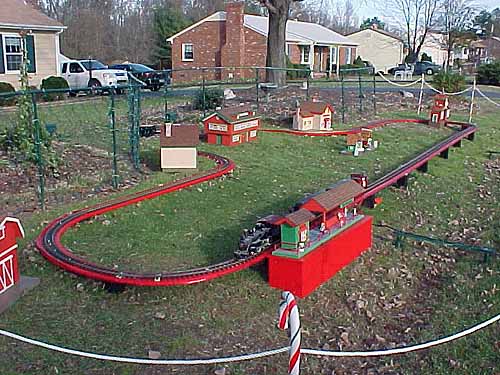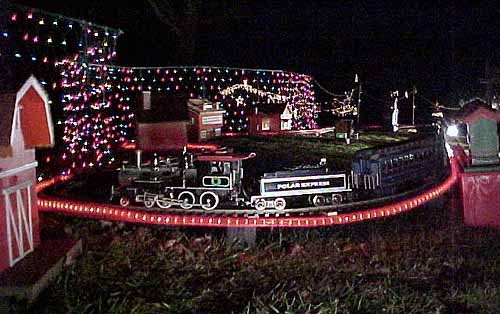 Anyway, we had a nice visit, even if I screwed up and reserved a place at Pocahontas State Park, not realizing it was almost an hour away from both Dave and Colonial Williamsburg.
Colonial Williamsburg is a wonderful place, educational and fun at the same time. We walked the streets, found out how the Governor absconded in the middle of the night when the citizens objected to his shenanigans, talked to several articulate slaves and even met General Lafayette.
He spoke about his reasons for joining the American revolution, his experiences in the war and being wounded. The general was right pleased to watch the nurses as he recovered, a fact that did not go unnoticed in the question and answer period. One gentleman in the audience remarked that those nurses could have been one of his daughters, did he treat them with respect? The general replied that he, of course, treated them respectfully. "Of course while I was delirious with my wounds…" That brought a great laugh.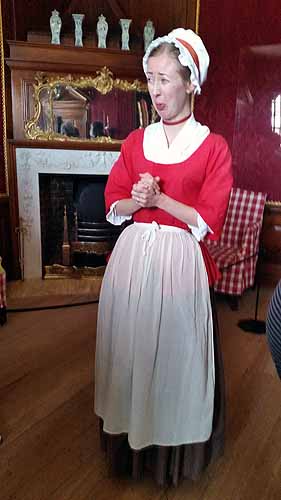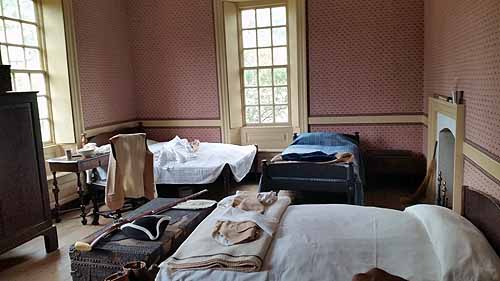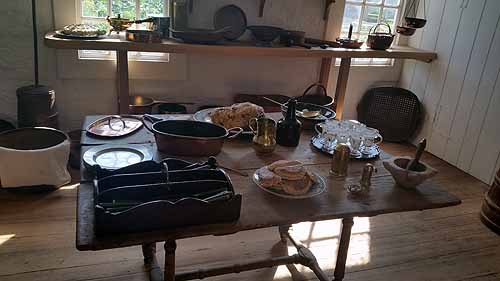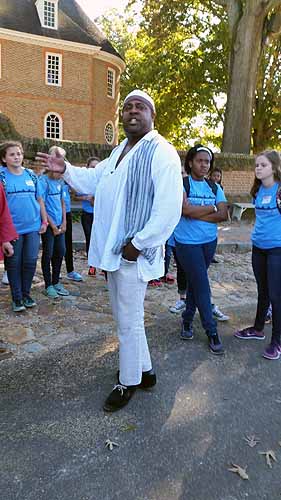 Explaining what it was like to be a slave in a "free" country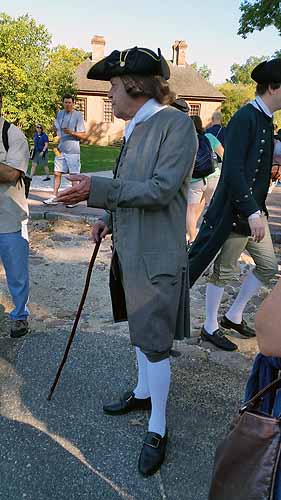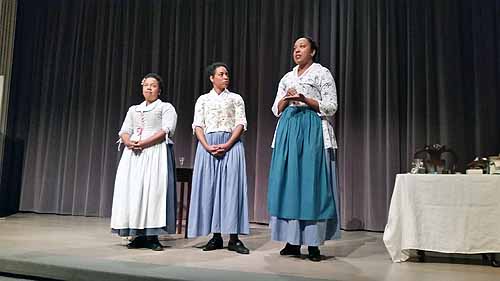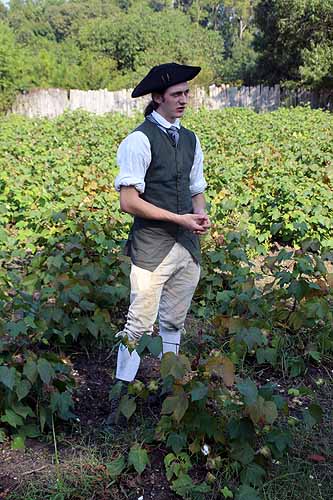 A colonial farmer in a field of cotton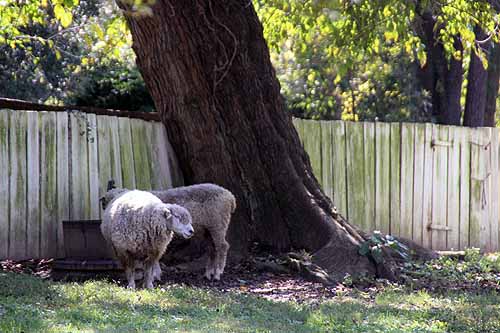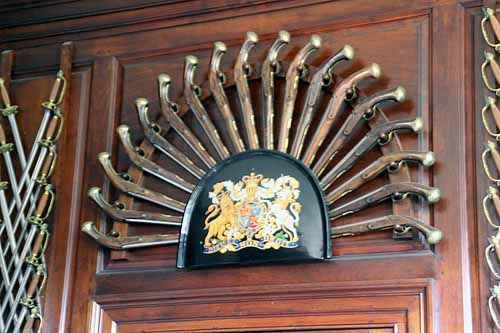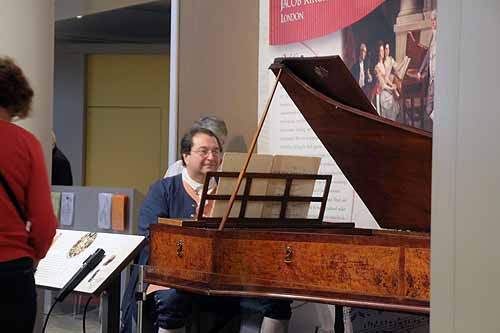 Overall, two days was not enough to spend at Williamsburg, we firmly intend to plan more time there next year, as well as finding a much closer campsite.