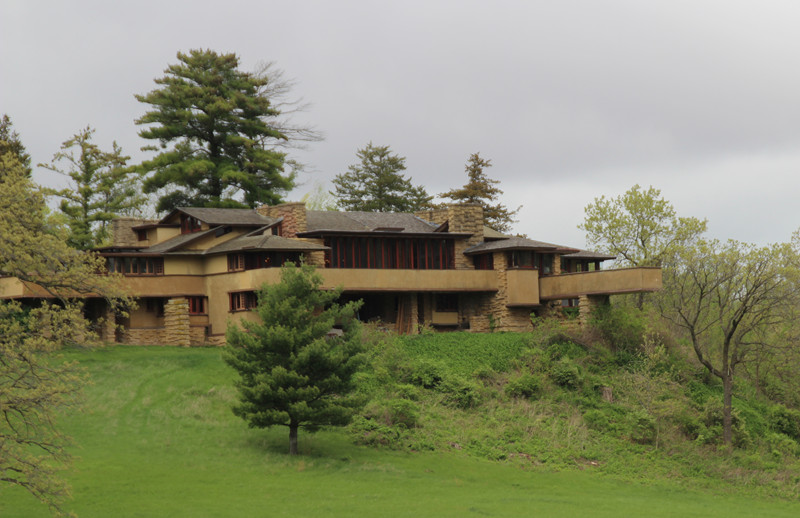 May 2015 - Old Friends and Architects
Ralph's Blog
Years ago I lived in the small town of Canton, Pennsylvania. It was a very nice place, but unless your grandfather was born there many of the denizens considered you a 'Flatlander', an outsider who would never be part of the community. I didn't understand why they called outsiders 'Flatlanders' until we returned home to Buffalo, NY and noticed there wasn't a wooded hill in front of you wherever you looked. The land was sure flat!
They weren't nasty about it, but they kept a certain distance. Nonetheless, we enjoyed our time in the town, and my daughter became best friends with Laura Clarke. As luck would have it, Laura was now living in Mineral Point, Wisconsin - right on or route home. We were Facebook friends with Laura and had been watching her son, a very cute redhead named Xander, grow up. We were looking forward to meeting him in person.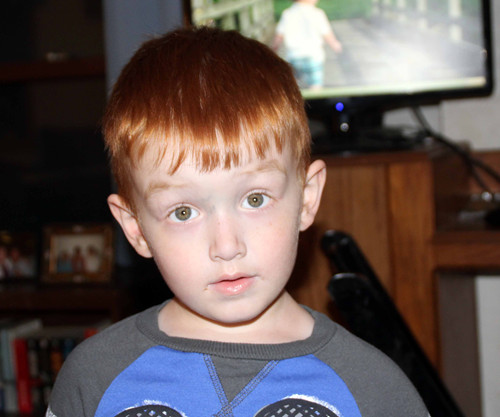 He was just as cute in person as he looked on the web. He hopped right up on the couch with us and we read him a story.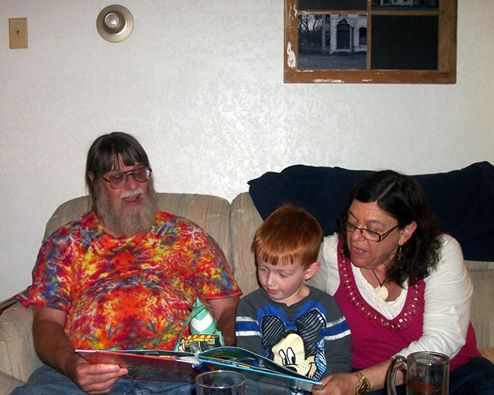 He later took us to the playground, graciously consenting to let Laura and Judy share the slide. As you can see from the winter coats and scarves it was pretty cold, but that never deters a little kid.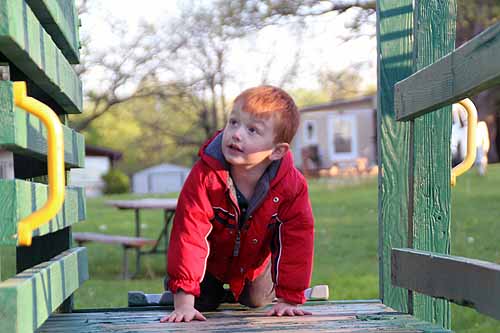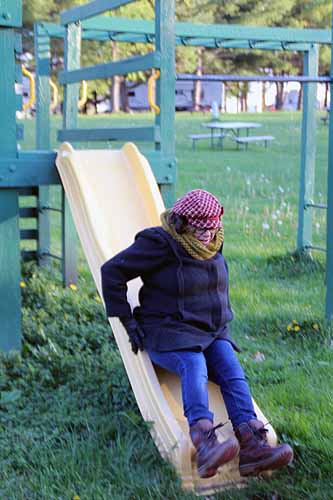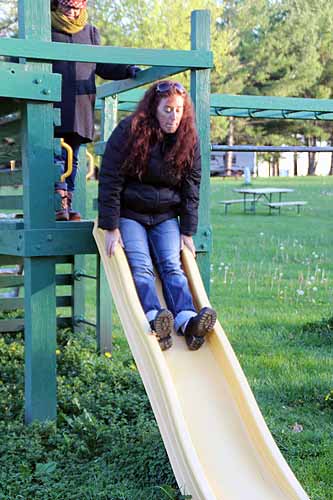 In talking to Laura, we found we were only a few minutes away from Frank Lloyd Wright's Taliesin East. I'd like to tell you this was good planning on our part, but the reality is somewhat different. While we knew Taliesin was somewhere near Chicago and we planned to go there while we were in the area, we had no idea we would be camping so close to it.
While we were in Rochester, Judy and I were part of a book club. One of the books we read was Loving Frank by Nancy Horan. It's the love story of Frank Lloyd Wright and Mamah Bouton Borthwick - a love story that was a great, front page scandal of the era. Since Wright's wife would not consent to a divorce he left his family and the couple 'lived in sin' as they traveled and later settled in Taliesin. Wright was a fascinating character and we have been visiting as many of his buildings as possible.
Taliesin East (as opposed to his winter home Taliesin West, which I wrote about previously) is a great, sprawling complex of buildings on the Wright family lands. That's the main building on the top of this page. We took the grand tour, visiting his Aunt's schoolhouse, the main building, and several other houses on the place. Since Wright considered Taliesin a temporary structure that would be constantly changed, preserving it is quite a challenge. The walkway to the right in the picture below had to be completely rebuilt when a tree fell on it during a storm. Once the tree fell the soil around the building was destabilized and they have had to do extensive work to restore it.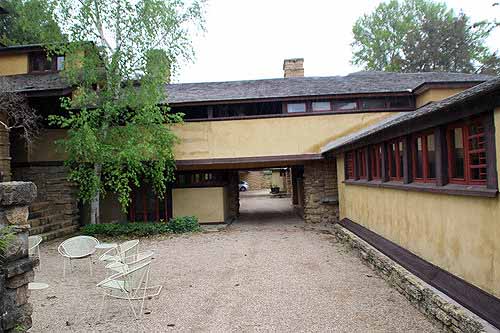 This is actually the third incarnation of Taliesin, it was burned twice in its history. The first was in 1914 when a mentally disturbed servant went on a rampage, killing Mamah and her children, as well as several other people on the site, then set fire to the place. The second was in 1925 when it burned to the ground. No one died this time, but Wright lost most of his Asian art collection along with the entire contents of the place.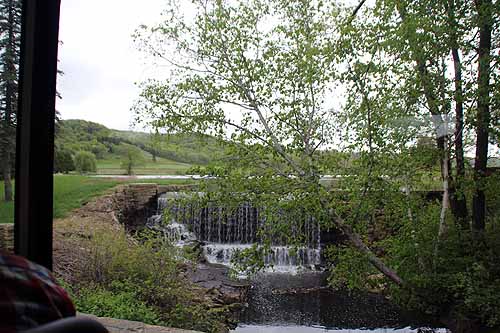 Our bus driver on the tour was one of those guys who loved to crack jokes and fill you in on little tidbits about the place. As we finished the tour he jocularly complained that no one took pictures of the driver, only the buildings. So here he is - we took his picture.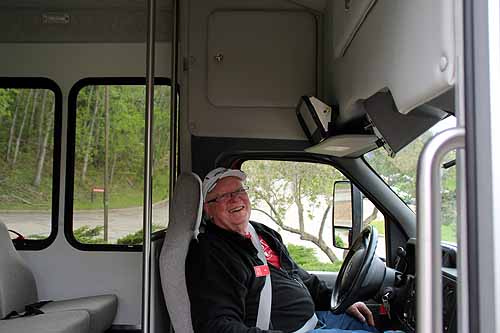 Having seen Taliesin, we set forth to Chicago to see his studio and home there. However, Sally Forth, our faithless GPS, took us around the mulberry bush, over hill and dale, and over some very rural roads to get there. Not only did she take a curlicue path, but she frequently got lost, losing her position and showing us floating in the middle of some farmer's field. This required us to stop and reboot the GPS every so often; highly annoying!
If you've ever tried to stay at an RV park near Chicago, you'll realize it isn't possible. The nearest RV parks are a good hour's drive from downtown, of course on toll roads. The place we stayed was not quite a dump, but not far from it. They did have a 24 hour gate guard, but who would want to make off with the trash pile or the moldering permanent trailers that were the most obvious feature of the place remains a mystery. Oh, yeah, Sally Forth kept insisting we drive across the river (no bridge, though) in order to leave the place.
Wright's studio and first home were fascinating. The home is mostly Victorian but you can see Wright trying out many of the ideas that would later define his work, such as high narrow stained glass windows.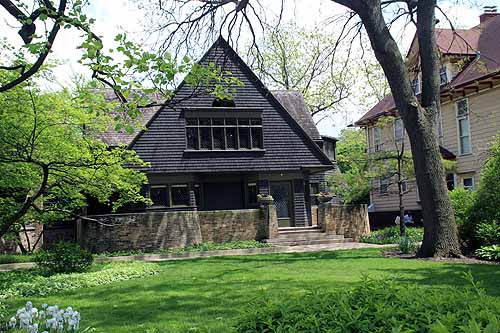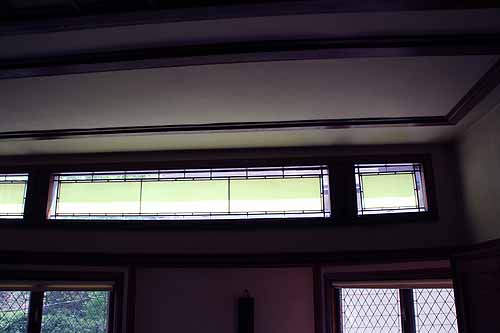 Wright went all out for his children's playroom, with an arched ceiling, choir loft and stained glass everywhere. He was firmly convinced that every house required a grand piano to be complete, but there wasn't room for one in the playroom. The solution? He cut a hole into the stairwell and hung the back of the piano in the stairs with only the keyboard in the playroom.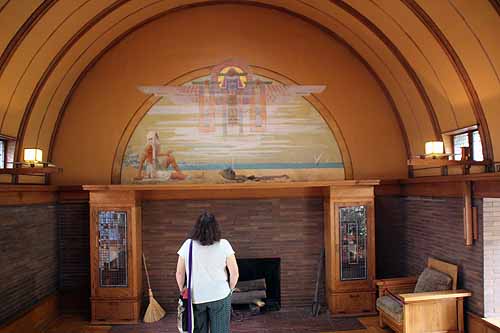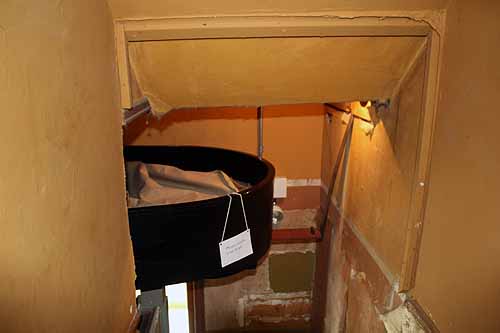 His studio was a showplace for his work as well as a very pleasant environment for his workers. One of the fascinating parts was where he connected the studio to the house there were a couple of trees in the way, so he just built the building around the trees.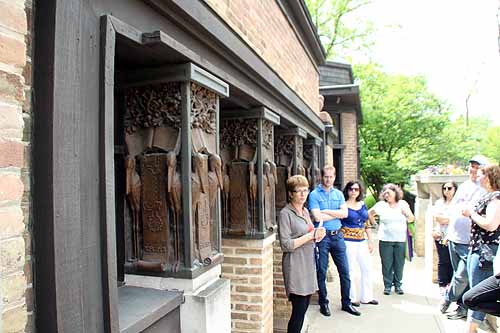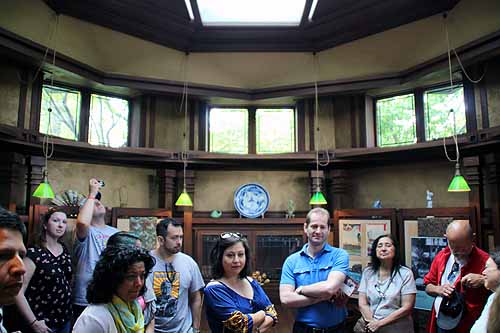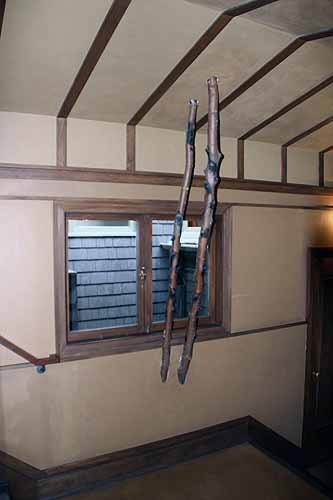 We walked around the neighborhood afterward and took some pictures of the houses he designed for his neighbors. While all the houses in this millionaire's row were beautiful, Wright's work clearly stands out.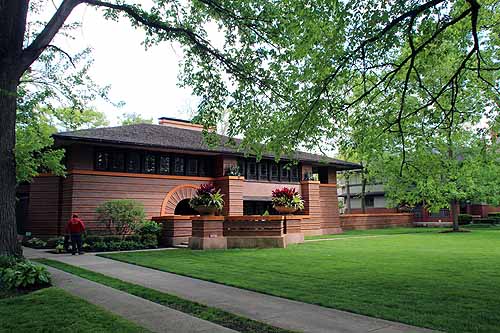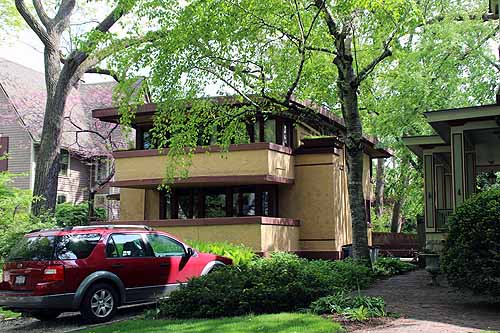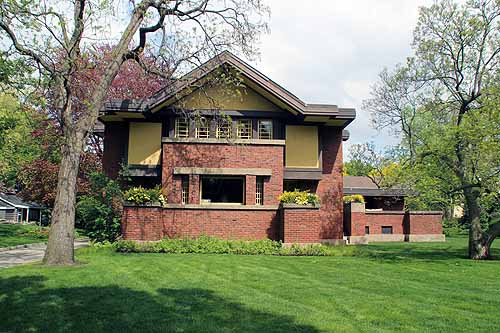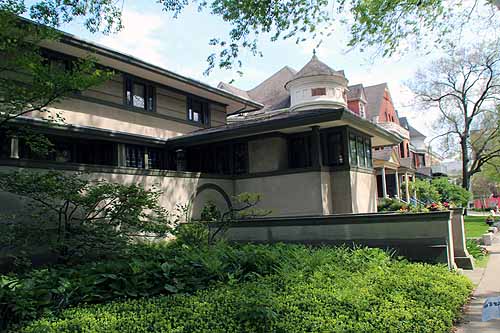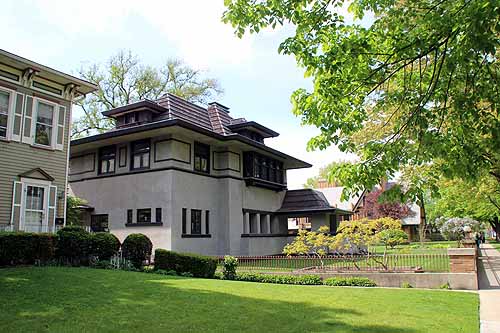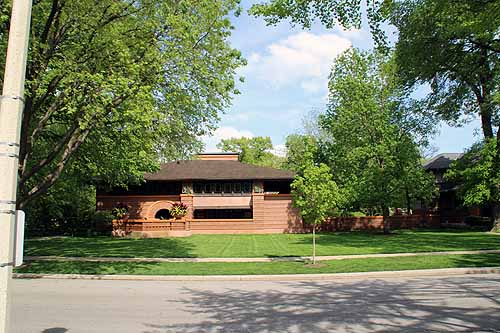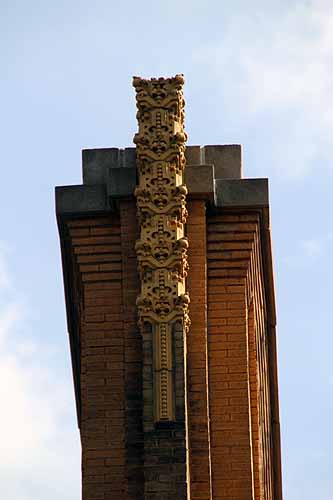 We rounded out our visit to Chicago with two great concerts. Only a few blocks from the Wright house we found Claudia Schmidt giving a wonderful house concert. Because we had connected with Brother Sun in so many places around the country, they comped us into their show at Acoustic Renaissance Concerts in Hinsdale. We particularly enjoyed meeting Joe Jenck's wife, a wonderful lady, indeed.
And that pretty much wraps up our travels for a while, as we will be spending the summer in the Rochester area for the most part. Nothing exciting happened in the few days it took us to get home, but you can get to see a few pictures from out summer in the next installment.