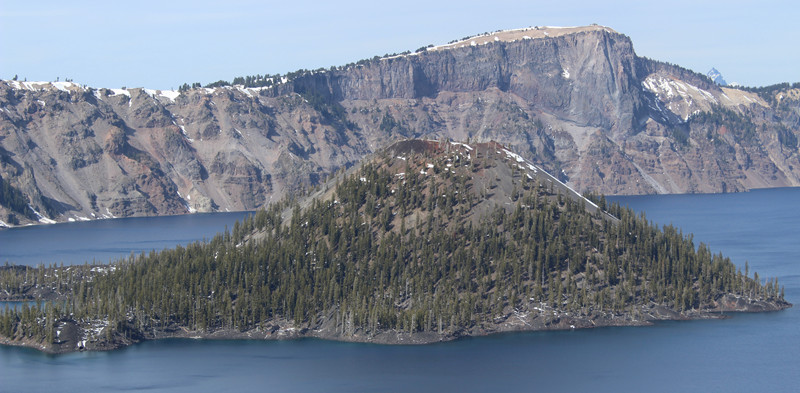 April 2015 - The Oregon Trail
Ralph's Blog
Our travels in Oregon started by offering a lesson on how you can screw up when booking a place to stay over the Internet. We had been staying at a lovely park called Lone Mountain, just over the Oregon-California border while visiting Crescent City CA. We moved to a county park nearer to Crater Lake, the next attraction on our list. Somehow I had failed to notice it was only about 16 miles from Lone Mountain when planning the itinerary. I have since added a distance column to our travel spreadsheet. A spreadsheet, you ask? Yeah - there is a lot to keep track of and a spreadsheet is the answer. Here's a sample: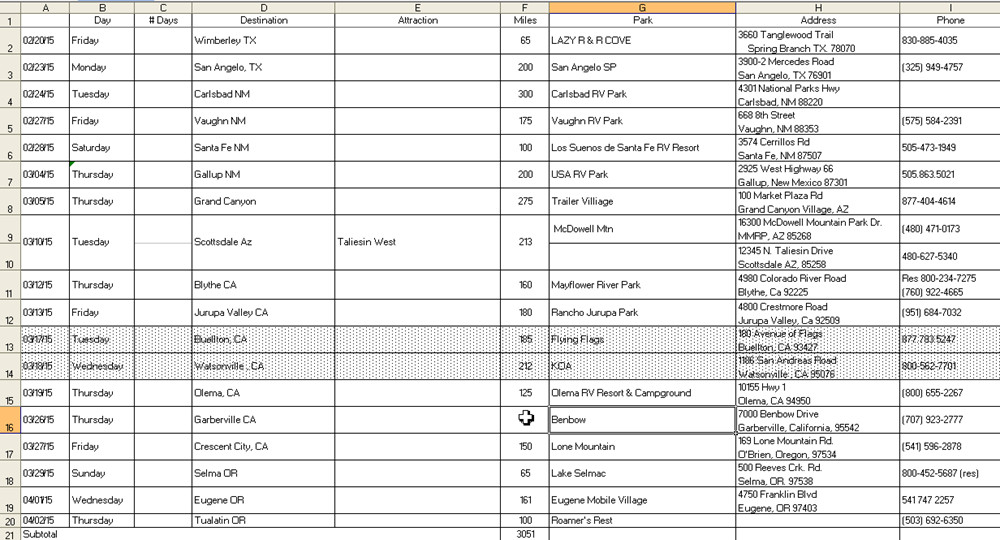 On arrival we had to search the park to find someone to register with. I started to get a bad feeling as I looked at the park roads, the web site said it was big rig accessible, but the roads were small, the turns tight and there were trees everywhere, many of them slanting over the road. We walked to our site and were heartened to find a big bus in the loop, so I got into the cab and started into the park. I didn't get too far before meeting an SUV heading toward me. Later I found I had missed a much worn white one-way arrow painted on the road, concealed under leaves and dirt. The SUV driver kindly backed up a considerable distance and let me pass as I thanked her profusely. It was a good thing there was nothing but grass inside the loop we were on because there would have been no way to back in if I had to stay on that narrow road.
When my heart rate returned to normal and we were set up we had to admit the view out the picture window was right pretty. Lots of trees and a picturesque lake with many people enjoying the park. Looking at the actual entrance road, I decided it was a good thing I had come in backward - the sharp turn on a steep hill might have been a real problem to navigate.
There are two main attractions in the area are Crater Lake National Park and Oregon Caves National Monument. To visit both of them you wind your way up endless, twisty mountain roads but the drive is worth it. There was still a LOT of snow at Crater Lake, but that incredible blue water is an unforgettable sight. The lake is fed only by rain - and snow! - fall; there are no streams running into or out of it. Not surprising nothing comes in since it is the top of an extinct volcano. There are fish, however. An excerpt from the park website: "Fish are not native to the lake. They were introduced in the lake from 1888-1941. Six species were originally stocked, but only two have survived to today: Rainbow Trout and Kokanee Salmon. Because they are not native to the lake, fishing is not only allowed, it's encouraged. No license is required and there is no limit on how many you may catch - the only rule is that you must use artificial bait. We don't want to accidentally introduce any other species into the lake." As you can see from the pictures, getting to the shore of the lake is no simple task. I'll take my fish on a plate with chips, please.
We ate our sandwiches on the stone wall around the lake and walked around a bit, taking pictures and letting the dog frolic in the snow. For a while we sat watching a group of kids climbing a mountain of snow to get to the visitor's center but were relieved to find a level path on the other side of the parking lot. They had a good video explaining how the lake was formed, quite enjoyable and informative.
We added another cave to our list - The Oregon Caves were a bit different from what we had seen before, being formed from marble instead of limestone. Because of White Nose Syndrome in bats we had to have our shoes disinfected since we had been in other caves. They are trying to stop the spread of the disease; fortunately we had not worn our coats in the warmth of New Mexico so they could not have any spores on them. Lots of stairs in this cave, but some wonderful formations. That's us standing at the exit of the cave.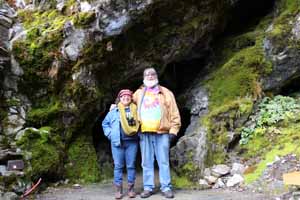 Since we are tourists, we couldn't pass up another tourist trap: The Great Cats World Park. OK, it's a private zoo for cats but they treat the animals well and you learn a lot about cats - large and small - on the tour. The big ones are impressive, but one little cat - looking for all the world like a house cat - was able to nab a piece of meat from the keeper a good 18″ from the cage. There was no way we could see that paw move, the meat levitated into his mouth.
After an overnight and some great pizza on the river outside Eugene, OR we arrived in beautiful Tualatin, Oregon, a suburb or Portland, where son KD and his wife Rindy live. Rindy refers to her town at 'Toilet Town' but it's a pretty nice place. In checking it out on Wikipedia I learned they found a fossilized mastodon when digging the Fred Meyer parking lot and the skeleton is now in the town hall. Who knew? We didn't while we were there.
We lucked out in our space in the Roamer's Rest, it was a corner space with our own private lawn complete with park bench. Easy to back into as well as the road ran straight out from it. Judy was pleased that they supplied HGTV and the cats were pleased and frustrated by the Bird TV. There were a flock of chickadees in a nearby bush who thought our ladder was a fine perch. George launched herself at the window repeatedly until she figured out she couldn't get at the birds. After a couple of days one bird figured out it was safe and would land on the window ledge in front of the cat, who did not appreciate the avian jokester at all.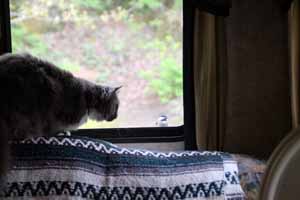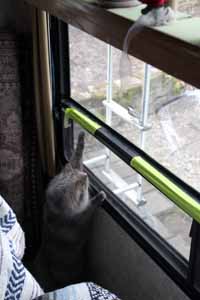 A couple of miles down the road, at the Tualatin Nature Preserve, there were other birds. Many, many other birds. So many I was expecting Alfred Hitchcock to pop out of the woods on the nature trail and put in a cameo. Great flocks of black birds (sorry, I'm not a naturalist so I couldn't put a name to them) would rise from the swampy areas and wheel about squawking and bantering for all they were worth. In the middle of all this avian excitement a lone bald eagle stood perched on his (her?) nest atop a tall tree.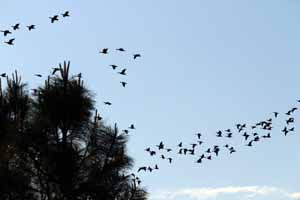 On the ground there were trilliums, some white and some purple. Rindy was taking a botany course and informed us that trilliums start out white and turn purple as they age - who knew? We strolled along the Tualatin river (the name derives for the Indian word for lazy - appropriate for the calm stream) and enjoyed nature while sitting on one of several artistic benches along the path.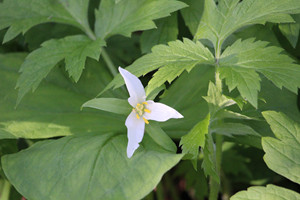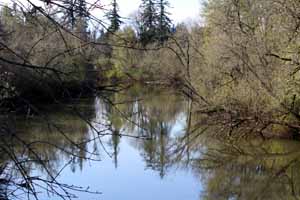 We took a day to drive to Mount Hood, still with plenty of snow and plenty of skiers. The lodge (built by the CCC) is magnificent - complete with winter entrance on the second floor. From the amount of snow still on the ground in late April it must have come in handy. We hiked round Trillium Lake, alternately dodging snowdrifts and flooded boardwalks even thought the day was pleasantly warm. There was one hearty soul floating in the lake fishing - dedication or stupidity? Your choice.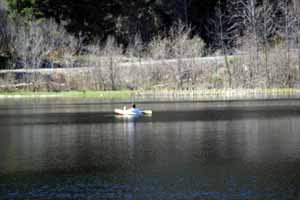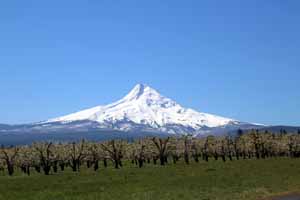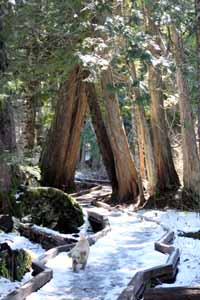 On another trip we traveled the original Route 30, a beautiful drive on a road that was designed and engineered to be a thing of beauty in itself. Not that I would want to take the Gypsy Wagon on it, even the F-350 is a bit large for some of the narrower bridges, which have beautiful stonework. This is a picture from the information sign at the viewpoint that was constructed as part of the road. The credit goes to Samuel Lancaster, the road engineer that believed that roads should be beautiful as well as functional. Now there's a sentiment we need more of today.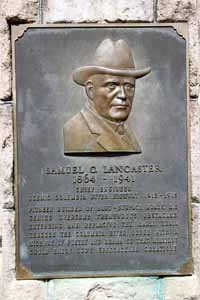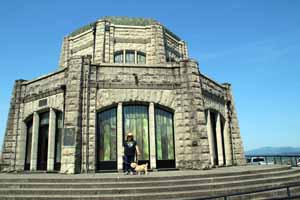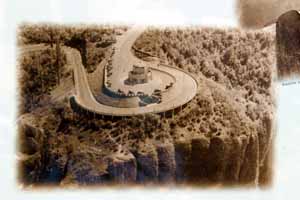 Other highlights in Oregon include Silver Falls State Park, boasting 10 waterfalls in a moderate day's hike. Judy found a wild orchid, (sorry the picture is blurry) but there it was growing beside the trail. There are even a couple of places where you can walk behind the waterfalls.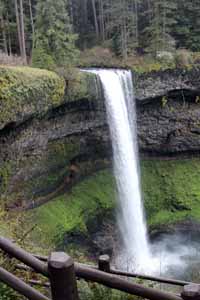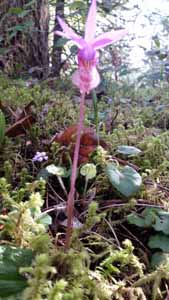 Portland has a great zoo, we spent a fine afternoon wandering around watching the animals and the people. The exhibits had signs telling you what was in there and what was interesting about the species. Even the construction site had signs describing the machines inside the fence and what they were used for. Very thorough, these zoo people.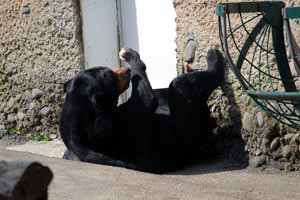 We visited the Tillamook Cheese Factory, but took the road less traveled to get there. There was a little gray line on the map over the mountains, so we faked out Sally (our GPS) by entering the small town at the start of the little gray line, then asking her to take us to Tillamook. The drive was spectacular - miles of forest (including a few slow moving logging trucks) on the way up the mountains and a pristine stream beside the road on the way down. We passed many tiny seasonal camping areas on the way, too small for our behemoth, but lovely places for a quiet week in the woods.
The Tillamook Cheese Factory was interesting, the first thing you see is a VW bus coming out of the wall in the lobby. Made us think of our friends Dave and Helga with their VW camper. There were lots of videos, which is good since all you see is lots of huge stainless steel tanks on one side and lots of people cutting up cheese on assembly lines on the other. However, I wouldn't recommend their cafeteria. Sadly, their cheese sauce was pretty bland and even their sharpest cheddar doesn't come up to the quality of the Cabot brand you can get in the northeast.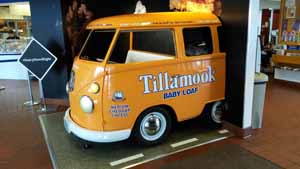 After the cheese factory we drove to Canon Beach. Trivia fact: they filmed The Goonies there. Shira didn't care, she was happy to chase sticks along the beach. I don't know who this little cutie is who was digging in the beach, but we watched her while listening to a guy picking his banjo as the sun went down. Nice way to spend an evening. We also found a nice piece of truth-in-advertising - The Insomnia Coffee company.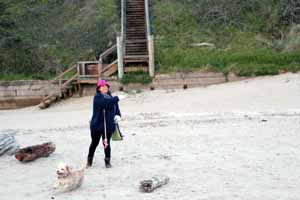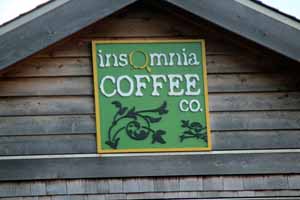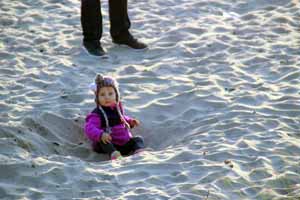 By the way, Portland is absolutely crazy for drive-in coffee. It seems like there is a drive-up coffee window on every corner. The place where I got the oil changed on the pickup even advertises an espresso bar. I ask you - what could possibly go wrong with that business model?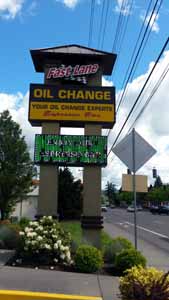 We got to see an entirely new landscape on a hike to Proxy Falls, great mounds of volcanic rocks piled everywhere. The rocks are covered with moss and lichen and a pine forest has grown up wherever it can get through the rocks. The result is rather otherworldly, but fascinating. That's our daughter-in-law Rindy climbing the rocks with Judy.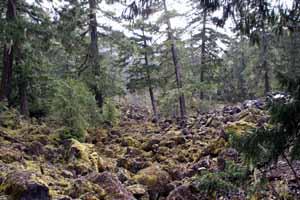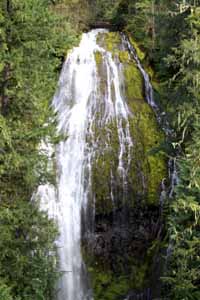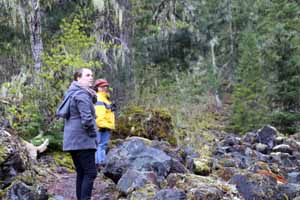 When we left we followed the Columbia valley - its easy to see why Woody Guthrie wrote so many songs about the place (OK, he was being paid to do it) the scenery is spectacular and the change of scene as you head east is fascinating. You go from rain forest to lush river valley to desert in just a few hours of driving.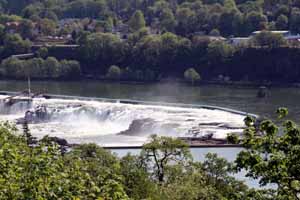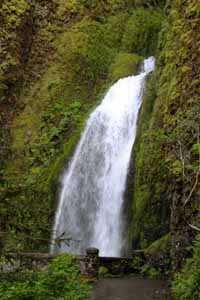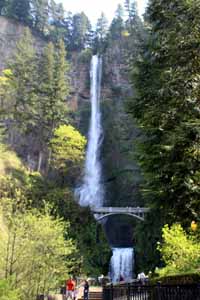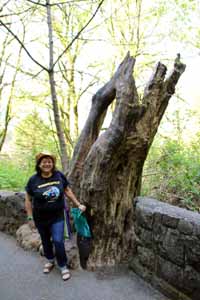 Leaving Oregon, we arrived in Connell Washington to find the downtown was graced by several pieces of outdoor art that seemed very familiar. The artist is Tom Otterness, who did the marvelous outdoor sculptures at Rochester's Memorial Art Gallery. Our grandchildren love climbing on his artwork and we love looking at his creativity. His web page is well worth a look.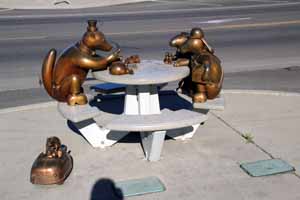 So we are now headed back home to New York for the summer, the next major stop will be Yellowsone.