Anytime - Road Food
Ralph's Blog
Being part of the Traveling Nation, Judy and I eat out rather frequently, but when we are stationary for more than a few hours we eat at home - wherever home may be that day. A glance at any of my pictures will inform you that I am a, shall we say, vigorous eater; I have a large stomach to support. I also love to cook. Before we bought the Gypsy Wagon we had a pop-up trailer. Since we often fed a crowd of friends I had a pretty sophisticated kitchen setup - a substantial part of the two-hour setup when we arrived was setting up the kitchen.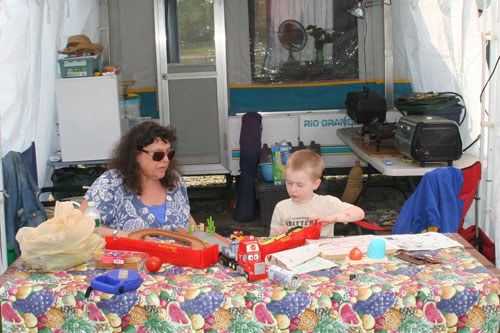 An early version of the pop-up kitchen. It's the only picture I could find.
There were two stovetops, an oven and gas grill complete with a gas distribution system with a tap for the gas space heater in the pop-up. We had a small refrigerator, a couple of three drawer plastic storage bins for utensils, two large tables and two small tables, bins full of pots and pans and service for twelve in fake Fiestaware bought on sale (50 cents a piece) in the Thousand Islands one fall when they were closing down for the season. Oh yeah, electric and gas griddles for pancakes and our restaurant quality waffle maker (bought for the princely sum of $1.00 at the neighborhood garage sale).
I don't do things by halves, we had a lot of good meals with friends in that pop-up.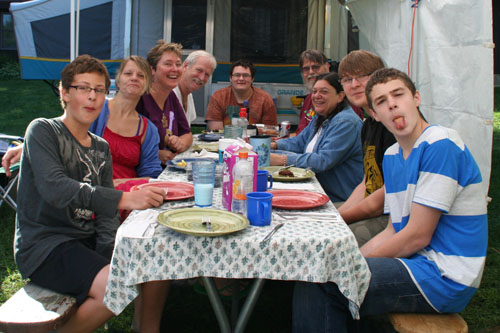 When we set up the trailer for our life on the road I had almost as much trouble winnowing down my kitchen gadgets as Judy had winnowing down her wardrobe. A good deal of agonizing and thought went into both processes.
The first challenge was to find places to store things in the kitchen. There were quite a few cupboards, but they contained large expanses of empty space inside. Put a few cans inside the shallow cupboard and you still have eight inches or more of empty air above them; not a good thing when you have many things to store. As you might imagine, stacking cans on top of each other would result in something akin to Fibber Magee's* closet when the door was opened after several hours bouncing down the road. I do have a pair of steel-toed shoes, but putting them on each time I wanted a can of soup would be a pain.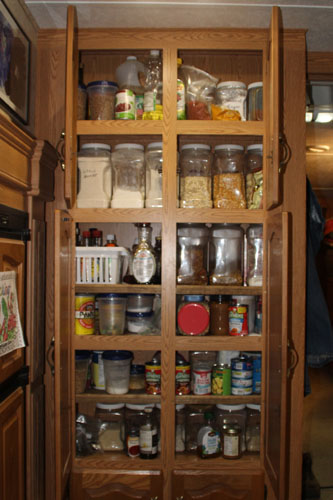 So I went to the hardware store and bought a bunch of wood and some wood stain to fabricate several new shelves. That solved the first problem. The deeper cupboards presented a different challenge, one that was solved with sliding wire baskets.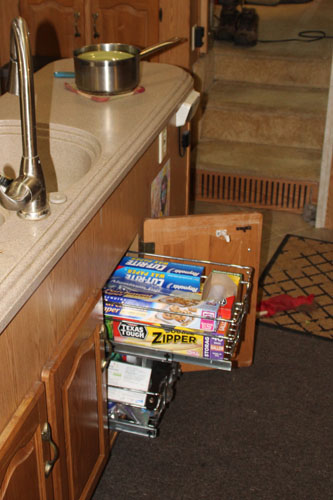 Storage problems solved - but, as always, there were unintended consequences. It seems that our cat, Curious George, fond the wire racks fascinating. She quickly learned to open the door and climb in to take a nap. We realized this on our first trip to the Summerfolk Festival when we couldn't find Georgie anywhere before we left. We finally gave up and drove six or seven hours to the festival and set up in the field next to our friend's house. Somewhere along the line that evening I needed something in the cupboard and out popped Georgie. She had spent the trip sprawled out on one of the wire racks.
We finally ended up putting baby locks on the cupboard doors, there was too much cat hair accumulating in the cupboards. Georgie is frustrated and occasionally tries to open the door, but she's out of luck.
In the immortal words of Ron Thompson of the Dry Branch Fire Squad, I told you that to tell you this. (If you don't have their Live At Last CD, you should get it.)
This whole blog entry started when a I was telling someone we met about the Grand Sausage Sampling; she said it would make a good story for the blog, so here it is.
The Grand Sausage Sampling
As one who enjoys fancy cooking and putting together meals with each course from a different national cuisine, I'm afraid I have a secret vice: I love McDonalds breakfast sausage. The sausage in their Sausage McMuffin is just exactly what my taste buds crave. (You can leave out the egg, it just adulterates the sausage.) I have often mused, as I nibbled my McMuffin, on just what spices they use. Naturally I tried to Google the recipe; that often works when you want to duplicate the taste of various fast foods, but no one had the Secret Of The Sausage. Finally, in desperation, I conducted some scientific tests.
The first thing was procuring some ground pork - sounds simple, eh? At the time we were wintering in Austin; people in Austin don't seem to like ground pork. Search as I might I couldn't find any. What I could find in profusion was thin sliced pork for fajitas. So I bought a pound and proceeded to grind it up myself. Once again the unexpected got in the way - my thirty year old hand grinder was too dull to grind the pork. I had never tried to sharpen the blades, but I gamely got out my sharpening stone and did my best. Fortunately, my best was good enough, the grinder worked perfectly. I now had my ground pork.
Going though my spice racks I took out all the savory spices I had: basil, bay, cardamom, cilantro, coriander, cumin, sage, rosemary and thyme. Before you ask, I knew there wasn't any parsley in the mix. I weighed out one ounce of ground pork, added 1/8 teaspoon of a single spice and a dash of salt, then fried up each patty and put it in a baggie clearly labeled with the spice I used.
For the next two mornings Judy and I conducted the Grand Sausage Sampling, comparing notes on how each spice tasted. The final consensus: bay, fennel, rosemary and thyme. I made up a batch and we decided that there was too much fennel this time, so I'm not quite there yet. Once we finish eating this batch I'll try again, so you will have to wait for the final results; we still have half a pound of sausage left to eat.
---
*For those of you under sixty - Fibber Magee was an old time radio and TV show. One of the running bits was opening an overfilled closet and having piles of odd and interesting junk fall out.