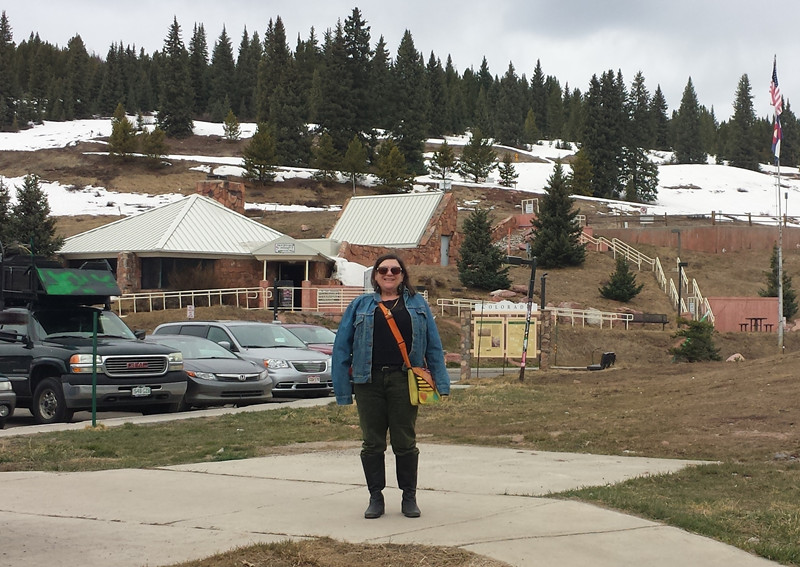 May 2016 - Rocky Mountain Highs (and Lows)
Ralph's Blog
Having had our fill of monumental landscapes, it was time for us to head for the mountain Heits. No, that's not a typo - it's an old joke from Judy's family. One branch is the Heit family, and since they mostly live in Arizona and Colorado, they naturally became the Mountain Heits. How exactly everyone is related is a bit of a mystery to me, since I married into the family. I got off easy in my family, one aunt, one uncle, three cousins; not too hard to remember. I'm easily confused, anyway.
On our way there we once again had to cross the Great Divide, but this time we had to go much higher than we had before. The veil Pass on I70 has a sign proclaiming it is 10,603 feet above sea level. That's pretty close to two miles high. I may have mentioned it previously, but since it's important I'll mention it again - I collapsed a lung some years ago and only have 60% of normal lung capacity; most times it doesn't matter, but at that altitude it makes a difference. Climbing the stairs to the restrooms at the Veil Pass just about did me in. As you can see from the picture at the top of the page, they weren't very tall, but they were tall enough.
Passing through the Eisenhower Tunnel under the Great Divide at 11,155 feet was as high as we got on this trip. Wait a minute - in Colorado that statement is open to interpretation. I'm speaking strictly in feet above sea level, folks.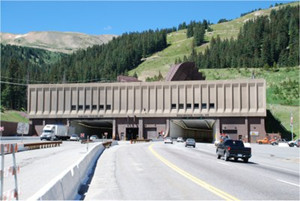 For the first time in our travels we used all the power that our Ford F350 diesel had to offer, you could almost see the gas gauge sinking as we climbed the pass at something less than 40 MPH with the accelerator floored. I was very glad to find a gas station shortly after the pass, the 'miles to go until empty' indicator wasn't designed for climbing mountain passes; the tank was darn near empty when we found a gas station.
On our way we stopped for lunch and I had to take a picture of this truck. Daughter Raina had been waiting a week for the plumber to fix the hot water heater as we left, she could have used these guys. Too bad they are a few hundred miles away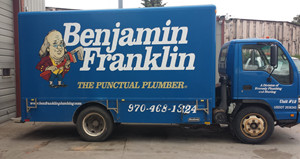 As you can imagine, we don't visit with the Heits too often, Rochester NY and Boulder Colorado aren't exactly close neighbors. Judy's aunt Shirley is 93 and still going strong, as feisty and interesting as she ever was.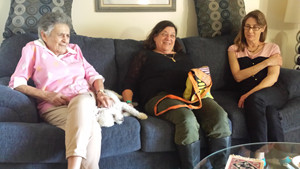 I finally got to meet more of the Heit family than I had previously. May I introduce you to Cousin Steve, wife Sharon and daughter Chloe, not to mention the dog whose name I've forgotten.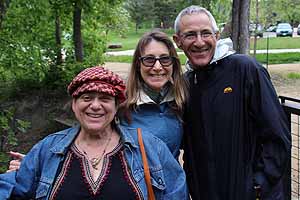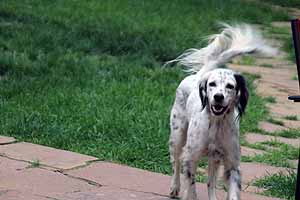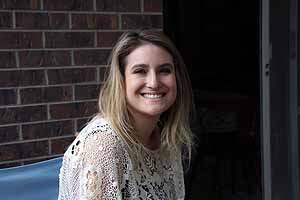 We had a ball with cousins Steve and Sharon meandering in the yuppie boutique area of Boulder, where we found a great duo called the Damn Fine Stringband. They lived up to their name so we bought their home-made CDs. The engineering was not too great, but the music was fine, indeed.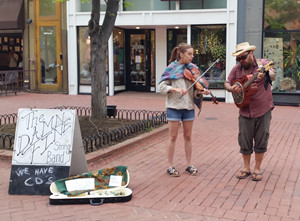 We watched an artist who worked in live green things, jumped around a very cool water fountain and enjoyed several large statues of wildlife.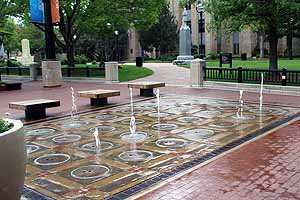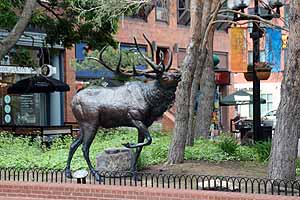 Cousin Michel (pronounced like Michelle) took us to the Denver Science Museum and showed us the piles of hail still in her yard from the storm the previous day. We spent a lot of time just hanging out and talking, catching up on family and politics and whatever.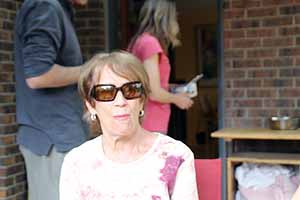 ***
I'm a Buffalo boy, born and bread, and grew up on Malecki's hot dogs (now sadly defunct) and Salen's hot dogs. It took a few years, but I have been converted to Zweigel's Hot Dog fan, and will sing their glories as we travel the country. While we were in Austin we ordered thirteen pounds of Zweigel's shipped overnight in dry ice.
We threw a picnic for all the Rochester ex-pats, complete with mac salad, baked beans and hot sauce; do-it-yourself garbage plates were the order of the day. (The home fries were a bit too hard to make at a picnic.) We arrived in Boulder with three pounds of Zweigel's in our freezer, so we reprised the party with the family. I just wish we had pictures, darn it!
We had one other adventure that was captured on the cell phone, a visit to the Denver Botanical Gardens. Since we became members of the Lady Bird Johnson Botanical Garden in Austin, our reciprocal membership got us in free. Oddly enough, the most interesting part was watching the rabbits munching on dandelions. The slurped them down just like spaghetti.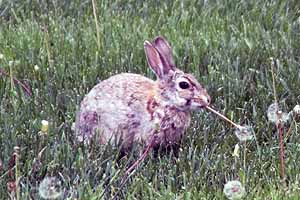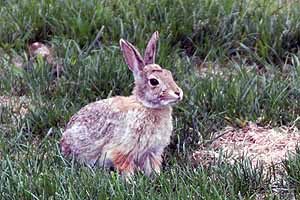 We may have missed the Lilac Festival in Rochester, but the Denver Botanical Gardens provided us with some lovely lilacs and some Roses to prepare us for our visit to Portland Oregon, The Rose City.