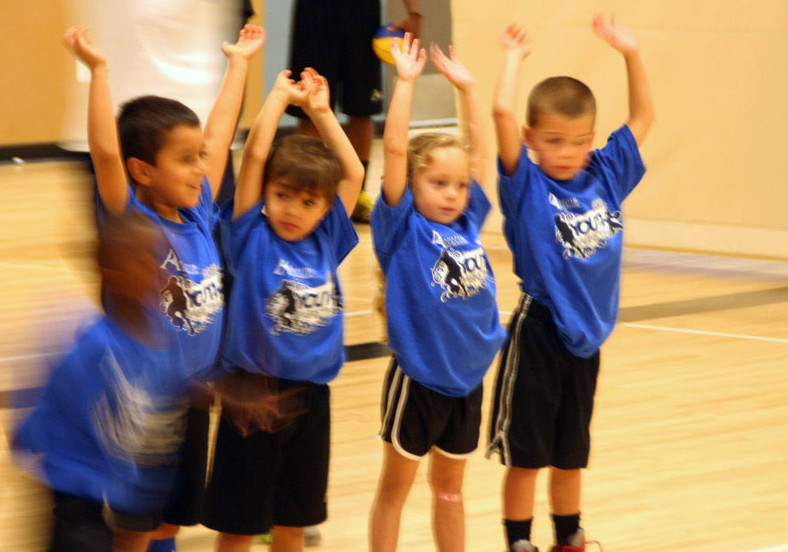 February 2015 -Basketball With Grandchildren
Ralph's Blog
One of the joys of staying in Austin for an extended period has been watching our grandsons play Basketball. They are both in basketball leagues and love the game.
If you have never watched a crowd of 4 year olds (you can't really call them a team quite yet) play basketball you have missed one of life's great treasures. One of the things the coaches emphasize is holding your hands up high to block shots, so whenever the ball is near a basket there are five very excited little kids jumping up and down waving their arms. Everybody is having a great deal of fun, and the fun is what the game is about at this level. The coaches are great and truly understand how to show little kids how to play the game. They don't keep score, dribbling tends to be two handed and the out-of-bounds lines are ignored. What isn't ignored is sportsmanship and respect for others, competition is friendly and truly not the goal of the game. They might not be keeping score in the game, but this doting grandpa watched grandson Franti make 10 baskets during the game I watched.
The 4 year olds play in the morning and 9 year old grandson Zander's team plays in the afternoon, so Saturdays are pretty much devoted to sports. Of course Zander pretty much devotes his life to sports anyway, quoting NFL statistics and loudly coaching the games on TV. He even found a way to inject his class science project with a sports theme.
Sadly, the court he plays on was too dark to get any pictures, all I got were blurs. Part of the reason is that Zander tends to be a blur on the court, pivoting and racing from one end to the other. That boy has the moves, for sure. He still needs a little more work on passing the ball but, in my biased opinion, he is a standout on his team. Even a sports-impaired grandpa can see that.